Joe Manchin Backs Lower Stimulus Check Income Limit as Biden Wobbles
Senator Joe Manchin has signaled that he would back further limits on which Americans receive $1,400 stimulus checks as President Joe Biden told Democratic lawmakers that he was open to targeting the direct payments at the lowest income Americans.
The West Virginia Democrat told WV News that he backed the next round of stimulus checks being handed to families with incomes not exceeding $100,000, and individuals with incomes of $50,000 at the top end.
Manchin also said Americans on lower incomes were those who were "really hurting right now" and needed the most help from federal government. The moderate's support for further targeting of stimulus checks aligns with proposals put forward 10 Republican senators earlier this week.
Their plan would reduce stimulus checks to $1,000 per head, and limit them to individuals earning $50,000 and less. Under the last COVID-19 relief bill, $600 stimulus checks were provided to those earning up to $75,000 per year.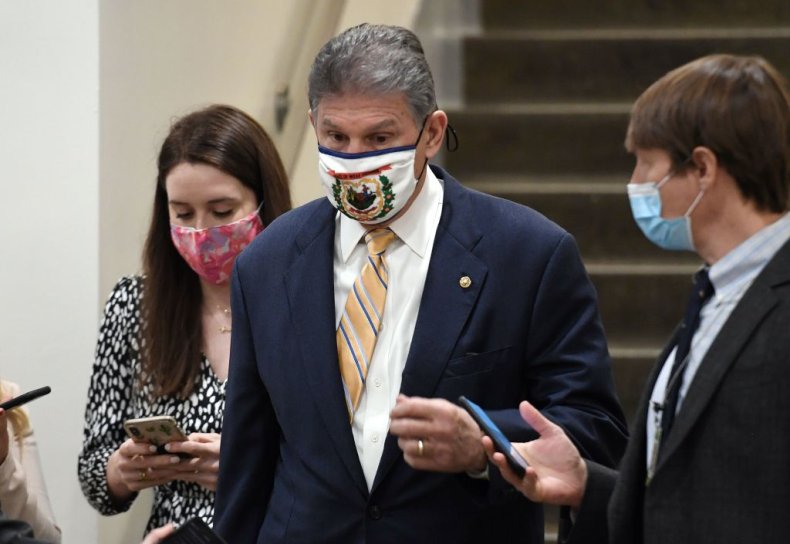 Speaking to WV News about stimulus checks, Sen. Manchin said: "That $1,400 will go out in some form. But here's the thing, we found out — Democrats and Republicans found out — that from the first checks that went out, the $1,200 that went out and the $600 that just went out, people that were making $200,000, $300,000 [a year] were still receiving those checks."
The senator then reportedly added that he did not believe that was the intent of the proposals, and said he wanted to see the next round of stimulus checks going to poorer Americans.
"An individual of $40,000 income or $50,000 income would receive it. And a family who is making $80,000 or $100,000, not to exceed $100,000, would receive it," he told WV News. "Anything over that would not be eligible, because they are the people who really are hurting right now and need the help the most."
Newsweek has contacted the office of Senator Manchin for further comment. This article will be updated with any response.
The Virginia Democrat backed further limits on the next round of stimulus checks after President Biden told lawmakers that he was open to putting a lower income cap on his proposed round of $1,400 direct payments.
The New York Times reported that Biden told Democrats he didn't want to "walk away" from his promise to deliver the checks, but believed they could still work with Republican lawmakers to "better target" the number of people who received a payment.
The president also reportedly said he was not "married" to a particular figure on the overall size of the relief bill, but still wanted the Democratic caucus to be ambitious, noting the scale of economic relief the country needed.
Biden talked up his willingness to compromise on some of the measures in his proposed $1.9 trillion package as Sen. Manchin said he would "only support moving in a bipartisan way" earlier this week.