Joe Manchin Defends Delaying Senate, Seeking Support of 'My Republican Friends'
Democratic Senator Joe Manchin of West Virginia said he was not intentionally trying to slow down the passage of President Joe Biden's $1.9 trillion COVID-19 stimulus bill, but was attempting to gain more bipartisan support for the plan.
"I didn't do anything intentionally whatsoever," Manchin said during a Sunday appearance on ABC News' This Week.
"I did everything I could to bring us together so we'd have more support, and the public would get the needed help, as needed," he added. "I always try to work with my Democrat colleagues, my caucus, and my Republican friends."
Manchin slowed down Senate negotiations on Biden's $1.9 trillion COVID-19 stimulus bill as he considered two separate proposals for enhanced unemployment benefits for 10 hours Friday evening.
The West Virginia senator pushed to lower unemployment benefits from $400 a month to $300 and shorten the span of the benefits by one month.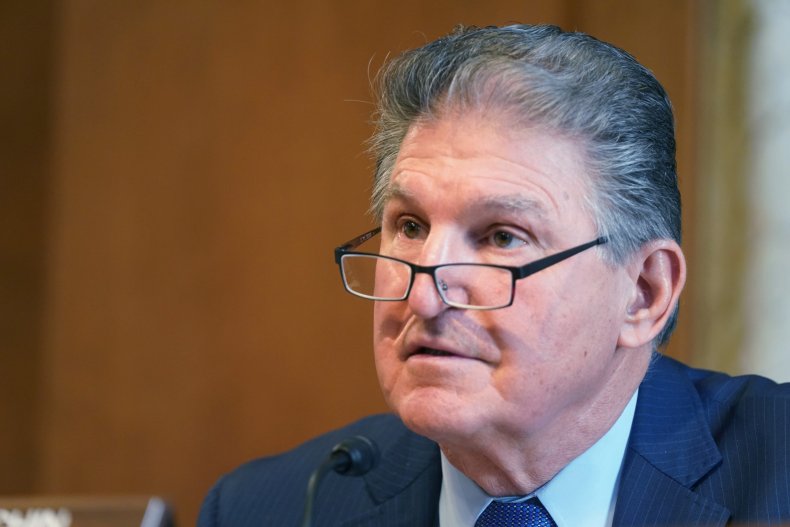 Biden's original proposal offered $400 in additional weekly unemployment benefits scheduled to end in August. An alternative proposal, introduced by Republican Senator Rob Portman of Ohio, would cut the payments to $300 per week through July 18.
Another proposal, introduced by Democratic Senator Tom Carper of Delaware, would also offer $300 each week, but would extend the benefits through the end of September. Carper's proposal would also prevent enhanced unemployment benefits distributed during 2020 from being taxed.
Despite the delay, the Senate passed Biden's $1.9 trillion COVID-19 stimulus bill on Saturday. The votes fell largely along party lines with all 48 Democrats and the two independents who caucus with them supporting the package and 49 Republicans objecting.
Manchin noted that although the vote was largely partisan, they "had an awful lot of input from Republican friends all through this process."
"All the changes that we made that were basically brought into this process came by working with my Republican and Democratic colleagues together," Manchin said.
The changes to the bill included dropping the bid for a $15 minimum wage increase, tighten income thresholds for the next round of $1,400 stimulus checks, and reducing weekly unemployment benefits from $400 to $300.
The legislation will now be sent back to the House of Representatives for approval before it can be signed into law by Biden— a process that lawmakers pledge will happen prior to March 14, when current unemployment benefits are set to expire.
Manchin made multiple television appearances on Sunday in addition to This Week. On CNN's State of the Union, he shared that he will not place blame for the fact that the bill didn't garner any Republican votes in the Senate. The West Virginia senator also appeared on NBC News' Meet the Press and Fox News Sunday to discuss his stance on the filibuster.
Newsweek reached out to Manchin's office, but didn't hear back in time for publication.