Joe Manchin Defends Minimum Wage Stance of Republicans 'Just Not in Sync With Bernie Sanders'
Senator Joe Manchin, a West Virginia Democrat, defended Republicans opposing raising the federal minimum wage to $15 per hour, saying they are simply opposed to such a substantial increase.
President Joe Biden and progressive Democrats have pushed to more than double the federal minimum wage from $7.25 per hour to $15, but Manchin along with some other moderate Democrats and many Republicans have opposed the proposal. Democrats' efforts to include the substantial wage hike in Biden's $1.9 trillion American Rescue Plan were blocked after the Senate's parliamentarian ruled that it could not be passed via the budget reconciliation process, which Democrats used to push through the bill without Republican support. Meanwhile, Manchin has suggested the federal minimum wage should be increased to just $11 per hour, while GOP Senators Mitt Romney and Tom Cotton have put forward a $10 per hour plan.
"I think that every Republican wants to raise the minimum wage. Everyone's just not in sync with Bernie Sanders at $15. A lot of the areas already have $15," Manchin told CNN during a Monday evening interview.
"I agree with Joe Biden, when he says, anybody that goes to work every day and works full-time should be above the poverty guidelines. That's where my $11 comes in. This is stuff that we're just not making up, or I'm making up. Basically, I'm talking to people, as professionals who basically look into this," the Democratic senator said.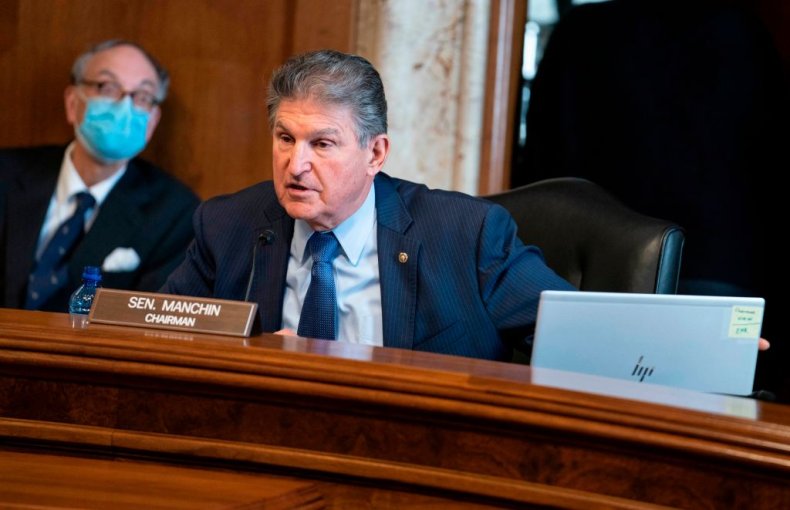 Manchin and seven other Senate Democrats voted against a proposed amendment to Biden's COVID-19 relief plan last week that would have included the $15 per hour minimum wage despite the parliamentarian's ruling. That amendment was put forward by Senator Bernie Sanders, a prominent progressive independent from Vermont. Although the effort was unsuccessful, Sanders and fellow progressives have asserted they will continue to push for the pay increase.
"At the end of the day, the American people want it, overwhelmingly large numbers of people support raising the minimum wage to 15 bucks an hour, eight states have already voted to raise the minimum wage to $15 an hour. Many communities and cities have done the same," Sanders told CNN on Monday. "So we're going to do what the American people want one way or another, we are going to pass the $15 an hour minimum wage."
Newsweek reached out to Sanders' office for further comment but did not immediately receive a response.
While polls consistently show that the majority of Americans support raising the federal minimum wage to $15 per hour, a recent survey conducted by Morning Consult and Politico showed that Manchin's suggestion to raise the minimum wage to $11 per hour is more popular. While 60 percent of Americans approve of $15, just over 70 percent support raising wages to $11.