Joe Manchin Hints at Possible Gun Reform Breakthrough: 'It Feels Different'
Democratic Senator Joe Manchin of West Virginia on Thursday suggested he could be easing up on his stance regarding gun laws following Tuesday's mass shooting at a school in Uvalde, Texas.
Alayna Treene, a congressional reporter for Axios, wrote on Twitter that Manchin told reporters: "It feels different right now."
Manchin is part of a bipartisan group of senators who met on Thursday to discuss gun reform. The talks occurred in the wake of the shooting at Robb Elementary School in Uvalde. Authorities named Salvador Ramos, 18, as the gunman responsible for the deaths of 19 children and two teachers in the incident. Ramos, who was killed by law enforcement officers, was said to have been armed with a rifle and a handgun and wearing body armor. It was the deadliest school shooting since the one in 2012 at Sandy Hook Elementary School in Newtown, Connecticut, in which 26 people were killed.
Manchin, a noted centrist, last year did not support a bill that passed the House that would require background checks for all firearm sales. The Hill reported that Manchin pushed a bill last week that he had negotiated with Pennsylvania Republican Senator Pat Toomey in 2013 that included input from the National Rifle Association (NRA). That bill would reportedly expand background checks on all commercial sales of guns, but it would allow sales between family members and friends without background checks. Opponents have called that bill insufficient.
Manchin's words on Thursday hinted he could be more willing to discuss further gun control measures.
"It shouldn't be open season on children," Manchin said, according to a follow-up tweet by Treene. "You shouldn't let this happen."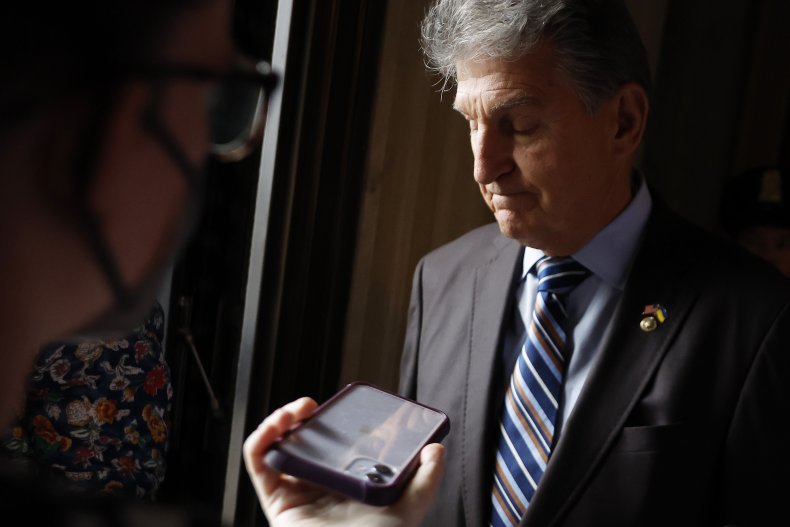 "I've never been in this frame of mind, I can't get my grandchildren out of my mind," Manchin also said to reporters about Thursday's gun talks, according to Jake Sherman, co-founder of the newsletter Punchbowl News and a political analyst at NBC News/MSNBC.
Politico reported that joining Manchin in the bipartisan discussion on gun laws were Senators Susan Collins, a Republican from Maine; Kyrsten Sinema, an Arizona Democrat; Richard Blumenthal, a Connecticut Democrat; Chris Murphy, a Connecticut Democrat; Lindsey Graham, a South Carolina Republican; Martin Heinrich, a New Mexico Democrat; and Pat Toomey. Republican Senator Bill Cassidy of Louisiana also reportedly joined the meeting by phone.
The senators were said to have discussed two main proposals: background checks and red flag laws that allow law enforcement officials to confiscate guns from individuals believed to be a threat to themselves or others.
"I thought the meeting was very constructive and went well. We identified some issues, and we'll continue to work over the recess, and I am hopeful that we can come together on a package that will make a difference," Collins said, according to ABC News.