Senator Joe Manchin, facing criticism from many Democrats, has gained popularity with West Virginia voters as he bucked parts of President Joe Biden's agenda, according to a new poll.
Manchin, widely considered the most centrist Democratic senator, has taken heat from many Democrats for not supporting Biden's key policies, including his wide-reaching social and climate spending bill.
But a new Morning Consult poll found that his opposition to these policies may have fueled a surge in popularity with conservative voters in West Virginia. The poll, released Monday, showed Manchin's overall support increasing by 16 points since Biden took office last January — the largest gain from any senator.
This surge has been driven by Republicans, whose approval of Manchin increased by 34 points since early 2021, according to Morning Consult. The poll found that Manchin now has a 69-point approval rating among Republicans.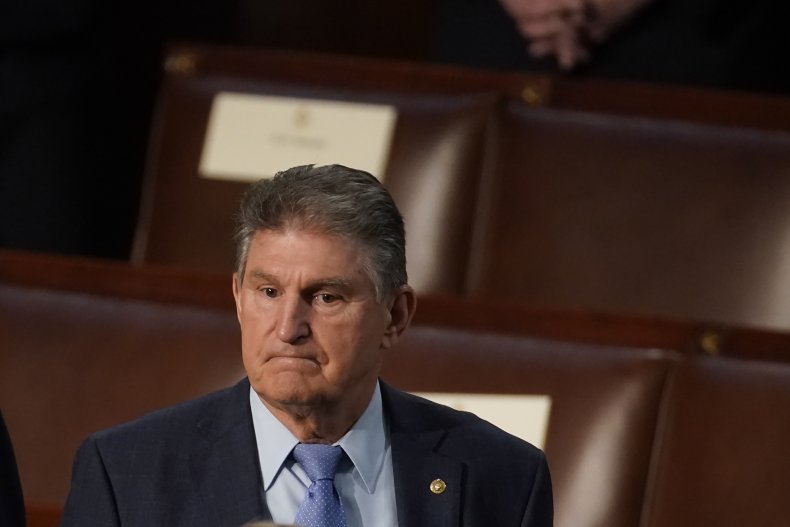 The news could bolster his odds of getting reelected, as Republicans largely dominate politics in West Virginia. Though Manchin narrowly won re-election in 2018, former President Donald Trump easily won the state by nearly 39 points in 2020.
The increased approval among Republicans has come at a cost, however, the poll found. Manchin's popularity among Democrats collapsed from a 63 percent approval rating in the first quarter of 2021 to a 44 percent in the newest poll. The poll also logged a 22 percent rise in his disapproval rating among Democratic voters,
Meanwhile, Manchin's approval rating also increased among independent voters. In early 2021, 57 percent of independents disapproved of him, that number decreased in the latest poll to 35 percent. Additionally, 50 percent approval of Manchin's job in Congress, a 19 percent rise compared to last year's poll.
Manchin saw the strongest surge in favorability of any senator, and he is now the eighth most popular senator in the United States, according to the poll. The poll also found that Republican Senators John Thune and John Barrasso and Independent Bernie Sanders are the most popular senators among voters.
Meanwhile, three Republicans, Kentucky's Mitch McConnell, Wisconsin's Ron Johnson and Maine's Susan Collins were the three most unpopular senators per the poll's results.
Manchin is not up for re-election until 2024, when he will likely face a difficult race in the deeply conservative state. He won by just over three points in 2018, which was considered to be a "blue wave" for Democrats.
He has long found himself at odds with other Democrats in Washington D.C. In December, he announced he would not vote in favor of Biden's 'Build Back Better' spending plan during an appearance on Fox News, sparking anger from many Democrats.
His support over the filibuster has drawn criticism, as it has inhibited Democrats' ability to pass major voting rights legislation. He has also declined to support some of Biden's nominees for various federal posts.
Newsweek reached out to Manchin's office for comment.