Joe Manchin Says He'd Support SCOTUS Pick More Liberal Than Him After Confirming Kavanaugh
Senator Joe Manchin said Thursday he could support a nominee to the Supreme Court to replace retiring Justice Stephen Breyer who is more liberal than he is.
His assessment would depend on the "character of the person," their qualifications, competency and other factors, the West Virginia Democrat said.
In a radio interview on MetroNews, Hoppy Kercheval said that President Joe Biden's pick would likely fall more to the left, compared with Manchin. He asked the senator whether he would be willing to back a nominee who is "more liberal or far more liberal than you."
Manchin responded, "It's not too hard to get more liberal than me. So it would not bother me, having a person who was sound in their thought process, have been sound in their disbursement of justice and the rule of law, just because of their personal beliefs."
He said that when he was governor of West Virginia, he appointed judges that were very different from him "ideologically, philosophically," but they still did a "good job" in their roles.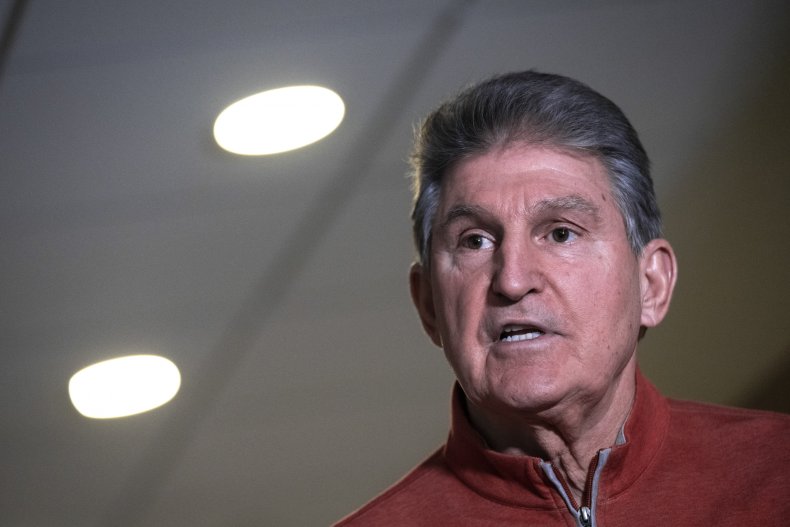 Manchin, a moderate Democrat, voted to confirm Justices Brett Kavanaugh and Neil Gorsuch, two of former President Donald Trump's three nominees for the Court.
He did not vote in favor of Justice Amy Coney Barrett, who was confirmed to the court after the passing of Justice Ruth Bader Ginsburg just about a week before the 2020 presidential election. Manchin told Kercheval that he thought it was "hypocritical" to put her on the court after then–Senate Majority Leader Mitch McConnell prevented the nomination of Merrick Garland in 2016 to take the late Justice Antonin Scalia's seat on the high court.
McConnell said that with the 2016 presidential election looming, the new pick should be chosen by whoever was elected.
"If we're going to have a rule, then have a rule of civility that we agree and stick by it, but no one did," Manchin said. He noted that he felt all of the Trump administration SCOTUS picks were qualified and competent, but the incident with Garland was the reason he did not vote for Barrett.
Breyer, one of the court's few remaining liberal justices, officially announced Thursday that he would be retiring from the high court. Biden said that he would announce his pick to succeed Breyer by the end of February, and pledged to uphold his campaign promise to choose the first ever Black woman as a SCOTUS nominee.
Manchin and Senator Kyrsten Sinema of Arizona have drawn the ire of fellow Democratic lawmakers in recent months for holding back their support for Biden's social and climate spending bill, the Build Back Better Act, which passed in the House and remains stalled in the Senate. They also received backlash for voting against a change to the Senate's filibuster rule in order to pass voting rights legislation.
Concerns have emerged since the news of Breyer's retirement that the two lawmakers will also derail Biden's first SCOTUS pick by voting against the nominee in the evenly divided Senate.
Manchin asserted to Kercheval that "as far as just the philosophical beliefs, no, that will not prohibit me from supporting somebody."