Joe Manchin Throws Another Wrench Into Joe Biden's Nominees, Not Sold on HHS Pick Becerra
Criticism of Health and Human Services Secretary nominee Xavier Becerra is largely coming from the Republican side of the aisle but at least one Democrat, Senator Joe Manchin, isn't sold on President Joe Biden's pick.
Confirming Biden's Cabinet picks requires a simple majority in the Senate, which Democrats have with the support of the two independents that caucus with them. However, there is no wiggle room, and Manchin opposing any of Biden's nominees creates a need for Republican support, an uphill battle for some of his picks.
Manchin's spokesperson, Sam Runyon, told the National Review on Monday that the West Virginia senator hasn't decided if he will support Becerra's nomination. His hearings are set to begin on Tuesday and Republicans are likely to target him for his pro-choice record, opposition to President Donald Trump and support for Medicare for All.
"Curiously, the president's candidate to run the Department of Health and Human Services is the famously partisan attorney general of California," Senate Minority Leader Mitch McConnell said in a floor speech in January. "His recent experience in health policies seems largely limited to promoting abortion-on-demand and suing groups like the Little Sisters of the Poor, which dare to live out their religious convictions."
With unity in the Democratic caucus, Republicans can't stop Becerra from taking over HHS because in a 50–50 tie, Vice President Kamala Harris will cast the deciding vote. However, if at least one Democrat votes against Becerra, it gives Republicans a chance to block his confirmation and Senator Tom Cotton is going to try to persuade those up for reelection.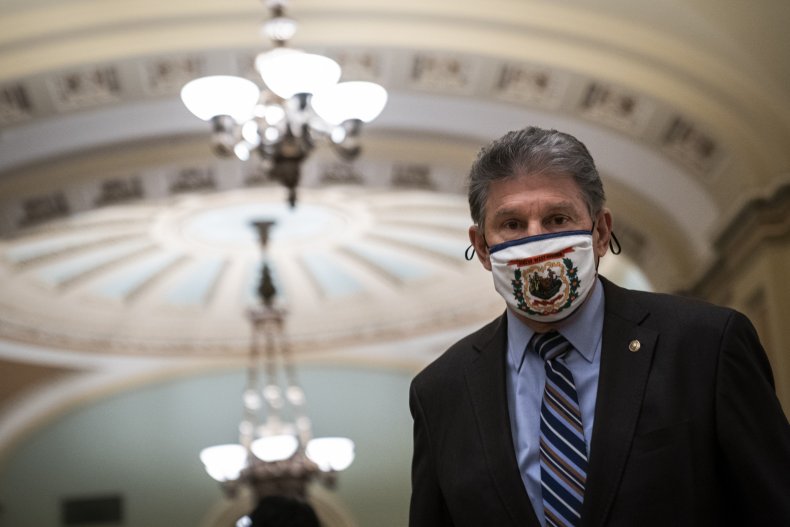 Cotton, according to Politico, will spend tens of thousands of dollars on ads urging voters to pressure Senators Maggie Hassan and Raphael Warnock to vote against Becerra.
"We don't need 51 senators to all agree on why they say no, we just need 51 senators to say no," Cotton told activists from the anti-abortion groups Students for Life and Susan B. Anthony List, Politico reported.
Newsweek reached out to Senator Joe Manchin for comment but did not receive a response in time for publication.
On Friday, Manchin said he wouldn't support Neera Tanden, Biden's pick to lead the Office of Management and Budget. Manchin cited Tanden's past tweets about his colleagues, including Senator Bernie Sanders and McConnell, saying her "overtly partisan statements will have a toxic and detrimental impact" on bipartisan work in Congress.
"As I have said before, we must take meaningful steps to end the political division and dysfunction that pervades our politics. At a time of grave crisis, it is more important than ever that we chart a new bipartisan course that helps address the many serious challenges facing our nation," Manchin said.
Tanden's potential confirmation took another hit on Monday when Senators Susan Collins and Mitt Romney, two moderate Republicans, announced they'd oppose her. Collins said she didn't have the "experience nor the temperament" to lead the OMB.
Collins, Romney and Manchin are expected to be targeted in digital ads from Students for Life, an anti-abortion advocacy group. Kristi Hamrick, a spokesperson for the group, said they see Becerra as someone who "should" and "could" be defeated.
Unlike Manchin's Friday comments on Tanden, Runyon saying the senator hasn't "yet decided" if he will support Becerra's nomination doesn't mean he's a definite "no." And if Manchin gets on board with Becerra, Democrats could have the votes they need to make the California attorney general the head of HHS.