Joe Manchin Wants Republicans to Have More Say in Biden's Next Package Than They Did on Stimulus
Senator Joe Manchin said he'll block President Joe Biden's next package on infrastructure and clean energy if Republicans aren't included in the decision-making process.
"I'm not going to do it through reconciliation," the West Virginia Democrat said during an interview with Axios that ran on HBO Sunday evening, referring to the legislative route used to bypass the Senate filibuster and pass Biden's $1.9 trillion coronavirus relief package with a simple majority vote.
"I am not going to get on a bill that cuts them out completely before we start trying," Manchin said.
Manchin, a critical swing vote in the 50-50 split Senate, showed his power during the stimulus negotiations. Last week, the upper chamber stalled for hours while Democrats were forced to make changes to unemployment insurance to get Manchin on their side. Manchin also insisted the $1,400 stimulus check be capped to $80,000 for individuals rather than $100,000.
Democrats control the Senate by the slimmest of advantages, with Vice President Kamala Harris as the tie-breaking vote. In order for any legislation to be passed, 10 Republicans would need to show their support, thanks to the filibuster.
Many Democrats and progressive organizations have called for abolishing the filibuster, arguing it's the only way to pass Biden's agenda. Manchin has repeatedly said he's opposed to eliminating the filibuster, though on Fox News Sunday yesterday he said he's willing to make it more painful for senators to use.
He told Axios, "they've talked before, some of the rules could be changed a little bit. But not to the point where just a simple majority rules. That's all."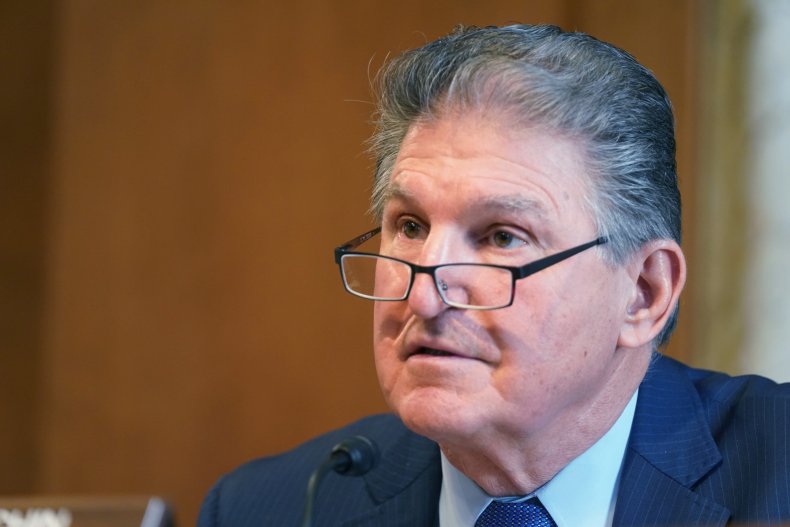 Manchin added that he believes it's possible for Democrats to get 10 Republicans to vote in favor of the infrastructure bill. But the high cost of the package—which is expected to be between $2 trillion and $4 trillion—as well as its climate change aspects will be divisive issues.
The "Build Back Better" proposal that Biden released during the 2020 campaign focused on building a modern infrastructure and transitioning the country to clean energy. The plan would allocate funding to minority communities and bolster measures to support unions.
Transportation Secretary Pete Buttigieg said during his Senate confirmation hearing that he was excited to start working on the Biden administration's infrastructure agenda. He said at the time that "good transportation policy can play no less a role than making possible the American dream."
Manchin said he will advocate for tax hikes to pay for Biden's infrastructure package, stating concerns that "we're just setting ourselves up" by adding to the national debt. He also said he would use his position on the Senate Energy and Natural Resources Committee to push his Republican colleagues on climate change.
Newsweek reached out to the White House for comments on Manchin's remarks and on how Biden plans to garner Republican support for his infrastructure package.