Joe Manchin Insists He Doesn't Like Being Most Powerful Senator as He Appears on 4 Sunday Shows
Democratic Senator Joe Manchin of West Virginia insisted that he doesn't like being the most powerful congressional lawmaker as he appeared on four Sunday shows after the Senate passed President Joe Biden's $1.9 trillion stimulus bill this weekend.
Manchin, the most crucial stimulus vote, gave interviews on Fox News Sunday, ABC's This Week, NBC's Meet the Press and CNN's State of the Union this morning, where he reiterated the importance of keeping the Senate's legislative filibuster rule and defended delaying the American Rescue Plan in an attempt to gain bipartisan support.
Fox News Sunday host Chris Wallace reminded viewers that Manchin had single-handedly prevented Democratic legislation and nominees from moving forward in the Senate. "Do you like being the most powerful member of Congress, the swing vote in a 50/50 senate? Do you like that, sir?" he asked the lawmaker.
"No, I do not and I did not lobby for this, did not seek it out," Manchin said.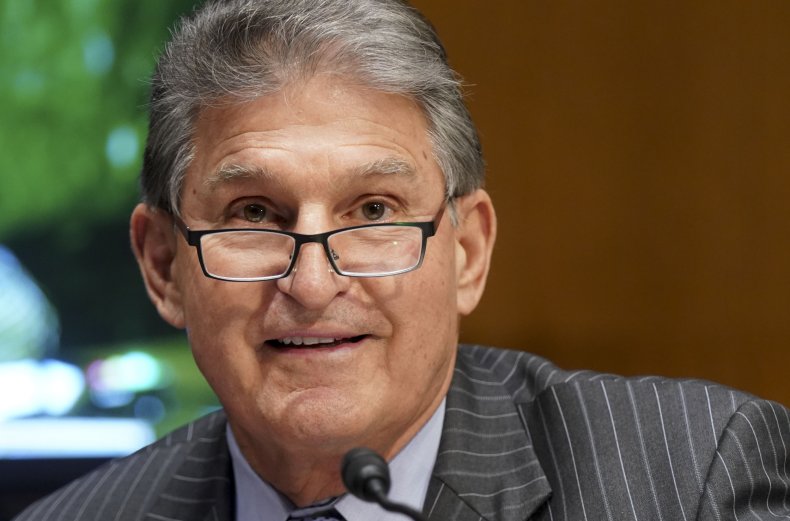 With the Senate split 50-50, the West Virginia senator has used his pivotal vote to shoot down Democratic efforts, including the $15 minimum wage hike, killing the filibuster and packing the Supreme Court.
"You are on four Sunday shows today. Are you enjoying your position of power maybe a little too much?" Wallace asked.
"I sure hope not," Manchin responded. "Oh, my goodness. That would be horrible. That's not—no. I want to make sure people understand. I am in that common-sense middle. That's who I am."
Manchin slowed down Senate negotiations on the relief bill on Friday as he considered two separate proposals for enhanced unemployment benefits. Over the past month, the senator also led moderates in the party in negotiations with the Biden administration to further target proposals in the stimulus package.
The Senate passed the American Rescue Plan on Saturday after Democrats capitulated to moderates by agreeing to drop the $15 wage hike, lower the income threshold for the $1,400 stimulus checks and reduce weekly enhanced unemployment benefits from $400 to $300.
The votes fell largely along party lines with all 48 Democrats and two independents who caucus with them in the chamber supporting and 49 Republicans opposing the bill.
Manchin defended the partisan vote and insisted that Democrats "had an awful lot of input from Republican friends all through this process" on ABC's This Week.
"All the changes that we made that were basically brought into this process came by working with my Republican and Democratic colleagues together," he said.
Newsweek reached out to Manchin's office for comment.