Joe Manchin Wants Ukraine No-Fly Zone as Option After Zelensky Warning
Senator Joe Manchin, a West Virginia Democrat, said that the West should keep a no-fly zone over Ukraine as an option, saying the U.S. shouldn't take any options off the table after a Saturday call with Ukrainian President Volodymyr Zelensky.
Zelensky and other Ukrainian leaders have repeatedly called for NATO and the U.S. to set-up a no-fly zone over Ukraine—arguing it will help the Eastern European nation defend itself against Russia's invasion. Meanwhile, Russian President Vladimir Putin has said Moscow would view this as a "threat."
"That very second, we will view them as participants of the military conflict, and it would not matter what members they are," Putin warned on Saturday, commenting on the possibility of a third-party nation declaring a no-fly zone.
Manchin told NBC News' Meet the Press on Sunday that Zelensky is seeing his people "slaughtered" by Russia every day in Ukraine. The Democratic senator said that the Ukrainian president is asking, "Just help me, I'll fight my own fight. Just give me the tools to do it."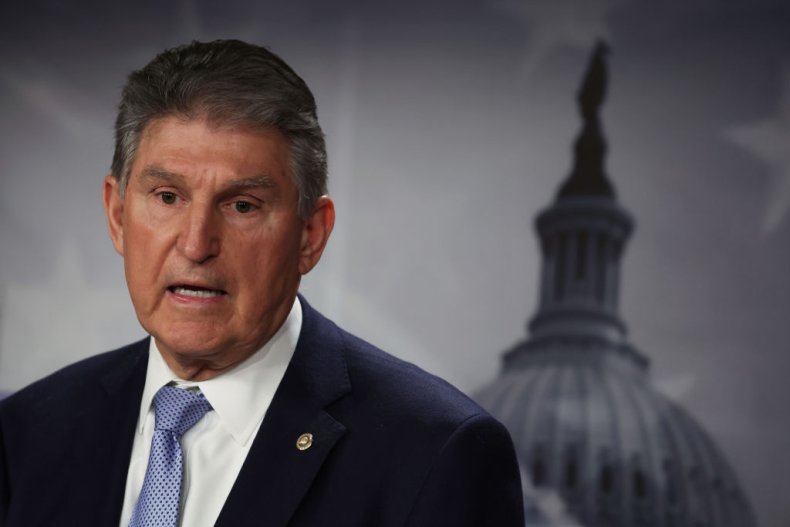 "And for us to hesitate—or anyone to hesitate in the free world, is wrong," Manchin asserted. "And he said that. He said, 'If Ukraine falls, then Europe may fall.'"
Meet the Press host Chuck Todd then asked if Manchin would support a no-fly zone as Zelensky has requested. Todd noted that many analysts fear such a move could "trigger a wider conflict."
"I understand that," Manchin said and described the conflict as "Putin's war."
"But to take anything off the table, thinking we might not be able to use things, because we've already taken it off the table is wrong," Manchin said. "I would take nothing off the table. But I would be very clear that we're going to support the Ukrainian people, the Ukrainian president and this government every way humanly possible."
"Zelensky was very clear," the senator continued, "He says, 'We don't need you to fight our fight. We don't need you to fly our planes or fly your planes into our war zone. We need the planes that we can fly ourselves and we have them on the border.'"
In a passionate Friday speech, Zelensky argued that NATO had given Russia "a green light" to bomb more Ukrainian cities by declining to implement a no-fly zone over the country.
"All the people who will die starting from this day will also die because of you. Because of your weakness, because of your disunity," Zelensky said.
"Is this the NATO we wanted? Is this the alliance you were building?" he asked.
Manchin on Saturday spoke with Zelensky via a Zoom call along with other Democratic and Republican lawmakers. "It was an honor to hear directly from President Zelensky this morning as he continues to lead his nation in defense against a senseless and illegal invasion by Vladimir Putin. President Zelensky has shown immense bravery and leadership in a time of crisis," Manchin said in a statement after the call.
The White House on Thursday suggested it was not supportive of a no-fly zone. "It would require, essentially, the U.S. military shooting down Russian planes and causing or prompting a potential direct war with Russia—the exact step that we want to avoid," White House press secretary Jen Psaki told reporters.
Retired four-star Admiral James Stavridis told Meet the Press on Sunday that the U.S. is capable of setting-up a no-fly zone, but suggested it is not the time to do so.
"I implemented a no-fly zone. I I know how to do this. I did it in Libya in 2011. Can we do it? Sure. Should we? Not yet," Stavridis said. However, he warned that putting U.S. and NATO aircraft to enforce a no-fly zone would significantly increase the chances of wider escalation.
"What we ought to do is give Ukrainians the ability to create a no-fly zone," the retired military officer continued, who suggested the U.S. and NATO provide more missiles and better fighter jets.
Russia launched its full-scale invasion of Ukraine on February 24. The unprovoked assault has been internationally condemned. In a United Nations General Assembly vote last week, only four nations voted with Moscow against a resolution condemning the attack and demanding Putin withdraw his forces.
This article was updated with additional details and background.