Joe Rogan Accused of 'Disgusting Antisemitism' Over George Soros Views
Podcast host Joe Rogan has been accused of "disgusting antisemitism" after discussing a theory over whom billionaire George Soros chooses to donate his money to.
Rogan and his guest, former CIA officer Mike Baker, have both been criticized by social-media users after a clip of their conversation went viral. The pair discussed Soros on the January 11 episode of The Joe Rogan Experience, but late on Monday, campaigners took notice and spoke out against their views.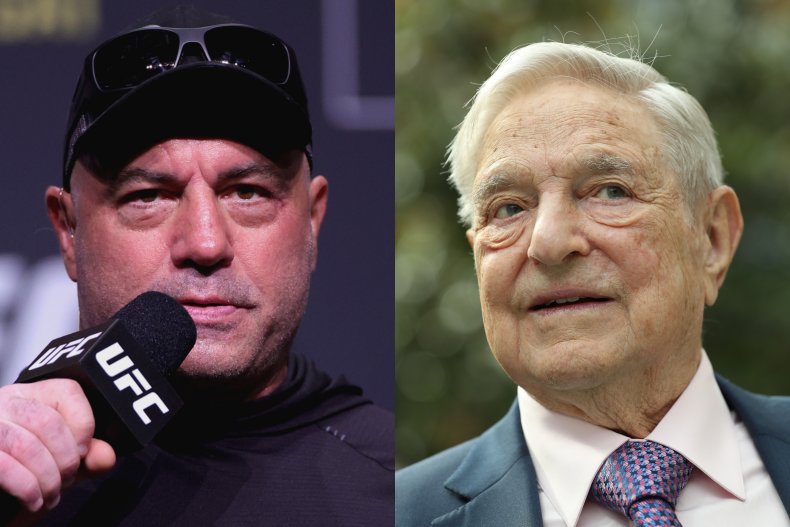 Soros is a 92-year-old billionaire, businessman and philanthropist who survived the Nazi occupation of his home country of Hungary during World War II. He made his billions in the U.K. and has gone on to become a huge supporter of progressive and liberal political causes. In the most-recent midterms, campaign finance data showed Soros was the biggest single individual donor, giving more than $128 million exclusively to Democrats.
Rogan gave his view of Soros' alleged generosity, detailing the opinions of Republican Governor of Texas Greg Abbott.
"[Greg] was explaining to me what George Soros does, and it's f****** terrifying, that he donates money to a very progressive, very leftist, whether it's a [District Attorney] or whatever politician, and then fund someone who's even further left than them to go against them, and just keep moving it along." Rogan added, "So he's playing like a global game, and he enjoys doing it."
Rogan's account of Abbott's theory is in keeping with the politician's previous views. In February 2018, Abbott slammed Soros on his Facebook page for "messing with Texas" when he gave "almost $1 million to just one candidate." He's also sent out campaign content, calling for his voters to fight back against "Soros' far-left agenda."
Responding to Rogan's statement on Soros, Baker said that funding the state-level politicians, to whom Soros is donating, is where real change occurs.
"That's what's scary. It seems like he funds corrosion," Rogan said. "It's like he wants the cities to fall apart. He wants crime to flourish. It's almost like he's an evil person in a Batman movie."
Rogan and Baker's exchange has been viewed in isolation thousands of times online, but Jewish writer and activist Elad Nehorai is worried about the larger podcast audience who regularly tune into The Joe Rogan Experience.
"11 million people listen to this podcast. 11 million people hearing and absorbing antisemitic tropes," Nehorai wrote on Twitter.
Posting after Nehorai's take, journalist Chris Geidner tweeted, "In addition to the disgusting antisemitism on display here, I have a few thoughts about this." In a Twitter thread, Geidner started by noting how Rogan goes to Abbott for an "objective understanding of the world around him."
"The 'he wants these cities to fall apart,' 'he wants crime to flourish' is just a truly not that diff from what we've been hearing from Republicans across the board. And some Dems [...]. It sounds grosser when he says it, but he's not alone with that disgusting lie," Geidner wrote.
Countless other Twitter users commented on Rogan's take on Soros, too, with some siding with him and others calling it out as antisemitism.
Newsweek has reached out to Rogan and Soros' representatives for further comment.