Joe Rogan Suggests Joe Biden Faked Getting Live TV Booster Shot
Joe Rogan has speculated that Joe Biden faked getting the COVID-19 booster shot on live television.
The podcasting giant spoke about the president's latest move on the most recent episode of The Joe Rogan Experience, where he questioned the authenticity of getting a jab on live TV, and what would happen if Biden had a bad reaction.
"I think if they were going to give him a booster shot, the last thing they would do is give it to him live on television," Rogan said. "What if he dies? What if he blacks out? What if he like gets it and faints?
"Like, because people have had very bad reactions like in the moment for whatever reason."
On Monday, Biden received a third dose of the Pfizer vaccine, or a "booster" shot, at the White House.
"Let me be clear, boosters are important," Biden told reporters. "The most important thing we need to do is get more people vaccinated."
He added: "We need to get folks vaccinated. Please, please do the right thing. Please get the shot. It can save your life and the lives of those around you."
Rogan discussed this on his latest podcast episode with his guest, former CIA officer Mike Baker.
"Do you think that was a real booster?" Rogan asked Baker.
"I hadn't thought about it before," Baker replied. "But you know what, when I watched it on TV... all I could think of, was this was performance art. So the next stop of performance art would be like not giving him the booster but just giving him a shot."
Baker went on to say: "They give you the shot, and then they'll say stick around for 10 or 15 minutes. They want to make sure you don't, you know, fall down.
"So, I agree because every other step of the way with any president, they're so careful...about the messaging, the optics, the security issues related to it."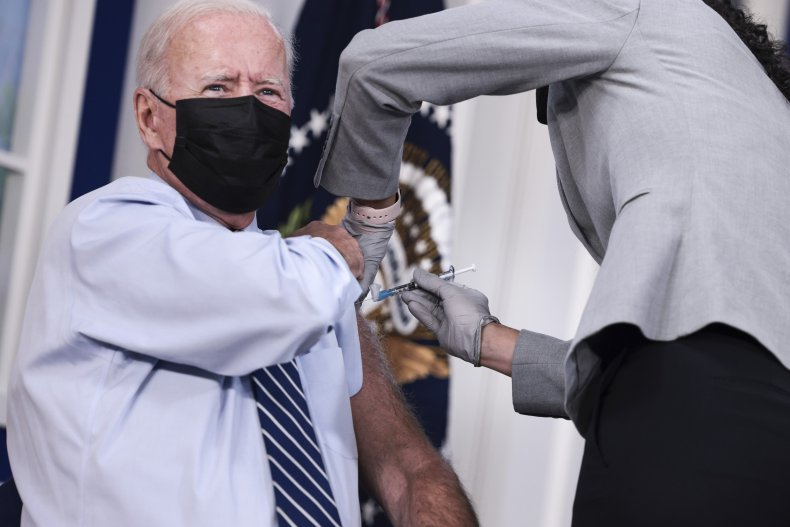 He added: "It would be not unheard of, let's put it that way."
Rogan's comments come just weeks after he recovered from a bout of coronavirus himself, which he very controversially treated with the drug Ivermectin.
The stand-up comedian told his fans he "threw the kitchen sink" at the virus in order to get better.
The Food and Drug Administration (FDA) has urged people not to take ivermectin to treat COVID-19.
"They keep saying I'm taking horse dewormer," Rogan said responding to the controversy afterward. "I literally got it from a doctor. It's an American company. They won the Nobel Prize in 2015 for use in human beings and CNN is saying I'm taking horse dewormer. They must know that's a lie."