Fox News Host Confronts GOP Gov. Greg Abbott Over Texas Election Audit Cheered On by Trump
Texas Governor Greg Abbott on Sunday defended his state's decision to audit the 2020 election results in certain counties, a move encouraged—some would argue demanded—by former President Donald Trump.
Pressed by Fox News Sunday host Chris Wallace, who asked if the audit was "a terrible waste of taxpayer money," the Republican governor and Trump ally said the initiative was a worthwhile pursuit.
"There are audits of every aspect of government," Abbott said. "We have a state auditor, there's a federal auditor for the way the government operations work. Businesses that are public companies are subject to an annual audit. Why do we audit everything in this world, but people raise their hands in concern when we audit elections, which is fundamental to our democracy?"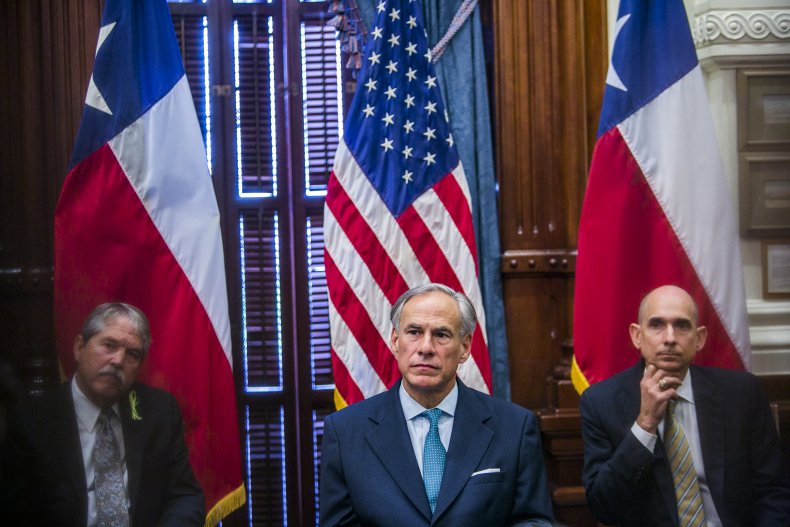 Abbott denied allegations that pressure from Trump led to the decision to perform the audit. The former president sent a letter to Abbott hours before the audit was announced on Thursday that read, "Let's get to the bottom of the 2020 Presidential Election Scam!"
Abbott claimed Sunday the audit "actually began months ago because the secretary of state of Texas has an obligation to make sure that we do conduct audits in the state of Texas."
Texas' audit specifically targets Dallas, Collin, Tarrant, and Harris counties. Only two of them, Dallas and Harris, went for Joe Biden in the 2020 presidential election. Trump won Texas by over 600,000 votes.
This week in Texas various judges, including a Republican, criticized the audit, with some describing it as a ploy to maintain favor with Trump.
"This is a weak Governor openly and shamelessly taking his orders from a disgraced former President," said Judge Clay Jenkins, a Democrat from Dallas County. "Governor Abbott is wasting taxpayer funds to trample on Texans' freedom to vote, all in order to appease his puppeteer."
Judge Glen Whitley, a Republican from Tarrant County, added, "The conspiracy theorists who want to come up with all these ways or reasons why this election wasn't right— they might very well find something else [to doubt]. It's time to move on."
The announcement of the audit came on the heels of the controversial hand recount of votes in Arizona's Maricopa County. The county, which includes Phoenix, played a key role in turning Arizona for Biden last year.
The Arizona audit found that Biden beat Trump by a slightly larger margin than previously reported. Despite this, Trump claimed at a rally in Georgia on Saturday that the audit showed he won.
Newsweek has reached out to Abbott's office about this story.