Joe Rogan Explains Why Alex Jones Podcast Was Briefly Deleted from Spotify
This week Joe Rogan controversially interviewed right-wing conspiracy theorist Alex Jones for an episode of "The Joe Rogan Experience" that has been met with backlash and praise.
However, many fans noticed that shortly after dropping, the episode was removed from Spotify.
Unsurprisingly, many assumed it had been removed from the platform because Jones' was famously banned from all social media, including Spotify, last year.
Rogan however confirmed that it wasn't actually all a grand conspiracy to censor Jones' bizarre views, but an actual honest to god technical glitch.
The host took to Instagram to explain the error to fans and to clear up any wild speculations.
"The conspiracy about the show with the conspiracy theorist..." he joked.
"The episode that was uploaded to Spotify had some cache issues, and it wasn't working correctly on some devices so the engineers had Jamie re-upload it with the same date, thinking it would fix the problem but still play for everyone like it was never missing," Rogan explained.
Rogan said that trying to fix the problem didn't work perfectly which led to his "phone getting hit up by people thinking it was removed."
"It works for me now, but some folks are still having trouble seeing it," he explained. "They're working on it."
Rogan went on to call the glitch "classic and amazing" for showing up only on the Alex Jones episode which saw them discuss topics including vaccine conspiracies and Hunter Biden's laptop.
"It IS however f****** classic and amazing that this glitch only shows up in the Alex Jones episode," Rogan added.
A number of people yesterday (October 28) took to Twitter to complain that the episode was missing, with some still remaining unconvinced about the technical error explanation.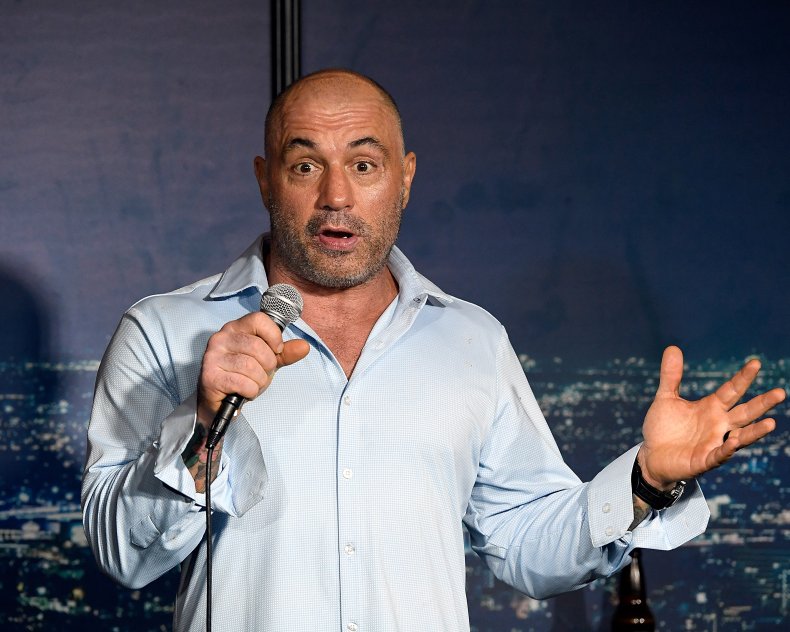 Rogan platforming Jones after he had been famously de-platformed did not go down well on Twitter this week, with many people saying they had canceled their Spotify accounts or were planning to do so.
Spotify has not officially commented on the situation but a leaked email obtained by Buzzfeed News suggests the company's top bosses are supportive of Rogan.
The music and podcast company's chief legal officer and head of global affairs, Horacio Gutierrez, emailed team managers on yesterday about the Jones episode, stating that Spotify is "not going to ban specific individuals from being guests on other people's shows."
Spotify has not yet responded to a request from Newsweek for comment.
Spotify employees have reportedly been unhappy with some guests on The Joe Rogan Experience these past few months, specifically over an episode that featured an interview with Abigail Shrier, author of Irreversible Damage: The Transgender Craze Seducing Our Daughters.
In a statement, Spotify CEO Daniel Ek expressed that the company had reviewed the episode and decided against removing it from the platform.
"In the case of Joe Rogan, a total of 10 meetings have been held with various groups and individuals to hear their respective concerns," Ek said (via Industry Observer). "And some of them want Rogan removed because of things he's said in the past."