Joe Rogan has slammed CNN, branding the news network "f****** propagandists" after their firing of its number one anchor, Chris Cuomo.
Cuomo was dismissed from the network on Saturday, after it was reported that he had attempted to aid his brother, former New York Governor Andrew Cuomo, as he faced dozens of sexual assault allegations.
And during a discussion on his podcast The Joe Rogan Experience, Rogan criticized CNN, accusing the network of hiring "highly polarizing" figures.
He said: "I think CNN is realizing that their ratings are dog s***, and that having these highly polarizing editorial personalities like [Brian] Stelter and Don Lemon... I personally, maybe it's just my bias, I want the news. I want objective news.
"I want someone to tell me what are the facts of what's going on and what's happening. I don't want your ideological slant. I don't want this left-wing propaganda network, which is what CNN has become.
"The way I look at CNN now is so different than the way I looked at CNN 15, 20 years ago," he went on. "I used to look at them as this is how I get the news. This is unbiased, professional news.
"They're going to tell me what's happening in Pakistan and what's happening in Mogadishu. These are the real journalists that are telling you the news. Now I look at them, I go, 'You f****** propagandists, the right-arm of Pfizer. What are you doing?' I think there's a market for real news, and it's really hard to find that now."
This is not the first time Rogan has taken aim at CNN. Back in June, he lashed out at Reliable Sources host Stelter, after he presented a segment in which he discussed the popularity of YouTubers and podcasters, who in some cases have more viewers than traditional outlets.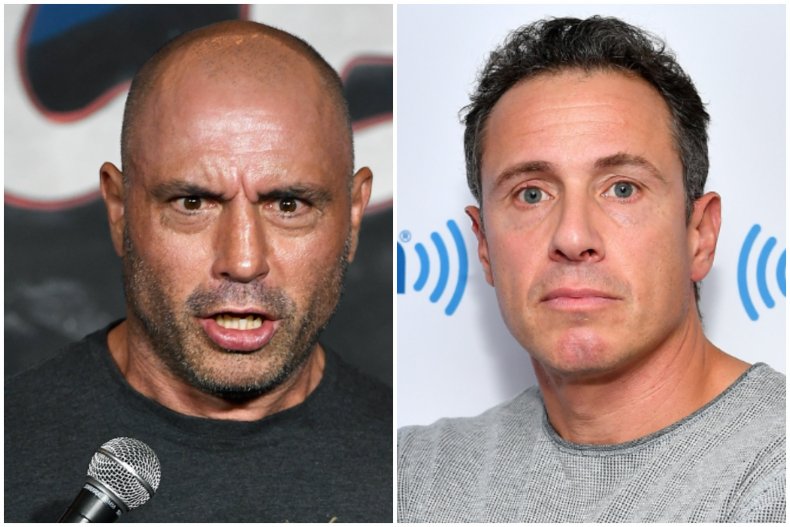 Rogan said of Stelter: "They were describing it as if they were entitled to viewers. This is because the market has spoken and your show's f****** terrible.
"Brian Stelter's show keeps slipping and slipping and slipping in the ratings. Same with Don Lemon's. It's the same thing. Everybody knows they're not real. They're not real humans."
The former Fear Factor host also criticized Stelter for his recent interview with White House press secretary Jen Psaki, in which he asked: "What does the press get wrong when covering Biden's agenda?"
Reacting to the question, Rogan said: "How about Brian Stelter talking to the press secretary saying, 'What are we doing wrong? What are we doing wrong?' Like, hey motherf*****, you're supposed to be a journalist."
At the time that Chris Cuomo was fired from CNN, new sexual misconduct accusations had been made against him. The anchor has denied any wrongdoing.
"If the goal in making these false and unvetted accusations was to see Mr. Cuomo punished by CNN, that may explain his unwarranted termination," a spokesperson for the newsman said.
Chris Cuomo released his own statement after news of his dismissal broke, saying: "This is not how I want my time at CNN to end but I have already told you why and how I helped my brother.
"So let me now say as disappointing as this is, I could not be more proud of the team at Cuomo Prime Time and the work we did as CNN's #1 show in the most competitive time slot."