Joe Rogan: Kaepernick Would Have 'Got Away With' Taking Knee If He Was Best
Joe Rogan has suggested athletes and artists can get away with more if they're the best in their field, which in his opinion didn't apply to Colin Kaepernick.
Kaepernick was an NFL quarterback until 2016, when he knelt during the national anthem in protest against police brutality and racial inequality in America. He has since become a free agent and has yet to be signed up by any other NFL team. His life story was recently told in the Netflix miniseries Colin in Black & White.
Rogan was discussing politics in the field of art and sport with his guest Greg Fitzsimmons on the most recent episode of The Joe Rogan Experience.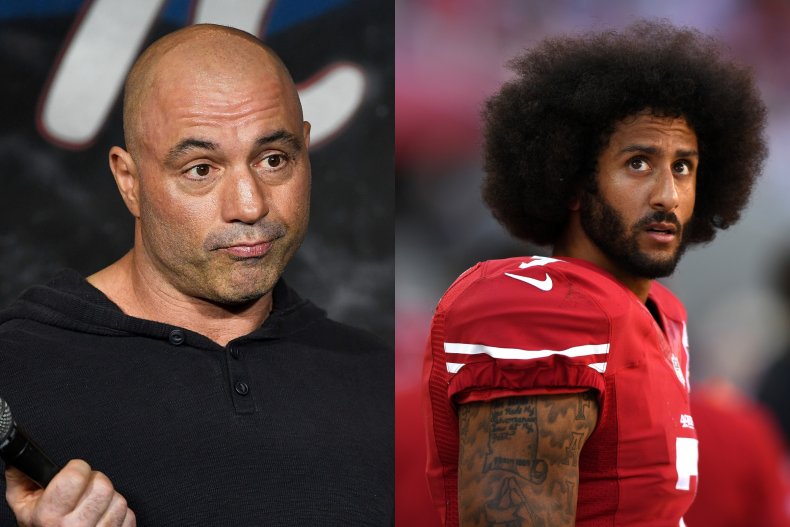 During a discussion over whether people generally lean left or right politically, Rogan and his guest Simmons stated that people aren't as polarized or biased as the media would lead you to believe
"Most people don't give a f*** about most of these issues that everyone is freaking out about," Rogan said to his guest, using the example of Tom Brady, the most successful quarterback in NFL history. Rogan suggested no one minded that Brady was a Trump supporter because he was so good.
"Even lefties who are football fans, if he was throwing for Tampa Bay you'd be [...] pumped." Rogan continued, "Who cares who he's friends with? Because he's that good."
Drawing on another comparison, Rogan said, "It's like when Michael Jackson music comes on. You know, he might have been a pedophile, but it's like 'damn they still play it.'" Jackson faced multiple allegations of child abuse in his life but was never found guilty, though his behavior was investigated posthumously in the documentary Leaving Neverland.
"Not for Colin Kaepernick," comedian Fitzsimmons came back with to Rogan's point. "There's an argument that he got driven out for his politics."
It's never been explicitly stated that Kaepernick has been frozen out of the NFL for his political stances and protests, though it is widely believed that the events are linked. "So they stopped using him because of his protests?" Rogan asked. "It's quantifiable to some degree," Fitzsimmons replied.
Rogan admitted he wasn't aware of how good a quarterback Kaepernick was, and Fitzsimmons clarified he was a "first-rate quarterback."
"But if he was the best. If he was the LeBron James of quarterbacks. If he was just this undeniable mother****** of mother****** quarterbacks, I bet he would have got away with it."
The conversation then moved on to other quarterbacks, with Rogan citing Aaron Rodgers as a friend of his whom he calls a "shockingly smart guy." Rodgers has recently received widespread backlash after he refused to get the COVID-19 vaccine.
In December 2021 ahead of the release of his biopic American Underdog, former NFL quarterback Kurt Warner told Newsweek he had changed his stance on Kaepernick's protests over time. "I think back to those things that I said back then, I have learned so much about myself. I learned so much about those different causes. I have had my eyes opened to some of the things that go on in our society, and I've grown through it. And that, to me, is what that whole demonstration was about," he said.