Joe Rogan Defends Andrew Tate's Overall Messaging After Social Media Ban
Joe Rogan insists that Andrew Tate offered a "good lesson" to his followers before his social media ban when it came to his "pro-male" content.
Last month, Tate's accounts on Instagram and Facebook were deleted after he was accused of making misogynistic comments, including some that could incite violence against women, sparking fury online. The former kickboxer was also accused of putting out content that would be potentially harmful to impressionable young men.
Facebook parent company Meta confirmed to Newsweek that Tate was no longer allowed to use both social media platforms due to violating company policies.
In 2017, the U.S.-born, U.K.-raised sportsman sparked outrage by saying women "must bear some responsibility" if they're raped, at the height of the #MeToo scandal.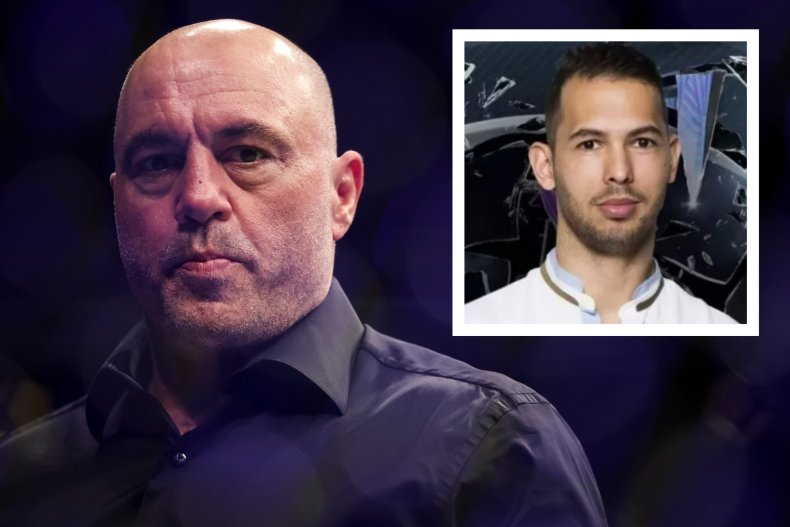 In the latest episode of his podcast, The Joe Rogan Experience, Rogan said Tate ultimately "f**ked up" an excellent platform by putting out misogynistic content.
Rogan said he wasn't surprised that Tate's messaging hit home with a younger audience, explaining that if Tate had eschewed the "misogynist stuff" and continued with his "pro-male" and "pro-accountability" messaging, he likely wouldn't have lost his sizable platform.
The former Fear Factor host said that Tate's strength was in his messaging on ambition and motivation, saying: "If you just concentrate entirely on your feelings you're not going to get anywhere and that's true. That's a good lesson for people to learn."
He went on: "Look, he plays part of it like a character, and part of it is legit world champion kickboxer, who is a hard man, who doesn't buy any p***y bulls**t and that's what resonating with young people."
While Rogan was clear in stating that he did not agree with all of Tate's points of view, he believed there's a place in the world for men like him.
"Toxic masculinity, what that means is, 'Oh, you mean the men that carved the world,'" said Rogan. "You do need them, you just don't think that you need them because you don't need them right now. Now Russia has them, China is making them more masculine."
During the conversation, Rogan was asked if he would ever invite Tate to be a guest on his popular podcast, to which he responded: "It's a conversation."
Controversial influencer Tate last month told Fox News' Tucker Carlson that he was banned from social media for living a "traditionally masculine life."
"They banned me simply because I had large swaths of the population agreeing to very traditional masculine values," Tate said. "Teenage men and young men, 20, 22, 23, 24, were looking up to me and aspiring to be like me."
"I live a very traditionally masculine life," he continued. "I have fast cars and a big house and a lot of money and a beautiful girlfriend, and they thought they thought this was very, very threatening. And for some reason, they decided that it's better they annihilate me from the internet and replace me with somebody who's more aligned with whatever they're trying to propose."
When asked about his message to young men, Tate, who moved to Romania in 2017, told Carlson: "I think that being a man is very, very difficult. I think that men's issues are largely overlooked. The people in charge of the world pretend to care, but when somebody who's championing men's issues like myself comes forward and finally manages to garner huge percentiles of the public support, I'm silenced."