Joe Rogan Offers To Train Elon Musk for 'F****** Epic' Vladimir Putin Fight
Joe Rogan has offered to share his fighting skills in order to assist Elon Musk after the Tesla CEO challenged Russian President Vladimir Putin to "single combat."
The tech billionaire posted a challenge to Putin and the Kremlin earlier this month for a physical fight, with the winner getting Ukraine, in a move that sparked a huge reaction online.
"I hereby challenge Владимир Путин [Vladimir Putin] to single combat Stakes are Україна [Ukraine]," Musk wrote on March 14. In a second tweet, he tagged the Russian leader, writing: "Do you agree to this fight?'"
Now, podcast host and MMA commentator Rogan has waded into the discussion and offered to train Musk for this hypothetical fight, noting that such a brawl would be "epic."
"Elon Musk wants... he wants to fight Putin. Have you seen that?" Rogan asked guest Australian comedian Monty Franklin on a new episode of The Joe Rogan Experience podcast this week.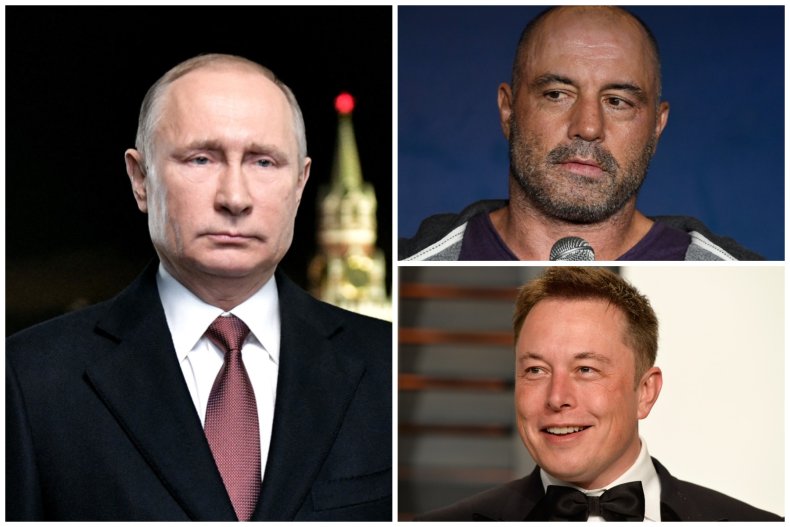 "I offered my services. I texted him [and] I said, 'Dude I will arrange all of your training. If you really do fight Putin, I will arrange all your training,' It would be so f****** epic," Rogan added.
Rogan is a former UFC commentator and kickboxer.
Musk's challenge to Putin prompted Chechnya's warlord leader Ramzan Kadyrov to get involved and enter a war of words with the SpaceX entrepreneur on social media.
"Elon Musk, a word of advice: Don't measure your strength against that of Putin's. You're in two completely different leagues," Kadyrov wrote in a lengthy post, via Telegram, which Musk then shared with his followers.
The Chechen warlord went on to tell Musk that Putin would "beat the hell out of you, a much weaker opponent."
"You will return from the Chechen Republic a completely different person Elona, that is, Elon," Kadyrov added, including a feminized version of Musk's first name.
Kadyrov has faced multiple accusations of human rights abuses during his time in power in the region, and he is a staunch supporter of Putin.
It was reported earlier this month that Chechen forces led by Kadyrov are assisting the Russian military near Kyiv.
The heated exchange prompted Musk to change his name to Elona on Twitter. In a tweet, the Tesla CEO responded to Kadyrov, writing: "Thank you for the offer, but such excellent training would give me too much of an advantage. If he is afraid to fight, I will agree to use only my left hand and I am not even left-handed. Elona."