Joe Rogan Faces More Backlash As Video of Sexual Coercion Story Resurfaces
Joe Rogan is facing further backlash amid the ongoing controversy over his Spotify podcast, after a video resurfaced of him laughing as a guest boasted about coercing women into performing sex acts.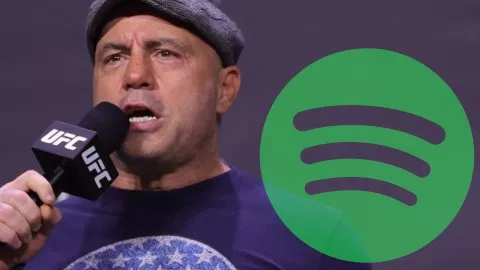 The embattled comedian is under fire for a decade-old video that shows The Joe Rogan Experience guest Joey Diaz bragging about demanding sexual favors from women comedians wanting to perform onstage at Los Angeles' Comedy Store.
Rogan—who recently apologized for repeatedly using the n-word on his podcast, and has been accused of spreading COVID misinformation on his platform—is shown laughing raucously as the tale is recounted in the clip.
In the clip, which dates back to 2011, Diaz said: "You think I'm f****** kidding? Yeah, you've got to suck my d*** to get up in the [Comedy Store's] Belly Room. I'll make a call for you. That's the f****** gateway into coming to Hollywood, everybody knows that."
"How many girls did you have do that?" former Fear Factor host Rogan asked, prompting Diaz to respond: "Oh, 20 of them."
On hearing the answer, Rogan, who has been hosting his podcast since 2009, clapped his hands together and rolled his head back as he laughed.
Diaz then went on to talk about a "little blonde open mic chick…that used to come up to the Comedy Store…and just take me up to the Belly Room and suck my d***, then go do her set. She was tremendous.
"She finally freaked out. When she got to Hollywood, bro, she was beautiful, and when she left her nails were dirty. A year later she wrote me a letter to the Comedy Store [saying], 'You c***sucker, you broke me."
The podcast's co-producer at the time, Brian Redban, was seen sitting in silence throughout the exchange.
Amid the debate surrounding Rogan's podcast, gun violence prevention activist Shannon Watts shared the clip on Twitter on Sunday, writing: "Can we also talk about the misogyny? Here Joe Rogan laughs as his guest talks about forcing women to perform oral sex on him in order to get stage time at his comedy club."
Sharing the clip with her own followers on the micro-blogging platform, Patricia Arquette commented: "Trigger warning. This is very dehumanizing. [I'm] so sad for the woman they laugh about breaking."
"BREAKING a human being," responded comedian Kathy Griffin, who expressed her feelings on the matter with a broken heart and angry face emoji.
"Yeah... here we get a guy confessing that he's such an unattractive a**hat that he has to extort women for oral sex, and these douchebags think it makes him look cool and funny," said former congressional candidate Pamela Keith.
Pointing out Spotify's decision to stand by Rogan amid several days of backlash, The Jewish Chronicle's film critic Linda Marric reacted: "Really? This is the hill you're willing to die on @Spotify? Just yuk."
"Imagine what they say and do off mic," wrote comedian and podcast host Pat Francis in reaction to the video, which has been viewed more than 450,000 times.
Newsweek has contacted representatives of Rogan, Spotify and the Comedy Store for comment.
In January, the content on Rogan's podcast was placed under increased scrutiny, after Neil Young issued Spotify an ultimatum: either the streaming giant ousts the controversial host, or he would withdraw his music catalog.
After Spotify stood by Rogan, Young's music was removed. Joni Mitchell and Nils Lofgren, as well as the members of Crosby, Stills, Nash & Young, were also among those who shared plans to pull their music from the platform over COVID misinformation.
Singer India Arie also shared plans to withdraw her music from Spotify, citing Rogan's use of racial slurs on his show, which is the most popular on the platform.
The Grammy winner shared a video compilation showing the podcaster using the n-word in a number of episodes over a 12-year period, prompting Rogan to issue a video apology over the weekend.
Rogan said his use of the slur was "the most regretful and shameful thing that I've ever had to talk about publicly," though he added that the clips were "taken out of context."
It was reported over the weekend that more than 70 episodes of Rogan's podcast were quietly pulled from Spotify amid ongoing controversy over the show's content. That number has since increased to 113 episodes.
{{#isDisplay}} {{/isDisplay}}