What Joe Rogan Has Said Defending Ivermectin as Drug Is Ruled Ineffective
The findings of a large clinical trial showing ivermectin to be ineffective in treating COVID-19 have struck a blow to controversial podcaster Joe Rogan and other proponents of using the anti-parasitic drug to combat the virus.
Rogan has been one of the fiercest supporters of the drug, which he has credited with helping cure his own case of COVID-19 last year, and has repeatedly touted the supposed benefits to the estimated 11 million listeners of his podcast, The Joe Rogan Experience. It was that support of ivermectin and his other claims about the coronavirus that led to massive backlash from artists like Neil Young and Joni Mitchell, who took their music off Spotify rather than share a platform with Rogan.
The study published in The New England Journal of Medicine tracked 1,300 people in Brazil who contracted COVID-19 and were treated with either ivermectin, a drug commonly used to deworm livestock, and those who received a placebo. The study found that those treated with ivermectin were not less likely to be hospitalized.
Rogan said in a video posted to Instagram in September that he took ivermectin to treat his COVID-19 infection as part of what he described as a "kitchen sink" approach that included monoclonal antibodies, prednisone and a Z-pack. He reported feeling better after a matter of days.
"Crazy times we're living in, but a wonderful, heartfelt thank you to modern medicine for pulling us out so quickly and easily," he said.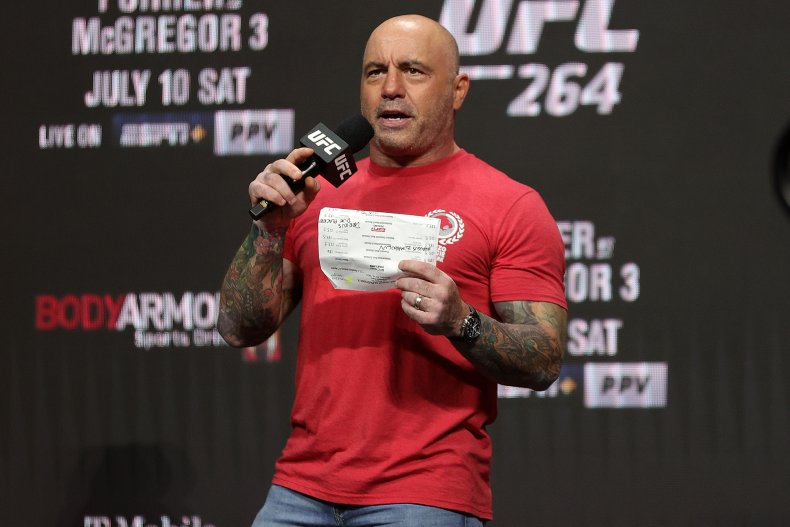 Rogan said later that month on his podcast that he was directed by doctors to take ivermectin to treat the virus, and reacted angrily toward news outlets for their coverage of him using the medication. He took particular issue with CNN medical analyst Dr. Jonathan Reiner describing the podcaster's approach as a "nonsense therapeutic mix."
"They keep saying I'm taking horse dewormer," said Rogan. "I literally got it from a doctor. It's an American company. They won the Nobel Prize in 2015 for use in human beings and CNN is saying I'm taking horse dewormer. They must know that's a lie."
In February, Rogan tweeted out a link to a Reuters article that contained incorrect information suggesting ivermectin was an effective treatment. Reuters quickly corrected the article and Rogan deleted the tweet. However, the article was shared widely by ivermectin supporters before the article was corrected.
Over the summer, Rogan hosted Bret Weinstein on his podcast, a contrarian biologist who has also supported the use of the drug. "Ivermectin alone, if properly utilized, is capable of driving this pathogen to extinction," Weinstein said during the show.
Both the Food and Drug Administration as well as the Centers for Disease Control and Prevention have urged the public not to take ivermectin to treat COVID-19.
Iconic singer-songwriters Young and Mitchell announced in January that they would pull their music from Spotify in protest of Rogan's remarks about COVID-19 that have been criticized as misleading by medical groups. Spotify reacted to the artists' actions by saying it would place advisory labels on podcasts that discuss COVID-19.
Rogan addressed the growing controversy surrounding him on the Tuesday episode of The Joe Rogan Experience, saying he would rather quit hosting his podcast than walk on eggshells.
"If I become something different because it grew bigger, I'll quit," Rogan said.
Newsweek reached out to Joe Rogan for comment.