Joe Rogan Suggests Jews Control Media in Old Clip Amid Antisemitism Furor
Joe Rogan once suggested that Jewish people control the media in a clip that has resurfaced in the days since he was slammed for saying on his podcast that Jews are "into money."
The broadcaster, 55, faced backlash this week after making his comment linking Jews and money while speaking with Breaking Points podcasters Krystal Ball and Saagar Enjeti on The Joe Rogan Experience.
As the criticism of the former Fear Factor host continues on social media, video footage from one of his previous podcast episodes showed Rogan making further comments about Jews during a discussion with comedian and actor Mark Normand.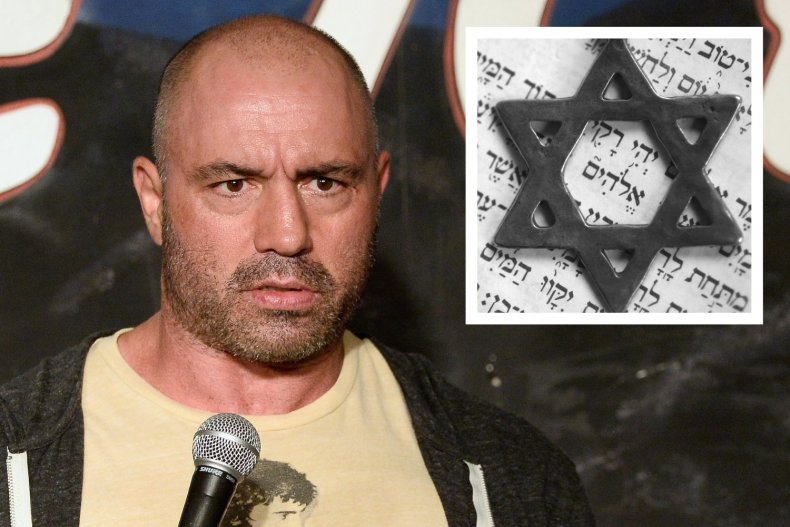 In a clip shared on the Twitter account of Resist Here on Tuesday, Normand was shown saying to Rogan: "What's great about Jews is they're so prominent. We talk about them a lot. They're around, you know, they're 6 percent of the country—6 percent. Very small [number]. And look at all the progress in the work they've done for 6 percent."
"Look at all that puppeteering," Rogan commented in response to Normand's statement. "Pulling all those strings at CNN, Hollywood..."
A caption accompanying the clip shared by Resist Here reads: "Joe Rogan will of course come up with some excuse for claiming Jews are obsessed with money. But here's @JoeRogan responding to someone praising Jewish resilience in spite of hate, how? By claiming Jews are puppet masters controlling the media."
A longer version of the conversation was shared on Normand's Facebook account in April 2022, where Rogan spoke about learning about Judaism as a young child when his uncle converted to the religion.
"Jews are one of the rare religions that doesn't want anybody joining," Rogan said in the video. "They don't make it easy for you. My uncle converted, my Uncle Sal. That's when I found out what Judaism was. I was really, really young when it happened… I was younger than seven. I was like, 'Whoa,' because we were Catholic. I was like, 'There's something else?'"
Saying that he went on to be told that Jews "believe in Jesus, but they don't think that Jesus was, like, really as important as we think he was," Rogan explained that he had other questions about the religious differences that were not answered.
Rogan said he attended high school in Massachusetts alongside a large number of Jewish children, adding: "Any sort of discrimination or any sort of like derogatory s*** about Jewish people didn't make any sense. We're all regular guys."
Normand interjected: "And then when you start doing the math, you're like, all my heroes are [Jewish]. Groucho Marx, Jew, Larry David, Jew… I love it. I love Jews and I'm a wannabe [a Jew]."
After commenting that Normand's last name "sounds Jewish," Rogan said: "Also, they have a history of fantastic success. You stop and think about all the Nobel Prize winners that happen to be European Jews. The numbers of European Jews that have invented things and won awards.
"The other thing is that they stick to themselves. So like when people stick to themselves, they get discriminated against… A friend of mine described it really well. He said you create a walled garden and other people can't get in and they automatically hate those inside the walled garden, even though they don't really hate you. One of the things they hate is that they can't be there."
Rogan's comments about Jews and money came as he touched on Nancy Pelosi's endorsement of Representative Adam Schiff for California Senate.
"It's crazy," said Rogan. "Did you see him sitting next to Ilhan Omar, where she's apologizing for talking about it's all about the Benjamins? Which is just about money. She's talking about money. That's not an antisemitic comment, I don't think that is. Benjamins are money."
He went on: "The idea that Jewish people are not into money is ridiculous. That's like saying Italians aren't into pizza. It's f****** stupid."
Rogan later said about Omar: "Whether you agree with her or not, she has a bold opinion, and that opinion is not her own. There's many people that have that opinion, and they should be represented.
"My point is, she's sitting right next to Adam Schiff and no one says s***."
Rogan's comment about Jews and money caught the attention of U.S.-born British comedian David Baddiel, who slammed the podcaster on Tuesday for peddling a "racist myth."
Baddiel, the author of Jews Don't Count, a book that attacks the glossing over of antisemitism by modern-day progressives compared to other forms of discrimination, shared a snippet of the podcast on Twitter.
Accompanying the footage he wrote: "I actually want to stop banging the Jews Don't Count drum at some point but hard to do when a racist myth about Jews is just…said, breezily, on one of the biggest podcasts in the world and no-one gives a f***."
He continued: "For the hard of understanding, 'Jews are into money' is not like 'Italians are into pizza.' Because unless my history lessons really missed something out, no-one has exterminated a large section of the entire Italian community because of their love for pepperoni."
Concluding his thread, Baddiel said: "Also, Joe Rogan has a 200 Million dollar deal with Spotify. And yet apparently it's Jews who are into money."