Netflix Hit 'You People' Branded 'Horribly Damaging' to Jewish People
Jonah Hill's new Netflix comedy, You People, has been branded "irredeemable" and "horribly damaging" through its depiction of Jewish people.
The Kenya Barris–directed movie, which was released last month by the streaming giant, stars Hill as Ezra Cohen, a Jewish man who embarks on a romance with Lauren London's Amira Mohammed, a Black Muslim woman.
Their relationship is seen being tested through their respective families' reactions and the cultural differences between the two, with jokes that in many cases lean on stereotypical viewpoints.
In the days since its release, the film—which also stars Eddie Murphy, Nia Long, Julia Louis-Dreyfus and David Duchovny—has received mixed reviews, though it is currently the most popular movie on Netflix. It also has been met with outcry from some viewers, including U.S.-born British comedian David Baddiel.
Baddiel, the author of Jews Don't Count, tweeted last week that the film's Jewish family is "positioned as white, privileged and racist. The black family just have a stern dad. At the end there's much Jewish [apologizing] for racism. None for antisemitism. That word never appears."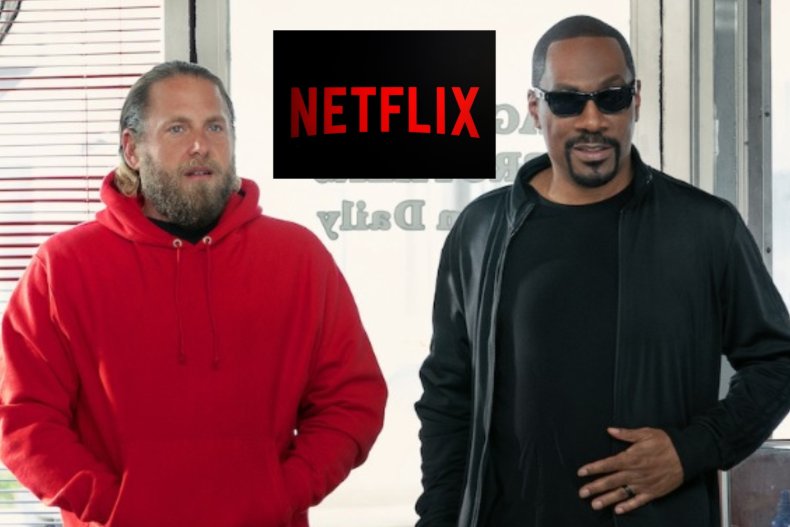 Allison Josephs, the founder and executive director of Jew in the City, a nonprofit organization that works to dispel stereotypes about religious Jews, told Newsweek that the film features a laundry list of depictions that, at worst, are wholly antisemitic.
"I've spoken with so many Jewish people who are really, really upset by this movie," she said. "I think one of the biggest frustrations for me, watching the movie was not being able to comeback to some of the outrageous claims that were made."
She continued: "As the viewer, you're just subjected to listening to the conversation. There were so many falsehoods, or so many claims put out there without any challenge. And so now that becomes just part of what people may accept to be true. It's an erasure of Jewish history and like an invalidation of all that we've been through and all that we continue to go through. It was a really painful movie to watch."
Also at issue for Josephs are the "cheap" jokes about the Holocaust, depictions of Jewish women with large noses and suggestions that it's commonplace for Jewish families to come from several generations of wealth, with success largely achieved through connections.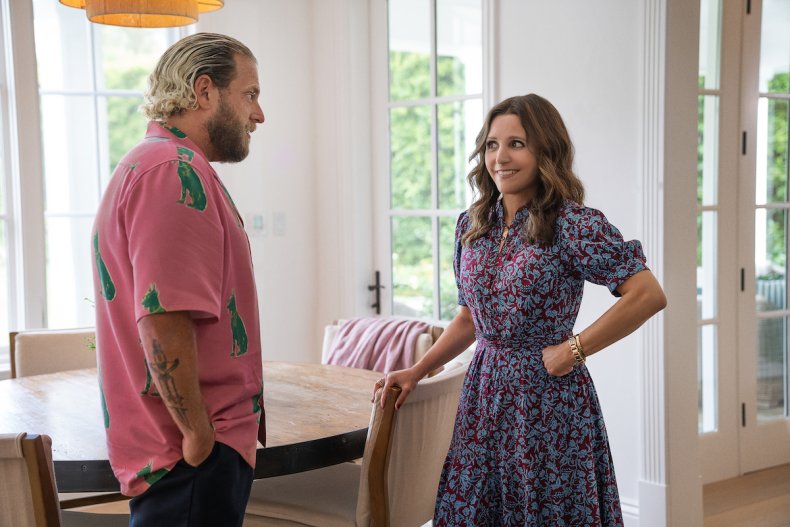 Josephs said there's also the issue of the film's Muslim family being devotees of Nation of Islam leader Louis Farrakhan, a "virulent antisemite."
"A direct quote from him is that he's not an antisemite, he's an anti-termite," she said. "This is a guy that literally uses Nazi-like language to describe Jews. It's deeply disturbing that Farrakhan is put up on this pedestal.
"Then [in the film] they do a comparison of slavery versus the Holocaust. It certainly shouldn't be a competition, but the pain of the Holocaust also shouldn't be downplayed as not mattering or being insignificant," she said.
Josephs also cited a "completely insane" part of the film where it is suggested that the Jews were major profiteers from slavery in the U.S.
"It completely erases the fact that most Jews came to this country fleeing systemic Jew hatred, whether it was Cossacks or Nazis or a systemic exile from the Arab world in the mid-1940s," she said. "There are very few Jews that came to the U.S. in positions of power.
"Yes, there were some Jews who did have slaves in the South. That was a thing. But this idea that Jews had some disproportionate role in the slave trade is untrue. It's honestly some Louis Farrakhan type of garbage," she said.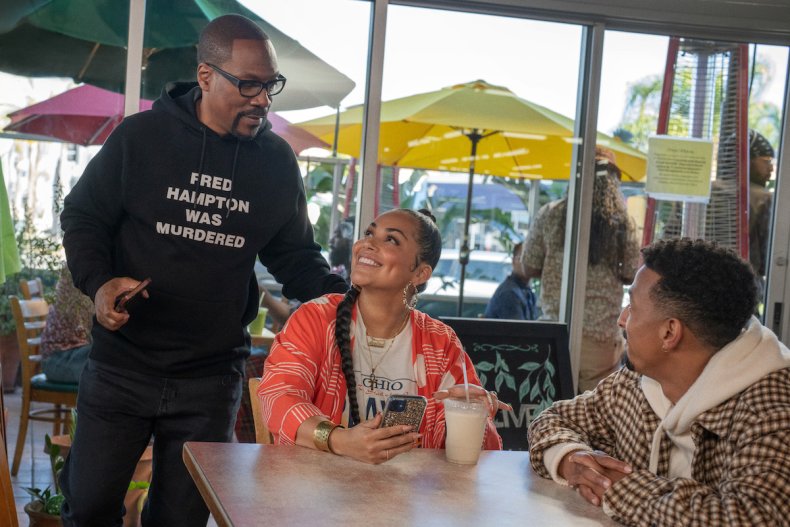 The slavery theme comes up again at the end of the movie when "the Jewish mother literally apologizes on behalf of all white people and Jewish people to Black people," Josephs said.
"For Jewish people who both have experienced antisemitism and presently grow up experiencing antisemitism, that we come from people who experienced antisemitism, to lump us in with white people—and to say that, somehow, Jewish people need to apologize to Black people, that we did something to them—it's absolutely insane."
When Hill's Ezra buys London's Amira a ring with a small diamond, it is suggested in the film that he tell his partner it is a hand-me-down from the Holocaust so she will not question it.
"That's probably the most disgusting 'joke' of the movie," Josephs said, "because [the message is] the Holocaust is just not a big deal. So it's kind of what you use when they want to garner some fake sympathy."
She continued: "In the trailer, they were already making Holocaust jokes and kind of minimizing the Holocaust. So that's not good when your trailer includes cheap and really offensive Holocaust humor. I couldn't even imagine how bad it would be. The things that they did here are different than other forms of antisemitism that I've seen in the past."
For Josephs, the numerous parts of You People that she found to be offensive were all the more problematic because Hill, who co-wrote the film with Barris, is Jewish.
"I'm not sure what Jonah Hill's situation is," Josephs said. "The only two possibilities are that he's ignorant, or he is full of so much self-hatred, that he didn't push back. But it's one of the two or both.
"The lines that are written in this movie, because they're not challenged, because they're put out there unchecked, paint the Jew as the powerful one, the privileged one, the rich one. It's both implicit antisemitism and then also very explicit antisemitism," she said.
"Only by the end does Jonah's character start to stand up for himself, but there's no defense of his Judaism, or his people really, at all. That intro scene of seeing what he feels about temple and that he thinks the Jewish people are all a bunch of perverts.... There are so many levels that this was done incorrectly."
Retroactive edits have been applied to entertainment projects at great cost in the past, but does Josephs believe this could right the wrongs she sees? Probably not.
"When Taylor Swift made her music video [for "Anti-Hero"] and the scale said the word fat, [people were] up in arms over that. And they went in and they edited the video, I'm sure to a very large cost, and reposted it again."
Getting back to You People, she said: "I think the film is irredeemable. And I think it's horribly damaging, and I think it will increase a division, a wedge between the Black and Jewish community. I think this movie will endanger Jews. I think it's a really irresponsible movie.
"In terms of what should be done, if there was another movie that was going to incite violence against a minority group, [more] would be done for other people. I think this film will only increase the notion that Jews are rich, white, to blame for slavery, to blame for a lot of problems. It totally erases our past and our present," she said.
That doesn't build bridges or understanding, she said, adding, "This movie sets any kind of progress back so far because it's really about a power dynamic.
"We're 15 million small," Josephs went on. "And so often, we feel so tiny in the world, and we feel like our voice doesn't matter. And we feel like we're kind of at the whim of whatever the larger Gentile majority is feeling now. If it's safe to be a Jew now and legal to be a Jew, we will. And if that changes, it may be time to run again.
"So just being Jewish means continuing to be ostracized around the world. I think it's so important that we stand up for ourselves," she said.
Newsweek has reached out to representatives of Netflix for comment.