See the Nipsey Hussle Tribute in 'You People' With Lauren London
A touching tribute has been paid to late rapper Nipsey Hussle in the new Netflix movie You People, which stars his partner Lauren London.
The rapper, whose legal name was Ermias Davidson Asghedom, was gunned down outside his Marathon Clothing Company store in Los Angeles on March 31, 2019, aged 33. Eric Holder Jr. was last year convicted of first-degree murder for the shooting and is awaiting sentencing. He is facing up to life in prison.
Over the weekend, fans of Nipsey Hussle shared snippets online showing that the musician had been discreetly honored in scenes from You People, which was written by Jonah Hill and Black-ish creator Kenya Barris, who also directed, with Hill also starring as one of the film's leads.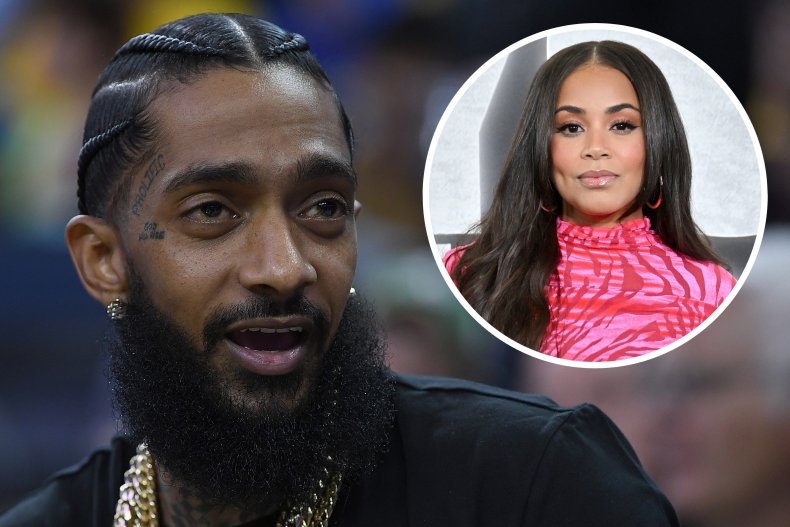 In the scene, London's character Amira is seen driving Hill's Ezra through the streets of South Los Angeles, passing a number of landmarks, billboards and road signs—including one for Slauson Avenue, where Nipsey Hussle's store is based.
Another moment that stood out was a tribute to Nipsey Hussle, which showed his name painted in white against a red background on a wall over the acronym TMC (The Marathon Continues). Included was a painting of Nipsey Hussle's profile.
In another scene in the movie, when Ezra was shown speaking with Golden Globe winner Eddie Murphy's character Akbar and Nia Long's Fatima, telling them that he sometimes visited the Marathon store and grabbed "a hoodie and some socks."
It was also noted by fans that one of Nipsey Hussle's tracks was played in the movie's soundtrack, delighting fans of the late musician all the more.
The tribute was met with praise from a number of viewers, one of whom wrote: "Lauren London got them playing Nip in You People and showing Slauson Av. That's deeeeep love. [...] Baby girl told us we gone see Nip every time she steps and she is sure keeping her word. TMC."
Nipsey Hussle and Lauren London had been in a relationship since 2013 and have a son together, named Kross Ermias Asghedom, who was born in August 2016. London is also mother to Kameron Carter, who was born in September 2009 from her relationship with rapper Lil Wayne.
Julia Louis-Dreyfus and David Duchovny are also part of the main cast of You People, which follows a new couple and their families, who find themselves "examining modern love and family dynamics amidst clashing cultures, societal expectations and generational differences," per Netflix.
During a recent appearance on Drew Barrymore's talk show, Baggage Claim star London opened up about the waves of mourning that continue to wash over her, and how she maintains her strength for the sake of her children.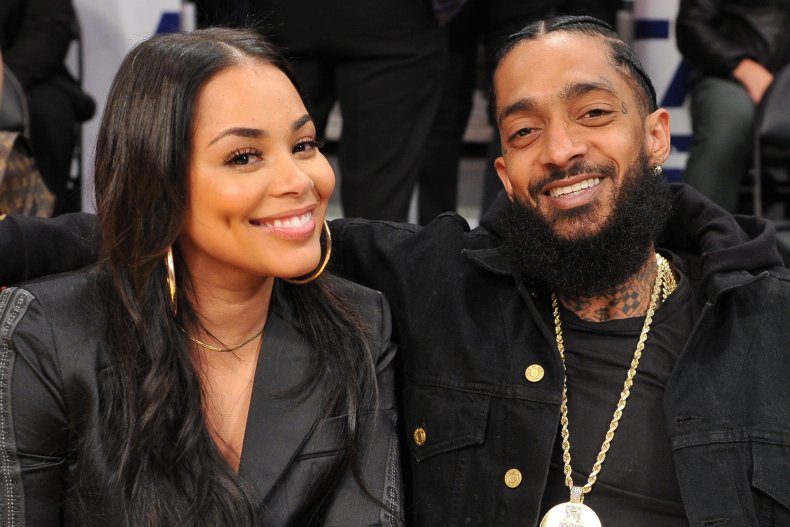 "Every day is different, and so some days you don't want to [get up]," London told Barrymore. "You just want to lay there. My big reason is my children, because they do deserve a really happy mom and they deserve joy and they deserve a house that has music playing and incense going and light coming in the windows.
"They deserve that. And when you lose someone, they're on the other side wanting you to continue life as well. So I just always think about what I know Nip would want me to do, and what I know my children deserve—and what I deserve, too."