Eric Holder Jr. Faces Life in Prison After Nipsey Hussle Murder Conviction
Eric Holder Jr. was found guilty of first-degree murder on Wednesday in the death of rapper Nipsey Hussle.
Holder, 32, faces up to life in prison after he gunned down the 33-year-old rapper outside his clothing store in Los Angeles on March 31, 2019, according to The New York Times.
The Times reported that the verdict came after the jury deliberated for less than an hour on its second day.
Hussle, whose legal name was Ermias Davidson, was outside his Marathon Clothing Company store talking to people when Holder approached and began firing, killing Hussle and injuring two others.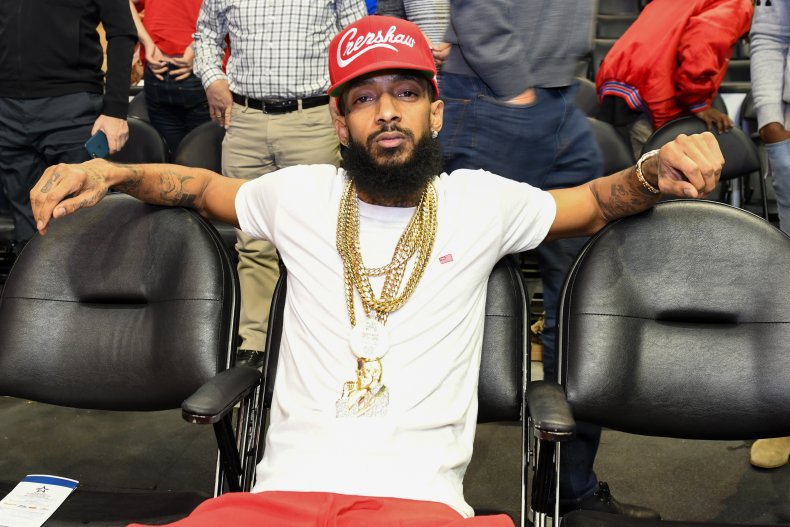 Before Holder shot the rapper, the two had a conversation in which Hussle supposedly told Holder he was developing a reputation for being a "snitch." Hussle apparently had accused Holder of being an informant for law enforcement.
Following their conversation, Holder left but returned later and fired as many as 10 shots at the rapper before kicking him in the head, the Times reported. Holder and Hussle were reportedly acquaintances.
Evidence presented showing Holder as the person who shot and killed Hussle was overwhelming, according to USA TODAY. Holder's attorneys reportedly did not dispute the fact that he was the shooter.
Instead, the outlet reported, his lawyers asked the members of the jury to convict Holder on voluntary manslaughter instead of murder.
In addition to murder, Holder was convicted of two counts of attempted voluntary manslaughter and two counts of assault with a firearm. He was also found guilty of one count of possession of a firearm by a felon in connection to the 2019 shooting, according to local station KTTV.
Hussle was a Grammy-nominated musician, philanthropist and entrepreneur. Rolling Stone described the Los Angeles native as "a fierce proponent of entrepreneurship," noting that he turned down major deals with record labels that did not offer equal partnership in his music.
Hussle had established the project Too Big to Fail, which built a STEM center and the co-working space Vector 90 to help black youths from Los Angeles and underrepresented entrepreneurs break into the sector.
"I just want to give back in an effective way," Hussle told the Los Angeles Times. "I remember being young and really having the best intentions and not being met on my efforts....You see no structures or infrastructure built and you get a little frustrated....That's a dangerous thing. I would like to prevent as many kids from feeling like that as possible. Because what follows is self-destructive."
Newsweek reached out to the Los Angeles County District Attorney's Office for comment.
Update 7/6/2022, 3:31 p.m. ET: This story was updated with additional information.