Joe Rogan Slammed for Saying Jews Are 'Into Money'
Joe Rogan has been slammed for saying that Jewish people are "into money" during a discussion on the most recent episode of his podcast.
The broadcaster, 55, welcomed Breaking Points podcasters Krystal Ball and Saagar Enjeti on to The Joe Rogan Experience, where they touched on Nancy Pelosi's endorsement of Representative Adam Schiff for California Senate.
"It's crazy," said Rogan. "Did you see him sitting next to Ilhan Omar, where she's apologizing for talking about it's all about the Benjamins? Which is just about money. She's talking about money. That's not an antisemitic comment, I don't think that is. Benjamins are money."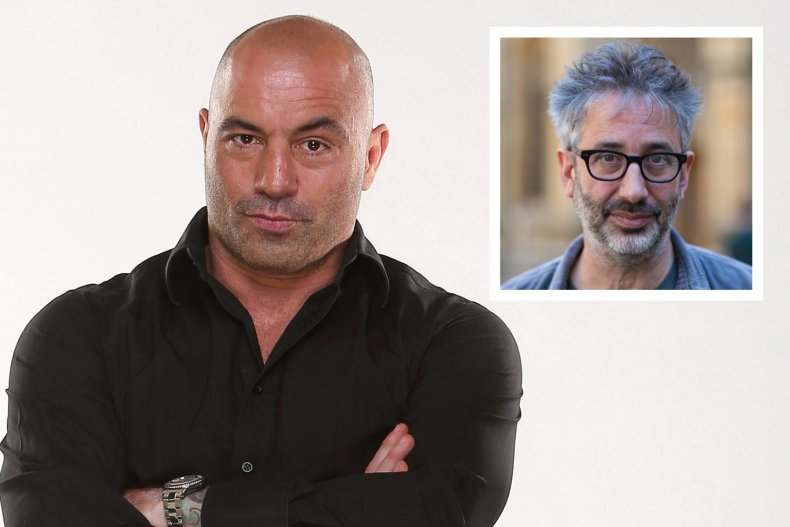 He went on: "The idea that Jewish people are not into money is ridiculous. That's like saying Italians aren't into pizza. It's f****** stupid."
Rogan later said about Oman: "Whether you agree with her or not, she has a bold opinion, and that opinion is not her own. There's many people that have that opinion, and they should be represented.
"My point is, she's sitting right next to Adam Schiff and no one says s***," he said.
Rogan's comment caught the attention of U.S.-born British comedian David Baddiel, who slammed the podcaster on Tuesday for peddling a "racist myth."
Sharing a snippet of the podcast on Twitter, Baddiel, the author of Jews Don't Count, wrote: "I actually want to stop banging the Jews Don't Count drum at some point but hard to do when a racist myth about Jews is just...said, breezily, on one of the biggest podcasts in the world and no-one gives a f***."
He continued: "For the hard of understanding, 'Jews are into money' is not like 'Italians are into pizza. Because unless my history lessons really missed something out, no-one has exterminated a large section of the entire Italian community because of their love for pepperoni."
"This is what Joe is saying, with a big grin," Baddiel added as he shared an illustration from the antisemitic Nazi propaganda children's book Der Giftpilz (The Poisonous Mushroom/Toadstool).
One part of the 1938 German book reads: "Money is the god of the Jews. He commits the greatest crimes to earn money. He won't rest until he can sit on a great sack of money, until he has become king of money."
Concluding his thread, Baddiel said, "Also, Joe Rogan has a 200 Million dollar deal with Spotify. And yet apparently it's Jews who are into money."
Newsweek has reached out to representatives of Rogan and Spotify for comment.
Rogan's "Benjamins" comment referred to Omar, a proponent of Palestinian rights, writing in 2019 that the American Israel Public Affairs Committee was "all about the Benjamins baby," an oft-used reference to money. (Benjamin Franklin's face is on the $100 bill.)
Republicans have long targeted Omar for her criticism of Israel, including remarks in which she suggested that GOP support of Israel was funded by donations from the American Israel Public Affairs Committee. She apologized for those comments in 2019, saying, "Antisemitism is real, and I am grateful for Jewish allies and colleagues who are educating me on the painful history of antisemitic tropes."
Last month, the Minnesota Democrat said that her previous missteps were being used to smear her, amid efforts to have her removed from the House Foreign Affairs Committee.
"To insinuate that I knowingly said these things, when people have read into my comments to make it sound as if I have something against the Jewish communities, is so wrong," Omar told CNN.
However, that didn't stop her from being stripped of her committee seat, an action that Kevin McCarthy repeatedly vowed he would take after he became House speaker. The California Republican won the speakership after the GOP narrowly took majority control of the House in the 2022 midterms.
Meanwhile, Omar criticized the Republicans before the vote for trying to remove her, saying it had less to do with her earlier statements and more to do with her status as an immigrant.
"Who gets to be an American? What opinions do you have to have to be counted as American? That is what this debate is about," she said.
After her removal from the committee, Omar vowed that she will not be silent in Congress and that she will continue advocating for justice.
"I will continue to speak for the families who are seeking justice around the world— whether they are displaced in refugee camps or hiding under their bed somewhere like I was," she wrote on Facebook.
She went on: "I didn't come to Congress to be silent. I came to Congress to be their voice. My leadership and voice will not diminish if I am not on this committee for one term. My voice will only get louder and stronger. If you are with us, help us push back."