Marjorie Taylor Greene's Hopes of Removing Ilhan Omar Appear Dashed
Marjorie Taylor Greene's support for Kevin McCarthy may be facing a new strain after she threw her support behind a move to remove Ilhan Omar from the House Foreign Affairs Committee.
The House Speaker had vowed to remove the Minnesota Democrat, citing prior allegedly antisemitic comments. After several Republicans came out against the bid, it appears McCarthy has bent to their will, instead of facing a potentially gruelling vote on the appointment.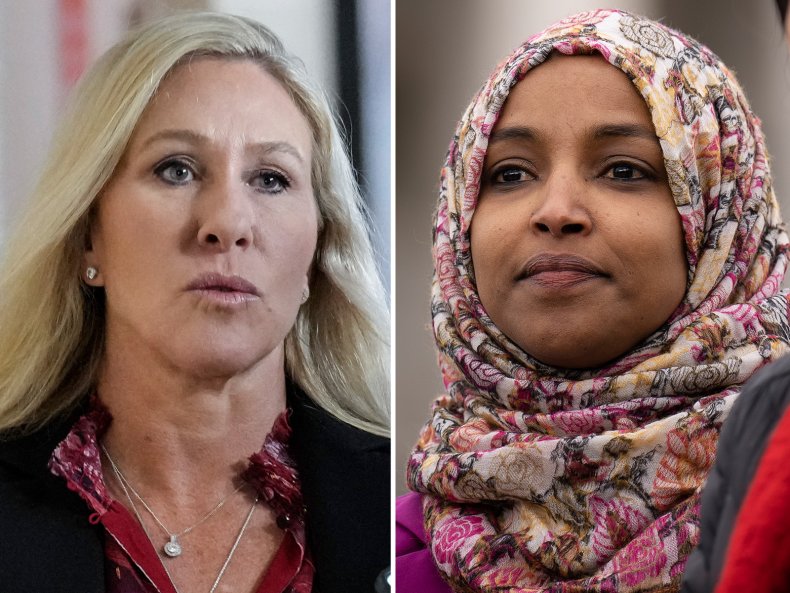 McCarthy previously said he would like to remove Omar, setting up a potential floor vote in the closely divided chamber. It was just a matter of weeks ago that McCarthy faced 15 rounds of voting to confirm him as speaker, following an open rebellion by some Republican representatives.
"The reason why Ilhan Omar is being removed from Foreign Affairs for antisemitic comments and the stances she takes is those take place as a member of congress," Greene told a reporter on the steps of the Capitol. "No one should be on that committee with that stance towards Israel. In my opinion, I think it's the wrong stance for a member of congress."
According to Bloomberg, McCarthy could have proposed to drop Omar from the committee as early as Monday. However, on Saturday, Newswire reported that the speaker had approved her appointment.
Omar, a proponent of Palestinian issues, has previously made remarks that have been criticized for using tropes commonly associated with Jews. In 2019, she wrote that American Israel Public Affairs Committee was "all about the Benjamins baby", a reference to money [Benjamin Franklin's face is on the $100 bill.]
Omar apologized for the remarks and said on Sunday that her previous missteps were now being used to smear her.
"To insinuate that I knowingly said these things, when people have read into my comments to make it sound as if I have something against the Jewish communities, is so wrong," Omar told CNN on Sunday.
The planned blocking of her appointment had already been publicly opposed by some Republican members, who called on McCarthy to rise above political point-scoring. Rep. Victoria Spartz, from Indiana, described it as a "charade", while Ken Buck, who represents Colorado's 4th congressional district, told NBC he opposed the removal as "we should not engage in this tit for tat."
Omar remains listed as a Democrat member of the Foreign Affairs Committee, and on January 27, put out a statement expressing her pride to be reappointed.
"Our democracy, and our governing bodies, rest on a healthy and vibrant debate," she wrote in the statement. "Whatever our disagreements may be as Members of Congress, policy differences alone have not and must not be cause for eliminating someone from serving on a committee."
This may rankle Greene, who supported McCarthy through his election as speaker and was unceremoniously stripped of her committee appointments in 2021 by the then-Democratic leadership over her incendiary social-media posts. This January, Greene was appointed to serve on the committees for homeland security and oversight.
Newsweek has contacted McCarthy and Greene for comment.