Joe Scarborough Says Media Being Anti-Trump Is 'Going to Hurt Us,' Despite Months of Criticizing President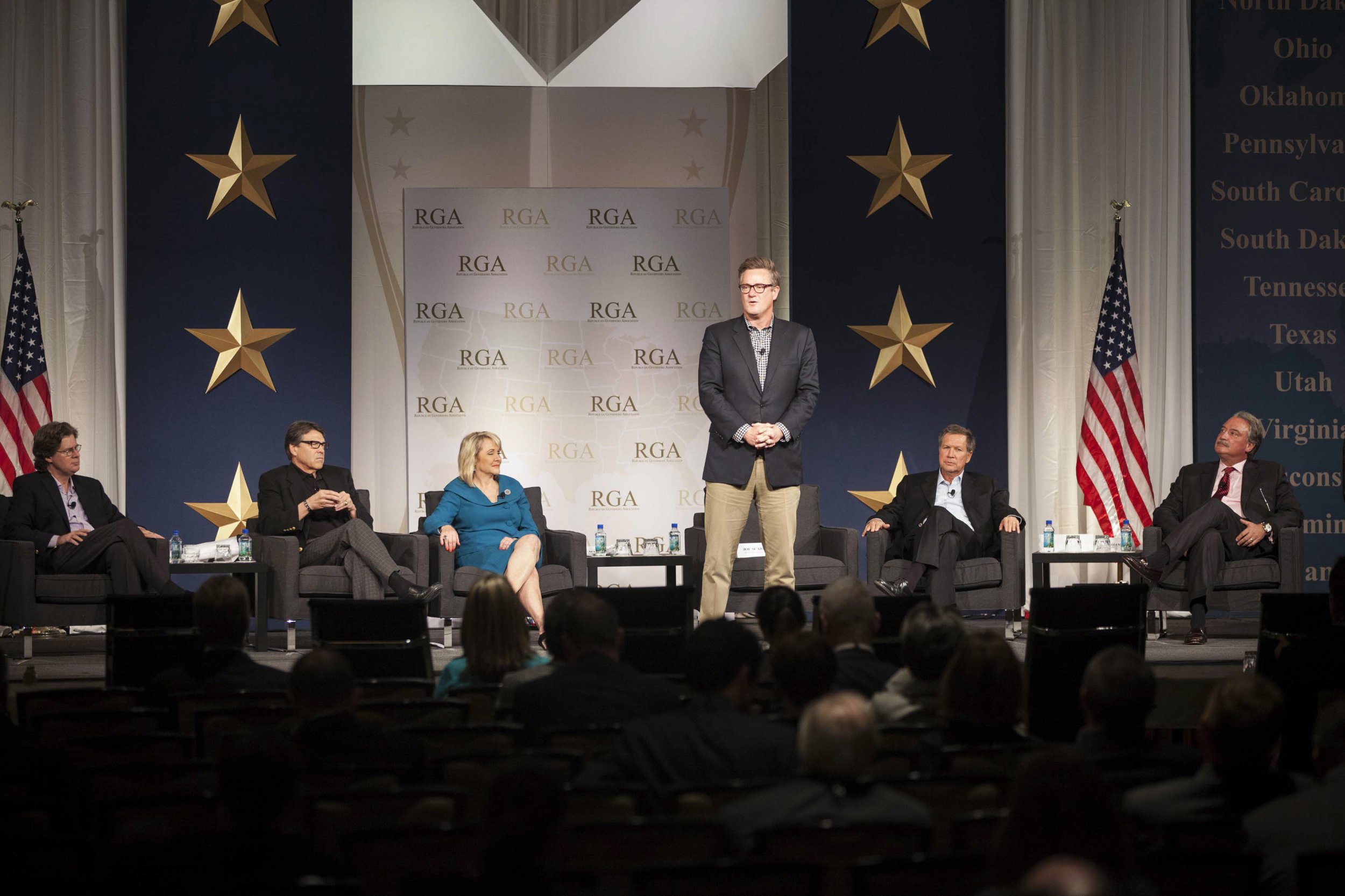 Some of President Donald Trump's biggest on-air critics, MSNBC Morning Joe's Joe Scarborough and his co-host Mika Brzezinski have said that the anti-Trump tendency of mainstream media members like themselves could come back and bite them.
Related: Joe Scarborough Asked Trump 'Can You Read?' and There Was 'Awkward Silence'
"The entire mainstream media, we are reflexively anti-Trump on all things," Scarborough said on an episode of journalist Katie Couric's podcast released on Thursday.
"We're over our skis and it's going to hurt us," Brzezinski added.
The co-hosts' comments come as they've fired criticism after criticism at the president on their widely watched morning television show.
Scarborough on Wednesday said that Trump's decision to televise the previous day's immigration proceedings showed his lack of mental agility and compared him to a "grandpa" who needed guidance. After Michael Wolff's book Fire and Fury: Inside the Trump White House was released last week, Scarborough in a Washington Post op-ed recounted that there was an "awkward silence" when he once asked Trump, "Can you read?"
While the co-hosts' comments may represent an about-face, data backs up the argument that the media has been particularly critical of Trump.
Only five percent of media coverage of Trump's first 60 days in office last year was positive, compared to 42 percent for former President Barack Obama's first 60 days on the job in 2009, according to a Pew Research Center analysis in late December.
"About six-in-ten stories on Trump's early days in office had a negative assessment, about three times more than in early coverage for Obama and roughly twice that of Bush and Clinton," Pew stated. "Coverage of Trump's early time in office moved further away from a focus on the policy agenda and more toward character and leadership."
Trump, who has battled record-low approval ratings, has repeatedly attacked the media over its coverage. He recently announced on Twitter that he postponed his so-called "Fake News Awards" presentation to "the most corrupt & biased of the Mainstream Media," to January 17 because "the interest in, and importance of, these awards is far greater than anyone could have anticipated!"
Trump didn't always have such a frosty relationship with Scarborough and Brzezinski. Trump appeared on Morning Joe regularly in 2015 and early 2016 and critics of the program said the hosts were too friendly toward Trump. Their relationship soured around April 2016 when Trump won the GOP nomination.
In Couric's podcast, Scarborough denied that his show gave then-candidate Trump a "comfortable place to stay" when he called in for interviews and said, "we made the offer to everybody."