John Bolton Says North Korea 'Jiving' Trump, Thinks President is 'Desperate' For a Nuclear Weapons Deal
Former National Security Advisor John Bolton has warned that North Korea will likely never voluntarily give up its nuclear weapons and that leader Kim Jong Un is trying to exploit President Donald Trump, who he believes is desperate for some kind of a deal.
Speaking with NPR in an interview published Friday, Bolton—who left the White House under a cloud in September—said Kim's end-of-year deadline for the U.S. to break the deadlock on denuclearization and sanctions relief talk shows that Pyongyang is trying to bounce the president into a better deal.
The North has returned to its characteristic belligerent statements in recent months as talks have floundered. Officials have indicated that if there is still no progress by the end of the year, the North will conduct a major weapons test, risking a significant escalation in regional tensions.
Bolton said he takes "everything that North Korea says with a big grain of salt," end-of-year threats included. "I think part of this may be bluff on their part. They think the president's desperate for a deal. And if they put an artificial time constraint on it, they may think they're gonna get a better deal."
"We'll just have to wait and see," he added. "But this is all part of the North Korean playbook. They've successfully jived the three prior American administrations, and they plan to do the same with this one."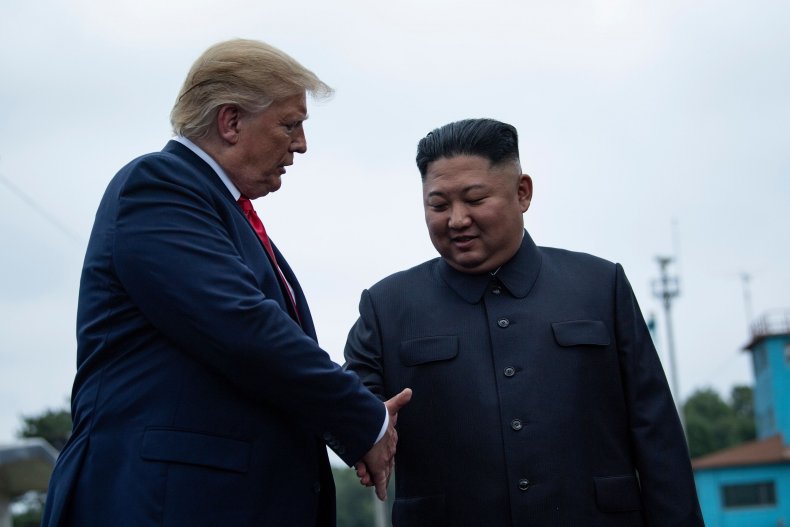 Bolton—a foreign policy hawk who has pushed for regime change in North Korea—repeated previous assertions that the country will never give up its nuclear weapons voluntarily. "There's simply no evidence, and there never has been for decades, that they are making a strategic decision not to proceed," he told NPR.
"And the nature of the way North Korea wants to negotiate, what they call 'action for action,' invariably benefits the would-be nuclear weapons state because they get economic benefits that are much more important to them than the minimal concessions they make on the nuclear side," Bolton explained.
The infographic below, provided by Statista, shows a significant uptick in the number of North Korean missile tests in the past 12 months.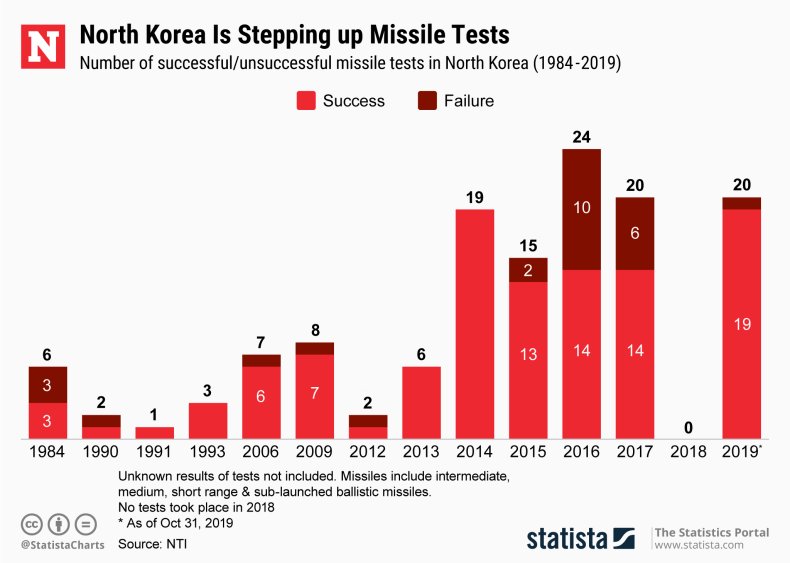 The former national security advisor left the White House after disagreeing with the president on multiple foreign policy issues, North Korea among them.
Asked whether Trump's North Korean strategy was the cause of his departure, Bolton replied, "I'm going to have my say on all that in due course, and I'll be happy to talk to you about it when the time's appropriate."
For all Trump's boasts of his historic detente with the North Koreans, little of note has been achieved since the president met Kim in Singapore in June 2018.
A subsequent summit in Hanoi, Vietnam, collapsed and ended early, with the two sides unable to agree on a denuclearization timetable.
The months since have passed with the two sides unable to resurrect talks, while Pyongyang has returned to regular short- and medium-range missile tests.
Bolton said this situation will suit the North better than the U.S. "Time is almost always on the side of the proliferator," he said. "The more time they have, the more they can overcome all the technological and scientific difficulties to perfecting a deliverable nuclear weapons capability."
"The fact that they're not doing anything today, and they didn't do anything yesterday that we can see, is not a good sign," Bolton warned. "It probably just means we're not seeing it. But the longer time goes on, the greater their capability will become."
Ultimately, Bolton sees the Trump-era engagement with North Korea as part of a pattern that has existed for more than 30 years.
"The North Koreans are very happy to declare that they're going to give up their nuclear weapons program, particularly when it's in exchange for tangible economic benefits, but they never get around to doing it," he said.
"And I think the inescapable conclusion is they're happy to sell that same bridge over and over again, but there's no serious chance they will ever voluntarily give it up."