John Bolton Says Trump Should Spend 'the Next 12 Days Golfing' in Florida
Amid growing calls for Donald Trump's removal from office, former national security adviser John Bolton has played down concerns that the president poses a security danger in the final days of his term.
Democrats are pushing for Trump to face an unprecedented second impeachment trial, citing an "incitement of insurrection" following the storming of the Capitol on Wednesday that led to the deaths of at least five people.
Asked about the calls, Bolton, who was fired by Trump in 2019 and wrote a damning account of his administration called The Room Where It Happened, said on Friday the president should resign, but "there is absolutely zero chance that that will happen."
He said that those advocating either invoking the 25th Amendment or impeachment would have to prove "that proceeding along either of those lines would make the situation for the next 12 days better than it is now."
"I don't think they can make that case," he told the British program, Channel 4 News.
He said it was a "little hyper thyroid" to imagine Trump would call on the "use of military force" in the final days of his presidency, adding that, "I'm not really all that concerned that he's going to do much in any sphere.
"I think we would all be better off if he got on Air Force One and flew to Florida and spent the next 12 days golfing," he said.
"I don't think we should overestimate the dangers here, so let's take a chill pill here and try and evaluate this very cold bloodedly, very realistically."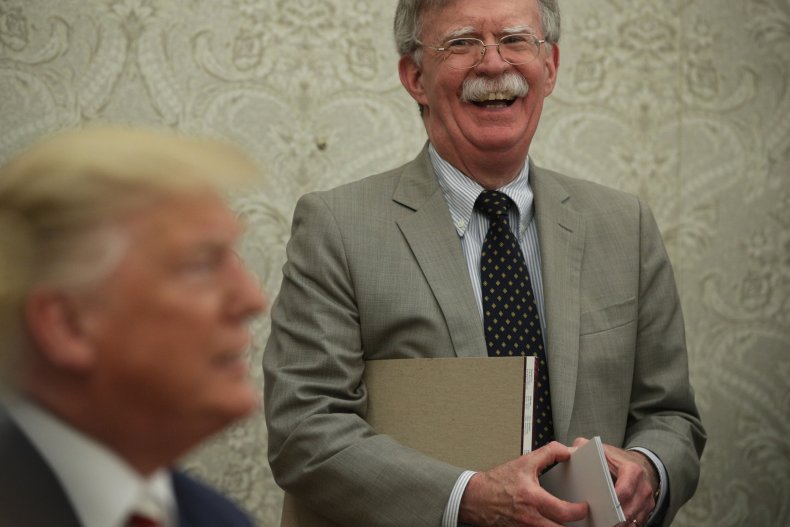 Sen. Lisa Murkowski (R-AK) became the first Republican in the upper house to call on Trump to resign for his role in inciting the disorder.
Meanwhile, Speaker Nancy Pelosi (D-CA) and Senate Minority Leader Charles Schumer (D-N.Y.) want the 25th Amendment to be invoked for fear of what Trump might be capable of in the last two weeks before the inauguration of his successor, President-elect Joe Biden.
Biden has indicated with such little time left before his inauguration, the best option might be to simply wait. "It's important we get on with the business of getting him out of office," Biden said on Friday, "the quickest way that will happen is us being sworn in on the 20th.
Bolton said he believed Trump "would like to keep it in the public mind" he might run again in 2024, but that "ultimately there is no chance that he will do that because he doesn't want to lose again."
"He knows he's lost, he can claim it's stolen once, you can't make that con twice," he added.
The graphic below, produced by Statista, shows how Americans feel about the use of violence to promote political goals.