John Cena Apologizes to China After Calling Taiwan a Country
John Cena recorded a personal apology to fans in China on Tuesday after he described Taiwan as a country during an interview to promote Fast & Furious 9.
The wrestler-turned-actor received heavy backlash on Weibo, China's largest social media platform, after his remarks appeared online following an interview with Taiwanese television station TVBS earlier this month.
"Taiwan will be the first country to see Fast & Furious 9. This movie is really great—and it's huge," the WWE superstar said on May 8. "You'll be the first to see the film," he added during Mandarin Chinese segment.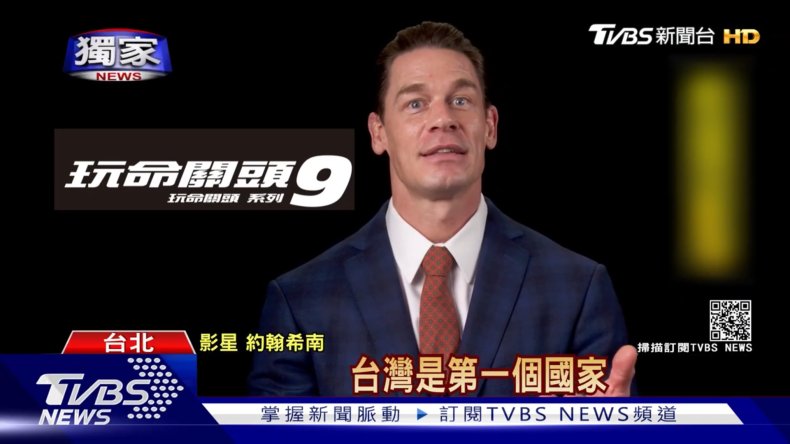 The Fast & Furious movies are among the most popular franchises in Taiwan, but the films are an even bigger hit in the mainland Chinese market. As a result, the 44-year-old's remarks did not go down well with local fans, who started a trending Weibo hashtag reading: "John Cena makes controversial remarks while promoting Fast 9 in Taiwan."
Cena, who is taking part in his first Fast & Furious movie, responded in Chinese in a video shared to his verified Weibo account on Tuesday.
"Hello, China. This is John Cena," the actor said in the apology now viewed 2.5 million times at the time of writing. "I did many, many interviews for Fast & Furious 9. In one of the interviews I made a mistake."
Cena explains that he was given "a lot of information" and was asked to conduct the interview in Chinese.
"I love and respect China and Chinese people. I'm very, very sorry for my mistake. Sorry, sorry. I'm very sorry," he added. "You must understand I love and respect China and Chinese people. Sorry. Goodbye."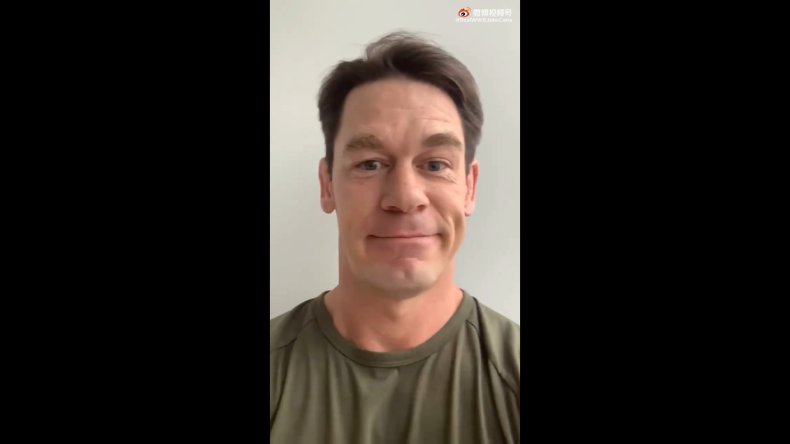 Among the nearly 8,000 comments left under the social media post are several comments that appeared to be sympathetic to Cena's seemingly innocent mistake. However, many continue to call for a clearer response, as his apology failed to elaborate on the mistake or mention Taiwan by name.
One user noted: "As Cena said, he is given a lot of information every day, so it's possible during that interview he was deliberately handed incorrect information, leading to a slip of the tongue. At least he came forward and corrected his mistake and didn't hide and not respond. Don't let it happen again."
A second added: "To be honest, John Cena has been learning Chinese since 2010. He had no market in China at the time. You can see from his previous interviews that he really likes China. I'm not trying to excuse him; he's facing the consequences for misspeaking—as it should be. But compared to other foreign actors who don't respond or hold different political opinions, he's not the same."
"Please say in Chinese, 'Taiwan is part of China,' otherwise we won't accept [your apology]," the topped liked comment read.
"Then at least say Taiwan is China's. You're avoiding the issue and talking nonsense. You can't benefit from [the Chinese market] and trash it at the same time," said a second critical response.
Beijing claims democratic Taiwan as part of its territory, resulting in a number of similar incidents over the years where Chinese officials or Chinese citizens have protested the listing of Taiwan as a separate country.
Fast and Furious 9 was slated for a May 19 release in Taiwan, but it has been pushed due to a surge in COVID-19 cases on the island, which has necessitated an indefinite ban on movie theaters.
The blockbuster, which Variety reported as having a budget of more than $200 million, debuted in China last Friday. It has recorded local box office earnings of $148 million as of Tuesday morning, according to Communist Party newspaper Global Times.
The ninth installment of the franchise features a series of fresh faces including Cena, who plays the long-lost younger brother of protagonist Dominic Toretto, played by Vin Diesel. Reprising their roles are Michelle Rodriguez as Letty Ortiz, Charlize Theron as Cipher and Helen Mirren as Magdalene Shaw.
Despite the ongoing coronavirus pandemic, Universal Pictures will be hoping for a box office performance that matches the previous film in the series, The Fate of the Furious.
Fast & Furious 8 grossed $1.2 billion worldwide, including $226 million in North America, $392 million in China and $21 million in Taiwan.