John Fetterman Agrees to Debate Mehmet Oz After Intense Health Scrutiny
John Fetterman, the Democratic candidate for Pennsylvania's open Senate seat, says he will debate with Mehmet Oz after facing increased pressure to face his Republican opponent in the politically pivotal race.
Fetterman announced on Wednesday that he will debate Oz, a celebrity physician and television personality commonly known as Dr. Oz. Fetterman, Pennsylvania's current lieutenant governor, slowed his campaign after suffering a stroke in May. But as the election draws nearer and Fetterman has rejoined the campaign trail, media and political figures in Pennsylvania have joined Oz in calling for in-person debates between the candidates.
"We're absolutely going to debate Dr. Oz, and it was always our intent to do that," Fetterman said in a statement.
Fetterman said his campaign is finalizing details on the debate, which he said will occur in mid to late October on a "major television station." Holding the debate in October aligns with the timing of previous Senate races in Pennsylvania, said Fetterman. He added that "there is literally zero precedent in modern times" for having a debate in early September.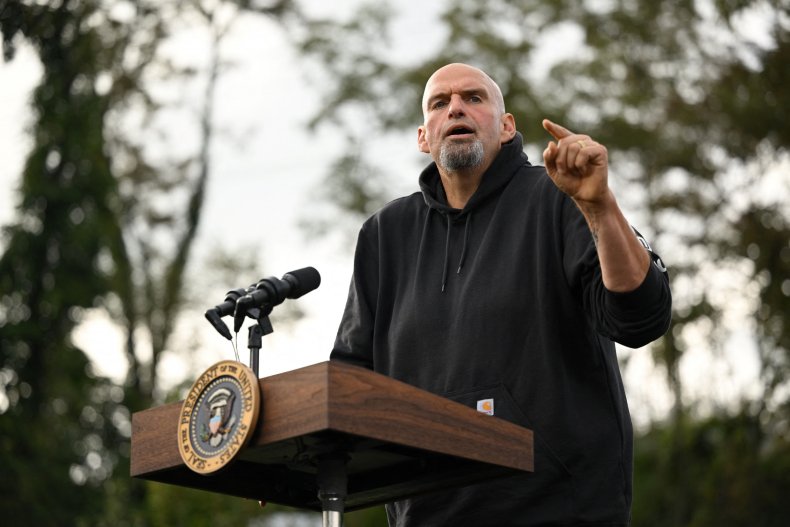 The statement reiterated the Fetterman campaign's insistence that he was recovering and looking for ways to accommodate sporadic speaking and hearing issues caused by his stroke.
"It has simply only ever been about addressing some of the lingering issues of my stroke, the auditory processing, and we're going to be able to work that out," said Fetterman.
Barney Keller, a representative of Oz's campaign, told Newsweek in an email that the publication's reporters are "banned from emailing the campaign today on the grounds of being incredibly annoying and unprofessional." Questions about Fetterman agreeing to the debate went unanswered.
With polls showing Fetterman ahead of Oz, the Democrat has emerged as the frontrunner in a swing state race that could determine which party controls the evenly divided Senate. After Oz narrowly won the Republican primary in June, Fetterman has used social media to lob withering attacks against his opponent, making an issue of Oz's wealth and recent relocation from New Jersey.
Oz fired back, blasting what he called Fetterman's extreme left-wing positions on economics and criminal justice while demanding he agree to five debates.
Others have recently raised concerns about Fetterman not committing to a debate. The Pittsburgh Post-Gazette on Tuesday published an editorial raising concerns that Fetterman not agreeing to a debate was a potential sign he was unfit for the Senate.
"If Mr. Fetterman's communication skills have not yet recovered sufficiently to effectively debate his opponent, many voters will have concerns about his ability to represent them effectively in Washington," the editorial reads. "While he has gamely undertaken more campaign events and media interviews in recent weeks, Mr. Fetterman still speaks haltingly and relies on closed captioning to fully understand his conversation partners."
During a press conference with Oz on Tuesday, Pennsylvania's outgoing Republican Senator Pat Toomey criticized Fetterman for remaining on social media at home while his opponent wanted a debate.
"There's something that's just not right here," he said.
Fetterman's statement on Wednesday pushed back on his critics.
"But let's be clear this has never really been about debates for Dr. Oz," he said. "This whole thing has been about Dr. Oz and his team mocking me for having a stroke because they've got nothing else."