John Fetterman Might Resign. It Could Be an Opportunity for Democrats
John Fetterman's health is under scrutiny as he continues to receive treatment in the hospital and there is no contingency plan if he chooses to resign.
Political experts suggest that a Fetterman resignation could provide Democrats an opportunity to put questions about his health behind them, but it could also carry significant risk, such as a possible Republican victory in a crucial swing state.

If Fetterman resigns, Pennsylvania's Governor Josh Shapiro would appoint a replacement, who would then face a special election in 2024.
Senator John Fetterman's health remains under scrutiny as he continues his treatment in the hospital and there are serious questions about what Democrats might do if the senator chooses to resign.
Fetterman's team has made no indication that he will resign and Pennsylvania's Democratic Governor Josh Shapiro has said there is no "contingency plan" if he does resign.
Shapiro would be tasked with selecting someone to fill Fetterman's seat in the event but there would then have to be a special election in 2024. That would take place at the same time as Democratic Senator Bob Casey is seeking reelection—and during the presidential election where Pennsylvania is a crucial swing state.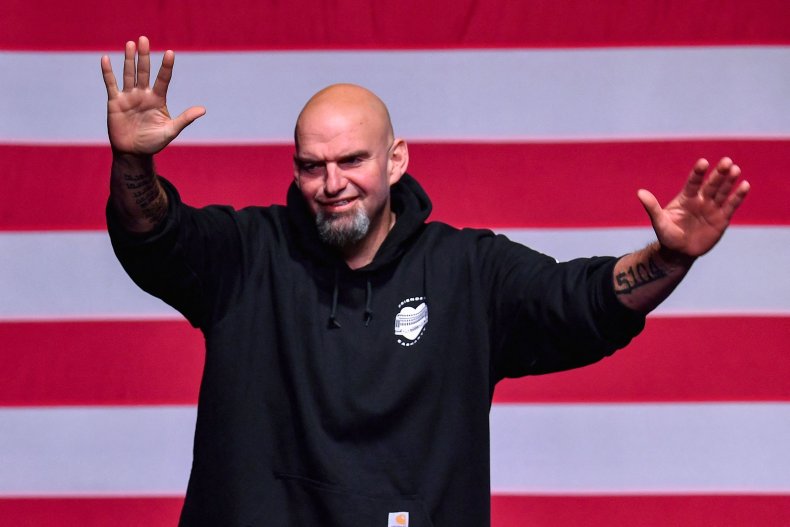 Political experts who spoke to Newsweek suggested that a Fetterman resignation could be an opportunity for Democrats to put questions about the senator's health behind them but it could also carry significant risks.
An Opportunity for Democrats?
Fetterman's health problems have been the subject of intense scrutiny since he suffered a stroke in May 2022 and it has only grown since the Democrat checked himself into hospital in February.
If Fetterman chooses to resign from the Senate, it would be a "headache" for the party, according to Mark Shanahan, an associate professor at the University of Surrey, in the U.K, and co-editor of The Trump Presidency: From Campaign Trail to World Stage.
"But it could also offer an opportunity," Shanahan told Newsweek. "Governor Shapiro will be able to appoint a replacement for Fetterman in the short term, but that person will face a special election in 2024—a date when the other Pennsylvania Senate seat comes up for election and the state will be pivotal in the Democrats' defense of the Senate."
Robert Singh, a professor of politics at Birkbeck, University of London, U.K, told Newsweek that "in one sense" it would be "preferable for the party to try to get a more conventional and reliable official who is actually serving in the Senate, and has the chance to consolidate the Democrats' appeal."
"In another, it would open the seat up for a new election in 2024, alongside the other Pennsylvania Democratic senator, Bob Casey, which could prove problematic in a presidential election year with increased turnout. In some sense, there are no good options," Singh added.
A High-Risk Strategy
Next year is a presidential election year and President Joe Biden has said his intention is to run again, though he has not formally announced a campaign. Democrats may not welcome another election in Pennsylvania if it can be avoided.
Shanahan noted that Democrats will "be looking to hold the White House and win back the House of Representatives, so another election in a state the GOP could quite conceivably win is a high risk."
"But it's an opportunity too to reset the playing field and move on from the contentious Fetterman candidacy," Shanahan went on. "John Fetterman was the first Democrat from western Pennsylvania to reach the Senate since 1940—ideally the Democrats would like to find his successor in the same region."
Thomas Gift is founding director of University College London's Centre on U.S. Politics, and his home state is Pennsylvania. He told Newsweek that it's "hard to see how Fetterman resigning has a clear political upside for Democrats."
"It would put the issue to bed, yes. But an open seat in two years—rather than six—is reason enough for Democrats to hope Fetterman is able to hold on," Gift said.
Fetterman's Successor
Pennsylvania Governor Josh Shapiro has said "it is 100 percent Senator Fetterman's decision as to what he will do in the future" but the governor would be the person who has to choose a successor if Fetterman steps aside.
Gift told Newsweek that Shapiro "might be able to install a party loyalist into Fetterman's seat now. But even if Democrats can hold the seat in a special election in two years—hardly a foregone conclusion—that new senator would almost certainly be more moderate than 'far-left Fetterman.'"
"Consider, for example, a likely replacement like former U.S. Representative Conor Lamb," Gift suggested. "He has broad-based appeal in Pennsylvania. Yet he couldn't make it through the Democratic primaries' last go-round because he was too middle-of-the-road."
Gift said that compared to Fetterman "an independently minded replacement could pose headaches for party leadership."
Shanahan noted that "there's a growing clamor for Pennsylvania to elect a female senator."
"Combine meeting that need with trailing the west of the state and the field is pretty small, very inexperienced and with virtually no national exposure," he said.
"So Josh Shapiro may put the regional case to one side and look for a current House member who could step up. Look around Philly, and there are a few opportunities," he went on.
Shanahan said "this could move the Democrats on from an unhappy Senate campaign and outcome and offer something—and someone—new to pair up with senior Senator Bob Casey."
"Whatever happens, Pennsylvania is likely to be an absolutely crucial state for the 2024 congressional and presidential elections," he said.
Newsweek has reached out to Fetterman and Shapiro's office about the possibility of resignation.