Why Republican Party's Poor Candidate Vetting Could Spell Disaster
Three newly-elected Republican members of the House of Representatives have now been accused of embellishing their resumes since the midterm elections in November.
Representatives George Santos, Anna Paulina Luna and Andy Ogles have all been accused of misrepresenting their background in the run-up to the elections, while Santos is facing pressure to resign amid accusations he lied about his education, his employment history and his claim to be the "grandson of Holocaust refugees."
The congressman has previously admitted to embellishing his resume but he's insisted he doesn't intend to resign.
Luna has threatened to sue The Washington Post over an article that made a series of allegations that Luna had misrepresented her background. Her team has also said they consider the article to be racially charged because of its suggestion that Luna embraced her Hispanic heritage as part of her bid for election.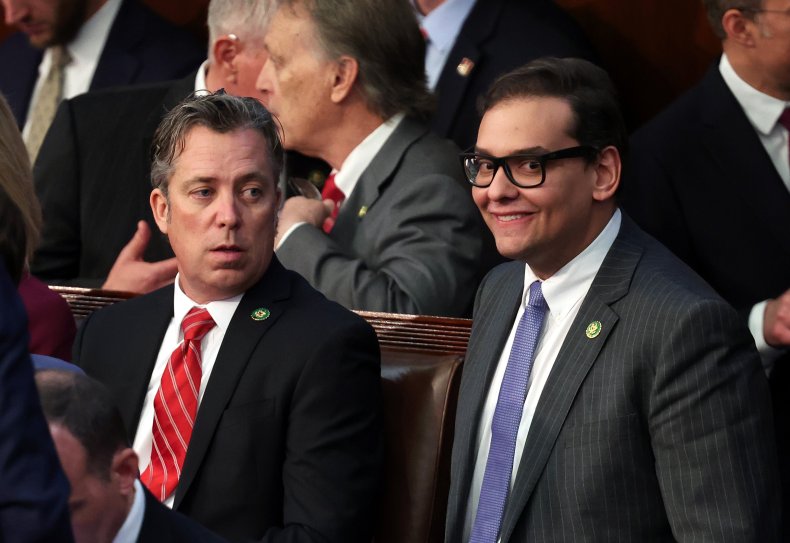 Ogles' office has dismissed a report that accused him of misrepresenting his background, including claiming to be an economist despite not having formal training in economics.
A spokesperson told Fox News Digital on Friday: "It's a simple case of condensing a resume for the sake of brevity on the campaign trail, and partisan hacks are trying to turn it into a headline for clicks."
Political scientists who spoke to Newsweek suggested that poor candidate vetting could pose problems for Republicans down the line but also pointed to greater difficulties with candidate selection.
Republican Alarm Bells
Questions about whether current members of Congress embellished their resumes could pose political problems for Republicans as they aim to retake the Senate and White House in 2024.
"It seems that a captivating back story is far more important than actual experience or expertise in the current soap opera of U.S. domestic politics," said Mark Shanahan, an associate professor at the University of Surrey, in the U.K, and co-editor of The Trump Presidency: From Campaign Trail to World Stage.
"But such is the lack of experience in current political party machines, that being an outright liar does not seem to have rung alarm bells for GOP vetters, perhaps wowed by tales of tragic childhood, boasts of expertise not backed by evidence and declarations of wealth not backed by bank records," Shanahan told Newsweek.
Shanahan said that there "seems to be very little about Representative George Santos that actually stands up to scrutiny."
"Representative Andy Ogles' resume has more holes than a Swiss cheese, and Florida's Representative Anna Paulina Luna appears to have played fast and loose with her biography around race, class and the actions of her parents," he said.
Flagrant Dishonesty
Shanahan suggested that "in a normal election cycle, none of these candidates would have made it to the starting line, never mind a seat in Congress."
"But a focus on populist candidates spouting the Turning Point mantras as the means to win tight races and regain the House clearly blinded the Republican Party to glaring discrepancies in these candidates' life stories," he said.
"Now, with such a tight margin between the parties post-election, the GOP cannot afford buyer's regret and will doubtless fight tooth and nail to hold onto each of the parody politicians—no matter how many lies each has spouted on route to D.C.," Shanahan went on.
He noted that the GOP hopes "that its hold on the House for the next two years will be the springboard to winning back both the Senate and the White House in 2024, although if they continue to turn a blind eye to the flagrant dishonesty of some of the new members of the Class of 23, they may well be punished by voters fed up with the duplicity of Washington."
A Failing Opposition
There has been some criticism of Democrats for not identifying problems with newly-elected Republicans' resumes during the midterm campaigns, especially in the case of George Santos.
"In some cases, the opposition party seem to have failed—Santos being a clear case," David A. Bateman, an associate professor of government at Cornell University, told Newsweek.
Bateman said that "if one party is accusing the other of lying or 'embellishing' their record, partisans can easily dismiss it unless it's backed up by independent voices such as the disappearing local media."
"Small-d democratic politics means people make collective choice based on public information, and if independent mechanisms for aggregating and disseminating information don't exist at the scale that we make those choices, then we have a profound structural problem," he added.
Thomas Gift, founding director of the Centre on U.S. Politics, University College London, U.K., told Newsweek that Santos "is a particularly egregious example of lying."
"But the problem isn't just Santos," Gift said. "It's a culture in Washington that enables, perhaps even encourages, a lack of authenticity, which prioritizes power maintenance over doing the right thing, and which fails to enforce norms of integrity within government."
No Moral High Ground
However, Democrats are also facing criticism when it comes to Senator John Fetterman, who suffered a stroke in May during the campaign in Pennsylvania and checked himself into hospital to receive treatment for clinical depression earlier this week.
Shanahan told Newsweek that "the Democrats' hold on the moral high ground is dubious as we watch the travails of Pennsylvania junior Senator John Fetterman."
"It's incredibly sad to see his struggle with depression but should his party have fought so hard to get him elected after he suffered his stroke in the run-up to the midterms in 2022?" Shanahan asked.
"His health had to be a massive concern, but the leadership seems to have put party above person, adding to Fetterman's troubles," he went on. "While not directly comparable to the Republicans' shenanigans in the House of Representatives, the Democrats have little to be proud of."