Sen. John Kennedy Brands Joe Biden 'Full Wokerista'
The Republican Senator John Kennedy of Louisiana labeled President Joe Biden a "wokerista" on Thursday and said the commander-in-chief was to left of Vladimir Lenin.
In an interview with Fox News, Kennedy said Biden had been "immeasurably reckless and foolish" and was among people who believed the U.S. was "wicked in its origins" and in its present form.
The Republican lawmaker made similar comments as he attacked Biden and the progressive caucus in an appearance on Tucker Carlson on Wednesday night.
Speaking to Fox News on Thursday, Kennedy said: "What President Biden has done is immeasurably reckless and foolish. He's gone full wokerista. He has joined those people who believe America was wicked in its origins, and that the American people are even more wicked today.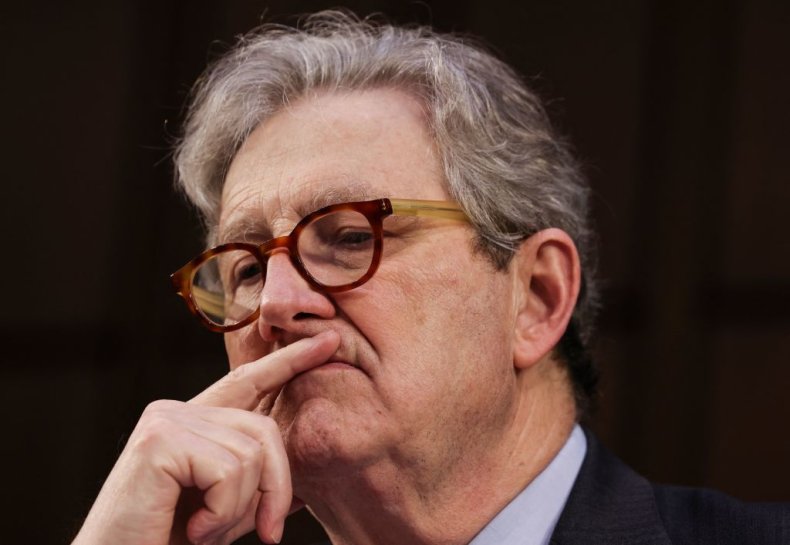 "That we have millions of Americans who are racist, and misogynistic and ignorant. Especially if they didn't vote for him."
He later added that he was "very disappointed" in the path taken by the president. "I know he'd be left of center," Kennedy said. "I didn't know he'd be left of Lenin. And he knows better. He knows better."
Lenin spearheaded the October Revolution in Russia in 1917 and later became the founding member of the Soviet Union. He led the country until his death in early 1924.
His government redistributed land, nationalized large swathes of industry, and carried out campaigns of political repression against opponents of the Bolsheviks.
Kennedy was reacting to the White House's response to the killing of Ma'Khia Bryant, a 16-year-old girl shot by a police officer after she appeared to lunge at another girl with a knife.
"Since you gave me the opportunity, the killing of 16-year-old Ma'Khia Bryant by the Columbus Police is tragic," White House Press Secretary Jen Psaki said at a Wednesday press conference. "She was a child. We're thinking of her friends and family and the communities that are hurting and grieving her loss."
The Ohio teen was shot by a Columbus police officer on Tuesday this week. Body cam footage of the shooting showed the officer responding to a scene in which Bryant hit out at two other girls and lunged at one with a knife.
When she attempted to stab at one of the girls, the officer opened fire, shooting her four times. The Ohio Bureau of Criminal Investigation has launched a probe into the shooting.