Don Lemon, Chris Cuomo Defend Officer Who Shot Ma'Khia Bryant
CNN's Don Lemon and Chris Cuomo have defended the police officer who shot dead Ma'Khia Bryant, a 16-year-old Black girl, in Columbus.
"Ohio is tough," Lemon said as he and Cuomo discussed the shooting on air on Wednesday night. Bryant was shot dead on Tuesday, shortly before former Minneapolis police officer Derek Chauvin was found guilty of murder and manslaughter in the death of George Floyd.
Cuomo said he and Lemon had heard about the incident on social media on Tuesday evening while working on coverage of the Chauvin verdict.
"The initial reports didn't seem right … you were cautious about it," Cuomo told Lemon. 'You were saying, 'Huh, I want to see this one, I want to see this.' Because there was a lot of emotion, understandably, you got a 16-year-old kid that's gone."
Cuomo added: "It's a hard one, I do not know how to explain this to people in a way that doesn't make somebody very angry."
Lemon noted that there was a "lot of anguish" about the teenager's death, but added: "We've got to be fair about what happens when police arrive at scenes."
"It is tragic that it's a 16-year-old girl, just as it is tragic that it's a 13-year-old in Chicago," Lemon said. "When police are chasing people, they don't know how old they are."
He continued: "When they roll up on the scene, they see people tussling around, someone has a knife, and their job is to protect and serve every life on that scene, and if they see someone who is in the process of taking a life … What decision do they have to make?"
The officer who shot the girl was identified on Wednesday as Nicholas Reardon, who joined the Columbus Division of Police in 2019.
Body camera footage of the shooting shows the officer pull up to a chaotic scene, responding to a 911 call from someone who said they were being threatened.
He moves toward a group of people brawling in a driveway, and Bryant is seen swinging a knife at a woman, who falls backward.
"Get down!" Reardon shouts several times as Bryant charges at another female, dressed in pink, who appears to be pinned against a vehicle in the driveway.
Reardon fires four shots and Bryant collapses to the ground. A knife is seen on the ground next to her body.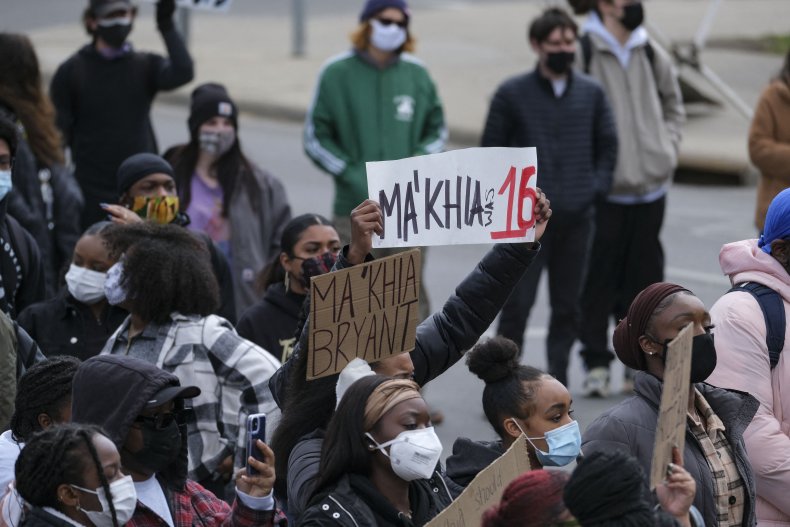 During the discussion with Cuomo, Lemon also addressed comments that the officer should have deployed a Taser.
"Tasers don't work the way guns work," Lemon said. "Not at that distance," added Cuomo. "And not with that amount of time."
Lemon added: "If the woman in the pink was my sister, niece, wife, whatever … you have to make a decision. Is one life on that scene more valuable than another?
"And if someone is trying to take a life on that scene, do you protect the life of the person trying to take the life or do you protect the life of the person whose life is an imminent danger at that moment?
"It is tough because one is a 16-year-old. I don't know how old the other person is, but that other person's life was in imminent danger."
He later said: "Either way in that position, I think that someone's life probably would have ended. It could have been the other woman in the pink or it could've been the 16-year-old who sadly ended up dying."
Cuomo told Lemon: "Everything you're saying is instructive and brave. Because people don't want to hear you say that this was a justified shooting."
City authorities have said the Ohio Bureau of Criminal Investigation will determine if the officer was wrong to shoot Bryant.
"If he was, we will hold him accountable," Columbus Mayor Andrew Ginther said at a news conference on Wednesday.
During the conference, Michael Woods, the city's interim police chief, was asked whether the officer should have deployed a Taser.
"If there's not deadly force being perpetrated on someone else at that time, an officer may have the opportunity to have cover, distance and time to use a Taser," Woods said.
"But if those things aren't present and there is an active assault going on in which someone could lose their life, the officer can use their firearm to protect that third person."