John McCain Says Suspending U.S.-South Korea Military Exercises 'Is a Mistake'
GOP Senator John McCain of Arizona has criticized President Donald Trump's decision to suspend joint military exercises with South Korea, calling the move a "mistake."
The legislator released a statement on Thursday, saying that "unnecessary and unreciprocated concessions is not in our interests." Continuing, McCain said: "we must not impose upon ourselves the burden of providing so-called 'good faith' concessions as the price for continued dialogue."
However, McCain added that he hopes Trump's efforts toward denuclearization "will be successful."
President Donald Trump's announcement Tuesday that he had agreed to cancel war games in Korea reportedly came as a shock to South Korea and U.S. military leaders.
U.S. Forces in Korea have "received no updated guidance on execution or cessation of training exercises," said USFK spokeswoman Lieutenant Colonel Jennifer Lovett, Reuters reported.
The president revealed his decision after a historic summit Tuesday with North Korean leader Kim Jong Un in Singapore. He called the regular training sessions between U.S. and South Korean forces "very provocative" and costly.
"The war games are very expensive. We pay for the majority of them," the president said. Now that negotiations between the U.S. and North Korea are occurring, the president said, "I think it's inappropriate to be having war games."
Trump's decision and comments drew confusion and concern from many. Former CIA analyst Sue Mi Terry of the Center for Strategic and International Studies pointed out that the way Trump described the war games is straight out of North Korean propaganda.
In his statement, McCain voiced the same concerns. "Parroting Chinese and North Korean propaganda by saying joint exercises are 'provocative' undermines our security and alliances," he said.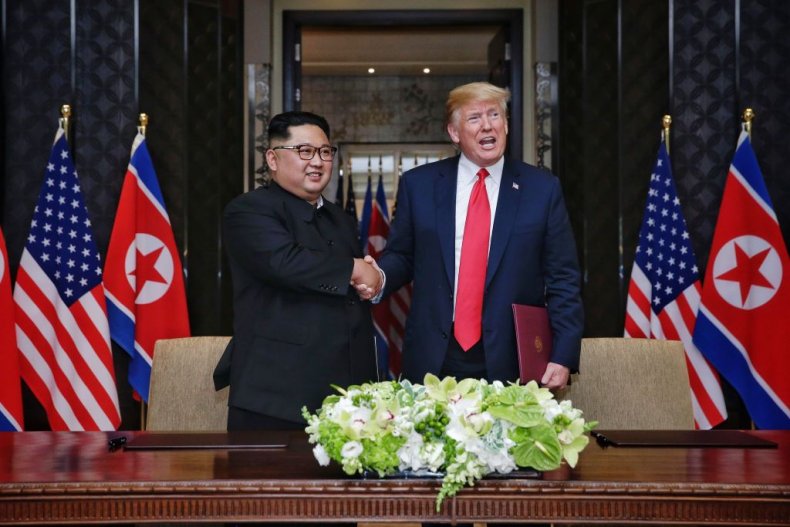 Bonnie Glaser, director of the China Power Project at CSIS, told CNN that the announcement is also "a huge win for China." Glaser suggested that ending war games would likely be a precursor to ending the U.S. military presence in Korea entirely, a move that China would welcome.
For South Korea's part, President Moon Jae-in said he would give "serious consideration" to suspending joint exercises," The Korea Herald reported.
"If North Korea implements denuclearization measures and sincere dialogue continues to ease their hostile relations, the country needs to flexibly change its military pressure against the North," Moon said.