John Oliver Publishes Gay Love Story About Mike Pence's Rabbit Marlon Bundo: How You Can Buy It
HBO's John Oliver just took trolling to another level.
The Last Week Tonight host took aim at Vice President Mike Pence Sunday night by releasing his own book about the Pence family's popular pet rabbit, Marlon Bundo. Except in his book, Marlon Bundo is totally gay.
Pence's daughter Charlotte will publish a children's book about their pet rabbit Monday. The book, Marlon Bundo's Day in the Life of the Vice President, is illustrated by Pence's wife, Karen.
But on Sunday's Last Week Tonight, Oliver beat the Pences to the punch by presenting—and immediately publishing—his own book, A Day in the Life of Marlon Bundo, which pours a considerable amount of scorn on the VP, who has faced accusations of being anti-gay.
Oliver said that Pence is known for his "hostility to LGBT rights," pointing to a New Yorker article in October that claimed President Donald Trump joked about Pence's stance on gay rights. According to the New Yorker, Trump motioned toward Pence when a conversation turned to LGBT rights, and said: "Don't ask that guy—he wants to hang them all."
"Pence is not and has never been a friend of the gay community. He's fought anti-discrimination laws protecting them. He's also opposed allowing gays to serve in the military—openly or otherwise," Oliver said.
Oliver dredged up a history of Pence's anti-LGBT policies before admitting that he "kind of likes" the VP's pet rabbit, who is about to star in his own book about life with "Grampa" Pence.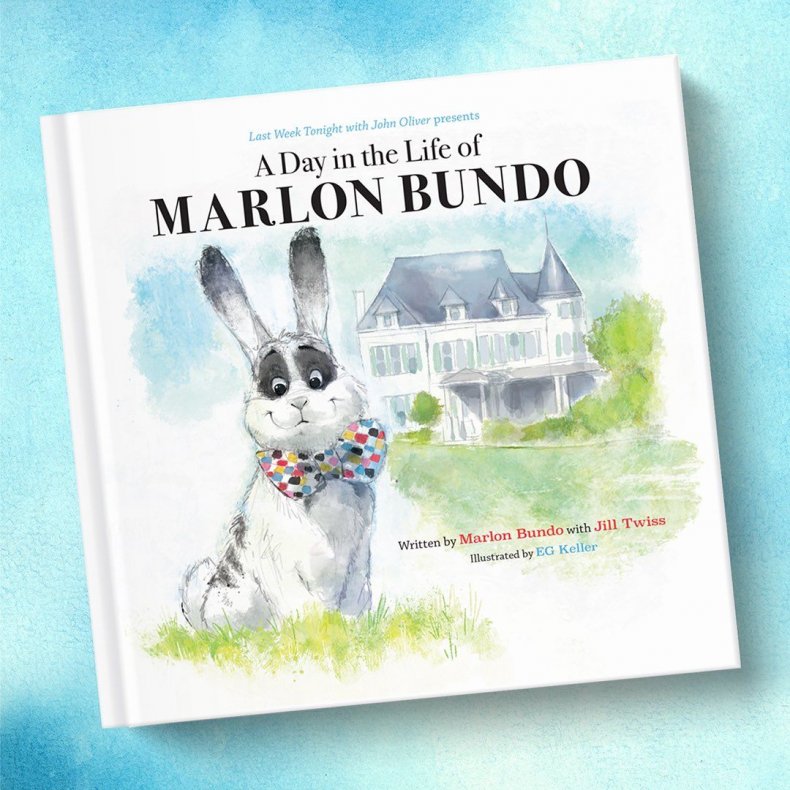 "It turns out, in a complete coincidence, we also wrote a book about Mike Pence's rabbit—that has also been published," Oliver said, introducing his book.
"There are few small differences between the two books. You'll notice that our rabbit has a bowtie, so there's that. Also, our story is about Marlon Bundo falling in love with another boy rabbit, because our Marlon Bundo is gay—just like the real Marlon Bundo."
Oliver said that the book is already on sale on Amazon, or BetterBundoBook.com. All the proceeds will go to two organizations, The Trevor Project, the charity which provides services to at-risk LGBT+ youth, and AIDS United.
"Meet Marlon Bundo, a lonely bunny who lives with his Grampa, Mike Pence—the Vice President of the United States," the product description reads. "But on this Very Special Day, Marlon's life is about to change forever. With its message of tolerance and advocacy, this charming children's book explores issues of same sex marriage and democracy. Sweet, funny, and beautifully illustrated, this book is dedicated to every bunny who has ever felt different."
There is also an audiobook available on Amazon which features narration from a host of stars including The Big Bang Theory's Jim Parsons, John Lithgow, RuPaul and more.