John Oliver Blasts 'Racist' Laura Ingraham: 'When the Former Head of the Klan Likes What You're Doing, That Should Give You Real Pause'
John Oliver blasted Laura Ingraham Sunday evening for fueling the racism behind what turned out to be a weak "Unite the Right" rally taking place simultaneously in Washington, D.C.
"As we tape this show right now tonight, the Unite the Right II rally is winding down. A massive dozens of white nationalists apparently gathered in D.C., where they were met by hundreds of counterprotesters calling them all a**holes," Oliver said on HBO's Last Week Tonight.
Oliver said although it was heartening to see counterdemonstrators far outnumber the white supremacists, neo-Nazis and members of the so-called alt-right at the one-year anniversary of the march in Charlottesville, Virginia, the rally was still a "visceral reminder of the problems we're facing" in the United States. Problems, according to Oliver, that Ingraham feeds with her Fox News show.
"Today's demonstration is just the culmination of a week in which America's regular dog-whistle racism became uncomfortably loud," Oliver said. "There's no better example of this than Fox News's Laura Ingraham."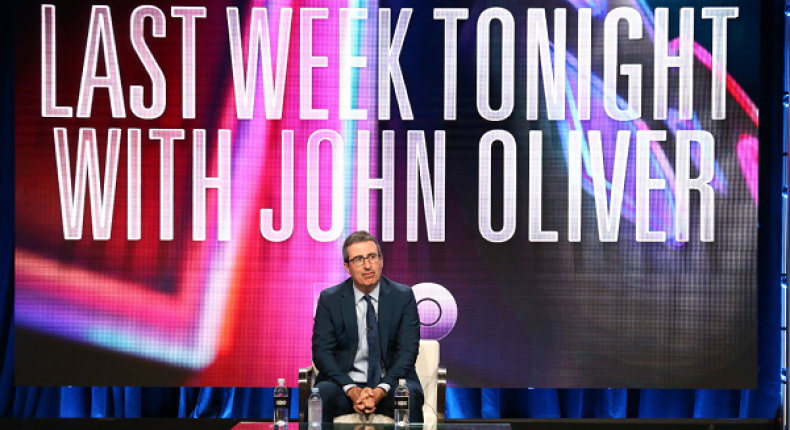 During an anti-immigration speech on her show Wednesday, Ingraham said that "in major parts of the country, it does seem that the America we know and love doesn't exists anymore. Massive demographic changes have been foisted on the American people, and they're changes that none of us ever voted for and most of us don't like."
Many critics, including Oliver, have said Ingraham's comments amounted to a white supremacist speech. "Wow. She just came right out and said it, in a scripted commentary, straight at the camera, knowing her mic was on," Oliver said. "No 'economic anxiety,' no 'some of them are good people,' just 'I don't want people who don't look like this here.' You almost want to give her credit for honesty there, and then deduct twice as much credit because she's just being honest about how racist she is."
Although Ingraham later claimed her comments weren't based on race, former Ku Klux Klan grand wizard David Duke praised her for delivering "one of the most important monologues in the history of the MSM [mainstream media]."
That, Oliver said, made Ingraham's defense null and void.
"When the former head of the Klan likes what you're doing, that should give you real pause," said Oliver. "Let me put it this way: If immediately after this taping, Dr. Larry Nassar caught me in the hallway and said, 'Hey, man, love the show!' I'd think long and hard about what the f**k I just said."
Sunday also marked the anniversary of the death of Heather Heyer, 32, who was killed on August 12, 2017, when a suspected neo-Nazi drove his car into a crowd of people protesting the "Unite the Right" rally in Charlottesville. Her mother has since established the Heather Heyer Foundation.