John Oliver's Gay Love Story About Mike Pence's Rabbit Has Sold 180,000 Copies, Outselling the Marlon Bundo Book It's Trolling
John Oliver's gay love story about Vice President Mike Pence's rabbit, Marlon Bundo, is outselling the book it's meant to troll, written by Pence's daughter and illustrated by his wife.
On Sunday's episode of Last Week Tonight on HBO, Oliver presented his alternative to the children's book published by the Pences Monday. In it, the VP's pet rabbit falls in love with another male rabbit. The book—written by Last Week Tonight scribe Jill Twiss—espouses inclusivity and tolerance. Oliver decided to publish his own book to troll Pence, who has endorsed controversial policies opposing gay marriage.
On Amazon, the Oliver and Twiss book, A Day in the Life of Marlon Bundo, is the number one bestseller in the books department. Charlotte Pence's book, Marlon Bundo's A Day in the Life of the Vice President, meanwhile is fourth.
Oliver's book is also outselling former FBI director James Comey's memoir, A Higher Loyalty, which ranks second on Amazon.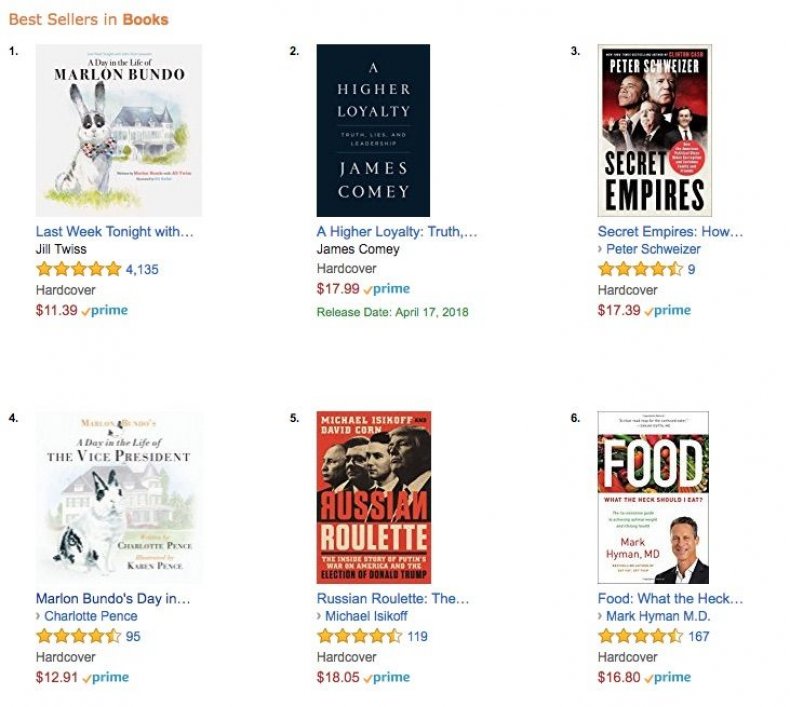 The British satirist appeared on Late Night with Seth Meyers Tuesday night to talk up the children's book. Oliver laughed, "At that point it's getting ridiculous," after learning his Marlon Bundo book is outselling Comey's.
Oliver also told Meyers that he found out Tuesday afternoon that the gay-inclusive children's book has sold 180,000 copies since it was published Sunday night. "[It's] definitely more than we were prepared for," he said.
The proceeds of Oliver's book will go to two charitable organizations, The Trevor Project, which supports LGBT+ youth who are at risk, and AIDS United.
"I'm sure HBO find it hilarious they're getting no money out of this," Oliver said.
Oliver's book features a stink bug character that opposes the marriage of Marlon Bundo and his rabbit lover. The stink bug bears some resemblance to Pence, though Oliver was coy about the likeness. "You could say that looks like him because of his hair and general demeanor and his attitude towards gays… yeah, I guess you could say that's Mike Pence-like."