Johnny Depp Lawyers 'Confident' in Verdict Following Heard Appeal
Johnny Depp's attorneys said they are "confident" that the verdict in the defamation trial against Amber Heard will stand, as the actress officially filed a motion to appeal at the Circuit Court of Fairfax County on Thursday.
"We believe the court made errors that prevented a just and fair verdict consistent with the First Amendment. We are therefore appealing the verdict," a spokesperson for Heard said in a statement.
"While we realize today's filing will ignite the Twitter bonfires, there are steps we need to take to ensure both fairness and justice."
A spokesperson for Depp responded to the motion, telling Newsweek on Thursday that his team is "confident" in the jury's decision. "The jury listened to the extensive evidence presented during the six-week trial and came to a clear and unanimous verdict that the defendant herself defamed Mr. Depp in multiple instances," the statement read.
"We remain confident in our case and that this verdict will stand."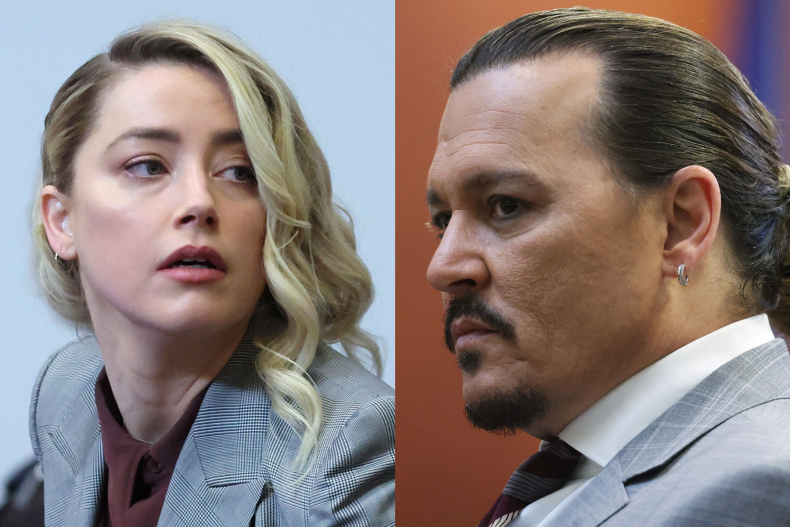 Newsweek has contacted Heard's lawyers for further comment.
Depp recently emerged victorious from a highly publicized court battle with Heard over a 2018 op-ed for The Washington Post, in which she said that she was a domestic abuse survivor. The jury largely sided with Depp, awarding him $10 million in compensatory damages and $5 million in punitive damages on June 1.
Earlier this month, a judge shut down Heard's request for a new trial, dismissing the claim that one of the jurors in the defamation trial between her and ex-husband Johnny Depp had committed fraud.
Judge Penney Azcarate, who was the judge during the six-week defamation trial, dismissed the motion and said: "Due process was guaranteed and provided to all parties in this litigation. There is no evidence of fraud or wrongdoing."
Meanwhile, Depp's lawyers branded that request for a retrial as "outlandish."
The Aquaman star still owes her ex-husband $8.5 million in damages after they were both found liable for defamation in their lawsuits against each other, and Heard's lawyer, Elaine Bredehoft, has publicly said that her client is unable to pay the full amount.
Now that Heard has filed a new appeal, it could end up costing her even more than she already owes.
Attorney Jeff Lewis previously told Newsweek that in order to appeal, Heard "must post a bond equal to the net judgment (after netting out Amber's victory) of $8.3 million, plus interest for one year at six percent."
"So there are two issues here, what premium would Amber have to pay the surety to obtain a bond. And second, what collateral does Amber have to convince a surety to post the bond," Lewis explained.
Any settlement between the former married couple will not take place until after the appeal.