Johnny Depp's ill-fated relationship with Amber Heard has edged its way back into the public glare, with their defamation trial starting this week in Fairfax, Virginia—marking their second court battle in less than two years.
Hollywood actor Depp, 58, sued his ex-wife Heard, 35, for $50 million alleging that she defamed him in an opinion piece that was published in The Washington Post in December 2018. Screen star Heard has countersued for $100 million.
The exes are meeting in court after a previous legal battle saw Depp lose a 2020 libel case against British tabloid The Sun, which had labeled the actor a "wife-beater" in reference to Heard's allegations of domestic abuse.
Heard accused Depp of domestic abuse during their divorce proceedings in 2016. The stars, who wed in 2015, had their union officially dissolved in January 2017, months after Heard filed for divorce from the Pirates of the Caribbean star.
Depp sued The Sun for referring to him as a "wife-beater," prompting a high-profile trial at the U.K.'s Royal Courts of Justice in London, where a host of salacious allegations were made by the actor and his former wife.
Depp repeatedly denied ever having been violent to Heard and the two gave evidence during the three-week trial, where claims of brutal violence and intimate details of their rocky relationship were publicly aired.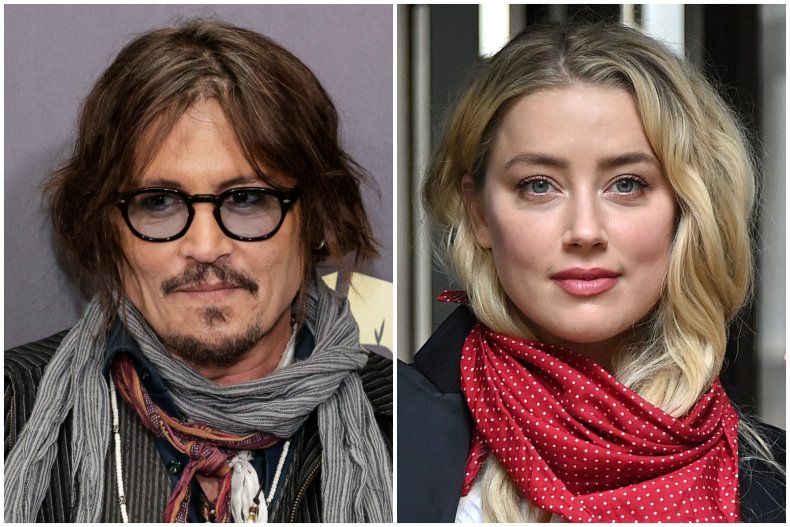 During proceedings, Depp was asked about his lifestyle, drug use and his attitudes towards women and his previous partners.
As the trial concluded, the overseeing judge found that the U.K. publication's claims that the actor was abusive to Heard were "substantially true."
With the new trial now beginning, entertainment attorney Mark Litwak, founder of Mark Litwak & Associates, has told Newsweek that there stand to be noticeable differences between this court battle and their last—mainly due to location.
"U.K. and U.S. law are substantially different," Litwak noted. "In the United Kingdom the burden of proof to prove the libel—written defamation—is substantially true rests on the defendant. So it is easier to sue and win a defamation action in the U.K.
"In the U.S.A., public figures like Depp and Heard have to prove actual malice to prevail. This is derived from the 1st Amendment rights we have as Americans in the U.S.A., and 1st Amendment does not exist in the U.K."
Burden of Proof
Depp is suing Aquaman star Heard for her 2018 op-ed, in which she stated that she had been the victim of domestic violence. While Heard didn't directly name Depp, the actor said that it was clear he was the one being referred to in the article. The trial is taking place in Virginia due to its proximity to the Post's headquarters.
"This lawsuit is different in that Depp is claiming a Washington Post op ed piece implied he was a domestic abuser," Litwak told Newsweek. "And the evidence may well be different this time as it concerns a different publication.
"And to win under U.S. law, one has to prove that the defamatory remark was of and concerning the plaintiff. Apparently Heard did not mention Depp by name in her article. So this is another issue for Depp to overcome."
However, the uphill struggle on Depp's part doesn't end there, with Litwak explaining: "Most public figures do not file defamation suits even when a publication says something untrue about them.
"Because as public figures they have to prove actual malice which is a very hard standard to meet. And then if they lose, most people may think they lost because the defamatory remark must have been true.
"But actually, they may have only lost because they could not prove the publisher acted recklessly or intentionally, which is what actual malice is. The statement may well have been false but they can still lose. Most celebrities after consulting a lawyer decide it is not wise to bring suit."
Salvaging a Career
Another challenge that Depp faces is the risk of more allegations against him being publicly aired as a direct result of his decision to file the lawsuit.
"Whenever you file a lawsuit, especially if you are a celebrity, the suit itself may bring more attention to the allegations and circulate to people who were previously unaware of the allegations," Litwak said. "So it can cause further harm to one's reputation."
Amid the fallout from his U.K. court battle, Depp was "asked to resign" from Fantastic Beasts 3, in which he was set to reprise his role as Gellert Grindelwald. He was subsequently replaced by Mads Mikkelsen.
With this in mind, California First Amendment attorney Jeff Lewis has countered that Depp has every reason to want to file this lawsuit, so that he can claw back the career opportunities that currently sit outside his reach.
"Recall that after the last trial, Depp lost his lucrative movie deal for the Fantastic Beasts movie series," Lewis told Newsweek. "Getting his name cleared in court is the only way to regain his career. Given the damage that happened in the last trial, Depp's reputation can only improve and certainly cannot appreciably decline."
However, added Litwak, the fact that a "U.K. judge after examining various allegations found many to be substantially true... means Depp may have a difficult time prevailing."