Johnny Depp, Amber Heard and the Dangers of Cancel Culture
Divorce-related legal battles can be perplexing enough for the average observer, but lace one with elements of the #MeToo movement and mix in the consequences of cancel culture and the result can be a pretty murky recipe for truth about the rich and famous.
That certainly applies to the ongoing trial between Johnny Depp and ex-wife Amber Heard. Beyond the damage Depp has asserted was done to his career, the legal dispute has publicly revealed plenty of unflattering intimate details about the former spouses. The details, ranging from violent texts written by Depp about Heard to the actress's admission that she physically abused him, show that public cancellation of a well-known figure often is more complicated than it might at first seem at the surface.
Depp is suing Heard, 36, for defamation in the amount of $50 million over a 2018 op-ed she wrote in The Washington Post, in which the Aquaman actress described herself as a "public figure representing domestic abuse." While Heard didn't name Depp in the piece, the actor said that he was dropped from his role in Disney's Pirates of the Caribbean franchise days after the op-ed was published and that it has done irreparable damage to his career. Heard is countersuing Depp, 58, for $100 million.
The fallout from a previous verdict in a U.K. trial, in which Depp sued the Sun newspaper over an article that described him as a "wife beater," resulted in Warner Bros. dropping the actor from its Fantastic Beasts franchise. The Sun prevailed in that case.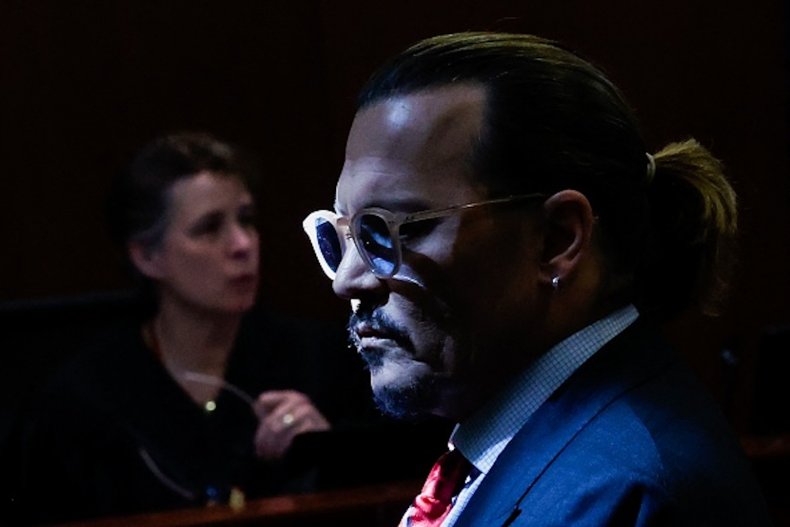 "We do know that he lost the Pirates franchise—that's a significant loss—and then Fantastic Beasts," said Christian Toto, founder of the entertainment website Hollywood in Toto and author of the book Virtue Bombs: How Hollywood Got Woke and Lost Its Soul. "Those are tangible things he could say he lost directly because of what's going on."
Toto noted that while the trial is uncovering layer after layer of information, it's impossible to know everything that transpired between the two, even if you were to watch every second of testimony.
"While it's certainly showing him as a deeply flawed individual who had a substance abuse problem, what we are looking at here is about whether he is a physical abuser," Toto said about Depp. He noted that such famous figures as film director Roman Polanski and R&B singer R. Kelly have been accused of and admitted to worse.
"It's a weird place to be, where some sins are unforgivable while some get a shrug of the shoulder. That's why cancel culture is so pernicious," Toto said. "There's no consistency to it."
Entertainment writer Sasha Stone of the website Awards Daily has a broader perspective on cancel culture's complexity and far-reaching effects.
"We're living through a big cultural backlash—you can feel it happening," Stone said.
The political left, which in her view has long controlled so much of our culture, is sticking to a playbook that no longer works, she said.
"Where the pendulum couldn't have swung more left, it's now starting to swing right," she said. "Basically, people are starting to rise up to the power elite and to tell them what they're interested in listening to and watching instead of being told what they have to listen to and watch."
Stone, who doesn't consider herself liberal or conservative, said that with people like Tesla and SpaceX CEO Elon Musk and podcaster Joe Rogan, the tide has turned. Musk, who purchased Twitter last week for $44 billion, has criticized the platform's lack of political neutrality and its censorship and said he plans to change that.
Rogan, who has long been a target of cancel culture for allegedly spreading COVID-19 misinformation and using racial slurs during his popular podcast, said he has seen an increase of 2 million Spotify subscribers amid his controversial statements and averages 11 million per podcast, according to Poynter.
"What mattered with cancel culture was that people lost their livelihood," Stone said. "They [the establishment] need to be able to be confident enough that they don't need to fire Johnny Depp or to drop Joe Rogan, and that's happening."
She added, "I really do think, partly due to Musk, just being enough of a presence to cause people to rethink has changed things. Will people still try to cancel people? Yes, but the worst is over."
In terms of the Depp trial, some have criticized it for being viewable to the public and say it gives both the plaintiff and defendant an opportunity to display their acting prowess. But Stone said allowing Depp to present his side of the story to the public has so far been effective. Meanwhile, the public's interest in the case has rapidly ascended as the trial proceeds.
On its second day, approximately 250,000 live stream views were tallied, according to the Law & Crime network's YouTube channel, while the eighth day had 9 million views.
"I guess we'll see how the media handles it when Amber Heard takes the stand, but he's everywhere on TikTok, and that means a lot more than if he gets press from The New York Times," Stone said about Depp's current presence on the platform. "Bringing his side of the story to the public was the right thing to do."
Forbes film critic and box-office analyst Scott Mendelson's take is a little different. He said that what value Depp brings to a film like Fantastic Beasts—anything other than Pirates of the Caribbean—is nominal at best.
He recognizes Depp as a "viable studio actor who brings prestige," as well as one with a large online fan base. Still, he said he questions whether any box-office draw Depp now has is worth the media backlash—and how much his appearance would hurt a movie's publicity campaign.
"If you look at the films Depp made after Pirates—films like Public Enemies—they were successful but not blockbusters," Mendelson said. "Unless he's totally and completely exonerated, his online fan base is just that; it's not the same as general audience interest. It doesn't necessarily translate into real-world interest. Success and fandom and stardom here doesn't translate to success and stardom over there."
Mendelson also noted the common misperception that stars can be perceived as bigger than they actually are.
"Unless you're Leonardo DiCaprio or Sandra Bullock, your ability to draw a crowd is almost entirely tied to the marquee character you're playing," he said.
But if that's the case, Depp has certainly lost when it comes to playing Pirates of the Caribbean's Captain Jack Sparrow, although Mendelson said he is not certain Depp would have been cast in the role for the franchise's sixth installment.
Meanwhile, some pundits seemed to have been left aghast by the initial revelations from the trial, specifically the violent texts Depp wrote in reference to Heard. Some have questioned why the actor would want to air more dirty laundry and make it worse for himself.
Conversely, some celebrities, including Rogan, have come out to publicly call Heard crazy. Depending on how she fares when it's her turn to take the stand, she might have already lost in the court of public opinion and could face her own cancellation problem.
Considering she has yet to testify in front of jurors, a petition to have the actress removed from Aquaman 2 has amassed more than 2.2 million signatures. The backlash toward her has grown following testimony that she threw a vodka bottle at Depp, severing part of one of his fingers. The U.K.'s Daily Mail published an audio recording of an argument between the two in which Heard admits to "hitting" Depp and said no one will believe him if he refers to himself as a victim of domestic violence.
Then there's the testimony by a longtime Depp employee that the actress defecated in the former's couple's bed in 2016. That incident led to the hashtags #MePoo (a play on #MeToo) and #AmberTurd trending on Twitter.
Stone speculated that Depp likely knows he won't win the millions he's suing for and understood that asking for such a sum meant the matter couldn't just be negotiated away.
"He's looking for justice in a way that he couldn't get from the media, who wouldn't give him the benefit of the doubt. So he's making his case to the public to get his reputation back. And, you know, it's working," Stone said.
"I would pay to see a movie with Johnny Depp right now, and those on TikTok would, too," she said. "But you're probably not going to see any movie as compelling as this trial."