Johnny Depp vs. Amber Heard: 4 Revelations From Week 3 of Trial
Johnny Depp and Amber Heard's defamation trial has now concluded its third week, which saw explosive allegations fired from both sides.
Depp, 58, is battling his ex-wife Heard, 36, after suing her for $50 million over an op-ed published in 2018 by The Washington Post, in which the actress said that she had been the victim of domestic abuse.
While Depp was not named in the article, his lawyers argued that it was clear it was about him, subsequently sullying his reputation and career. Lawyers for Heard, who is countersuing for $100 million, have argued that the op-ed was a matter of public interest.
As another week of testimony concludes, Newsweek is looking at five key moments from the courtroom in Fairfax, Virginia.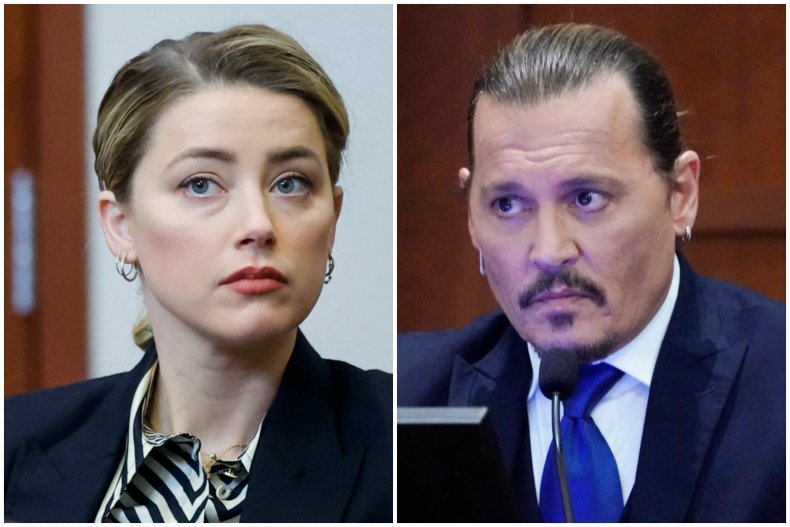 Does Heard Have a Personality Disorder?
During Tuesday's proceedings, a psychologist called to testify by Depp's attorneys said that Heard could have a personality disorder.
Dr. Shannon Curry, a licensed clinical and forensic psychologist in California and Hawaii, was called by Depp's legal team to provide expert testimony on any potential intimate partner violence in Depp and Heard's relationship.
Under oath, Curry said she carried out a psychological evaluation of Heard, using case documents, medical records, mental health treatments, and audio and video records, eventually concluding that she met the criteria for histrionic personality disorder. Curry testified that she met with Heard on December 10 and 17 for a total of 12 hours.
"The results of Ms. Heard's evaluation supported two diagnoses...borderline personality disorder and histrionic personality disorder," Curry testified.
Questions Over Charity Payments
On Thursday, Depp's accountant and business manager, Edward White, testified that Heard's financial demands continually increased as they worked toward a settlement.
Part of the agreement was a pledge by Heard to donate $3.5 million of the money received from Depp to the American Civil Liberties Union (ACLU).
ACLU Chief Operating Officer Terence Dougherty testified that Heard has donated $1.3 million of her $3.5 million pledge to the organization.
Dougherty said the ACLU has received donations of $350,000, $500,000 and $350,000 that were all "associated" with Heard. Dougherty said the organization now considers a $100,000 check directly from Depp as part of Heard's gifts.
Heard's last donation to the ACLU was made in December 2018 for the amount of $350,000 from Fidelity, an investment company. ACLU began reaching out to Heard regarding the next installments of her donation in 2019, when they learned she was having "financial difficulties," Dougherty said.
In August 2016, Elon Musk, who briefly dated Heard, sent an email to an ACLU representative regarding the actress' plan to donate $3.5 million over 10 years.
When asked why Musk was "representing" Heard in the matter, Dougherty answered he didn't know, but assumed it was because of Musk's previous relationship with her. Musk is a major donor to the ACLU.
The $500,000 donation in 2017 attributed to Heard came from a Vanguard fund. Dougherty shared his belief that Vanguard is associated with Musk.
Depp's Drug, Alcohol Use
With drug and alcohol use having been mentioned on a number of occasions during the trial, Depp stated that he was sober for much of his relationship with Heard, after detoxing from the opioid Oxycodone back in 2014.
However, Heard's attorney, Elaine Bredehoft, on Wednesday questioned the former manager of Depp's private island estate in the Bahamas about the actor once "passing out in the sand face first" during his relationship with the actress.
"I recall he was passed out on the beach," Tara Roberts said when she was questioned, before responding in the affirmative when asked whether Depp's son had seen him in such a state, according to the BBC.
Heard's Relationship With Elon Musk
Depp's former agent, Christian Carino, this week testified that Heard dated Musk during the same year that she was allegedly trying to reconcile with Depp.
Text messages between Carino and Heard from 2017 were referenced, when Heard shared she was sad while going through a breakup and hated when things "went public." Carino believed she was referring to Musk.
Heard's relationship with billionaire Musk took place two months after she had made allegations of domestic violence against Depp.
"You told me a thousand times you were just filling space," Carino texted Heard about Musk in 2017. "You weren't in love with him."
"I'm saying, why would you be sad if you weren't in love with him to begin with?" Carino, who was once engaged to singer and actress Lady Gaga, continued.
Heard responded: "I know, but I wanted time to grieve and recover in my own time."
In another exchange, Heard said in a message to Carino: "I hate it that yet again a man lets me fall on the spikes by myself."
Carino responded: "If you don't like your personal life being in the press, don't date famous men. You could stop that if you stop dating uber-famous people."