Johnny Depp Briefly Looks Amused as Doctor Describes Finger Injury
Actor Johnny Depp looked briefly amused in court on Monday during the defamation trial between himself and ex-wife Amber Heard while listening to the testimony of a witness describing Depp's finger injury.
The trial has entered day 20 on Monday, and mentions of a severe finger injury that Depp sustained have been a consistent topic of questioning. Depp testified that Heard, who he is suing for $50 million for defamation, threw a large bottle of vodka at him during a fight they had in Australia, which he claims resulted in his fingertip being cutting off.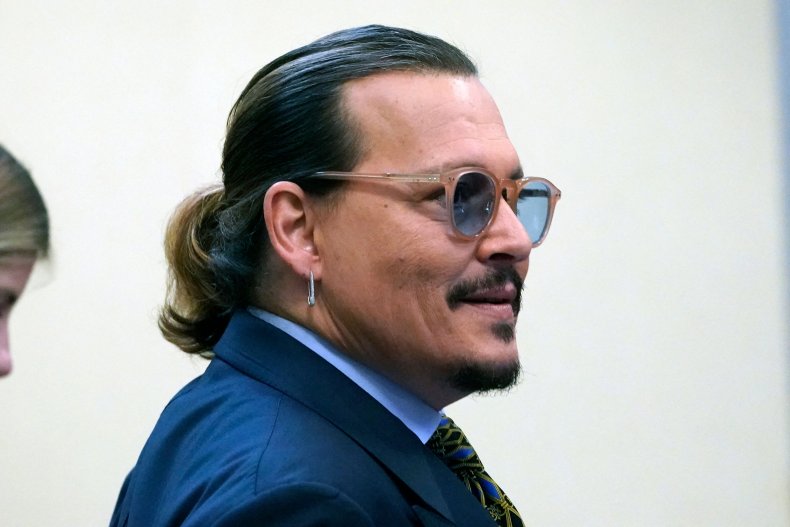 On Monday, Heard's legal team brought orthopedic surgeon, Dr. Richard Moore, to the stand as an expert witness. Moore confirmed to the jury that he has examined and performed surgery on finger injuries like the one Depp had sustained "hundreds" of times, "if not more."
In Moore's cross-examination, led by Depp's attorney Camille Vasquez, Moore clarified that he felt confident he could rule out "the injury as caused by the mechanism described in Mr. Depp's testimony," which in this case was the vodka bottle Heard allegedly threw at him.
Depp appeared to look up when Moore clarified this, looking slightly amused.
A source close to Depp gave Newsweek a summary of Moore's testimony, clarifying that the surgeon was not a witness to any part of Depp and Heard's relationship.
"Dr. Moore, who has never spoken with Mr. Depp, nor examined his finger, today testified that he could not be certain of the object that caused the damage to Mr. Depp's finger, nor that he had reviewed evidence by Ben King who had actually found Mr. Depp's finger in the bar in close proximity to multiple broken liquor bottles," the source said.
In Vasquez's cross-examination, it was brought up that Moore has also worked with Heard's legal team on two other cases and charges a fee of $1,000 an hour to give deposition testimony.
Reporter Sierra Gillespie tweeted a photo of Depp once again appearing to look slightly amused as he looked at Moore, who was answering final questions.
The finger injury has been just one accusation between the two actors in their high-profile trial, in which both Depp and Heard have accused the other of being abusive in their relationship.
Depp is suing Heard for $50 million after Heard wrote an op-ed in 2018 alleging she was a victim of domestic violence. While the article did not mention Depp specifically, his team argued that it has negatively impacted his career and caused him to lose projects.
Closing arguments are expected on May 27.
Update 5/23/2022 at 12:05 p.m.: This story has been updated to include more information about Moore's testimony.