Johnny Depp Chats as Captain Jack Sparrow With Fans Outside Courthouse
Johnny Depp speaks with fans waiting outside the courthouse using the voice of beloved character Captain Jack Sparrow amid the ongoing defamation trial between Depp and his ex-wife, Amber Heard.
In a video that's going viral on social media, a fan told Depp that he "will always be the Captain Jack Sparrow."
Depp agreed, bringing back the voice of the Pirates of the Caribbean character saying that he's still around and that he sees him sometimes. The viral video has over 30,000 likes on Twitter.
Depp is in Fairfax County, Virginia finishing up the trial. He sued Heard for $50 million after she wrote an op-ed in 2018 called "I spoke up against sexual violence — and faced our culture's wrath. This has to change." The article was published in The Washington Post. Depp was not mentioned by name in the article, though Depp's lawyers say it's about him. Heard is countersuing Depp for $100 million in damages, calling Depp's suit a nuisance suit.
While Depp was on the stand, he was asked if he would be returning to the Pirates franchise for the sixth installment and he said he wouldn't be. Producer of the films, Jerry Bruckheimer, is working on a new Pirates movie without Depp's character and agreed that Depp is not set to return.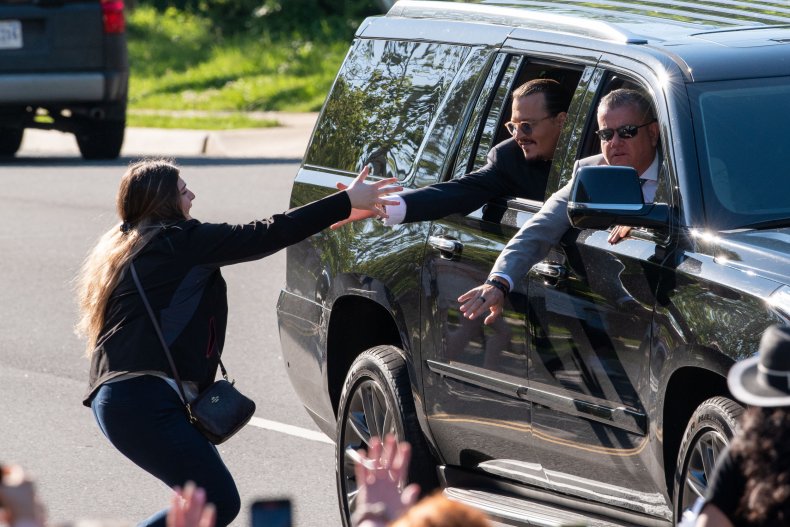 The producer told The Sunday Times that they are in talks with Once Upon a Time... In Hollywood actress, Margot Robbie.
"We are developing two Pirates scripts—one with her, one without," he explained.
One script is more of a "reboot" and the other—with Robbie—will be a "wholly original story with new characters" based on the characters seen on the ride in Disneyland located in California, according to The Hollywood Reporter.
In the comment section below the viral videos, fans discuss the future of the Pirates of the Caribbean franchise.
"Yeah one thing Margot will never have. I can't quite believe they chose her to take JD's part. Absolute shambles," stated a user.
"Margot is a great actress. I know we all want Johnny and I def won't be watching the new pirates, but I don't think we should throw her under the bus just for accepting a job opportunity," another replied to the above comment.
Others comment on Depp's response to fans waiting outside the courthouse,
"What a guy !! To behave like this to total strangers when going through the most stressful & upsetting time of your life says everything you need to know about this kind & generous soul," a Twitter user said.
One questioned, "This is honestly so adorable. How can you not love this guy?"
The trial is set to resume on Monday at 9 a.m. EST and can be streamed online.