Johnny Depp's 'Deep-Rooted Issues' Have Nothing to Do With Heard: Friend
Johnny Depp's longtime friend, Bruce Witkin, took the stand on Thursday in the $50 million defamation trial between Depp and ex-wife Amber Heard, and testified that Depp had some "deep-rooted issues."
Depp is suing Heard for defaming him in a 2018 op-ed she published with The Washington Post in which she stated she was a victim of domestic abuse. Depp has alleged throughout the trial that he was physically abused by Heard, and testimonies from witnesses have claimed that the couple's tumultuous relationship was dramatic and dysfunctional.
On Thursday, the defense called Bruce Witkin, a former best friend of Depp, to testify via recorded video deposition. Witkin stated that he and the Pirates of the Caribbean actor became friends and bandmates in the 1980s and remained close throughout the time Depp spent with Heard. Reporter Sierra Gillespie tweeted part of Witkin's testimony in which he said that he never saw any physical abuse by either party.
Witkin testified to some of Depp's drug and alcohol use, which has been a consistent topic throughout the several-week trial. When asked about any professional help Depp might have sought, Witkin stated, "He tried to clean up a couple times, and he did. I think he needed therapy, and I recommended that to him."
"He did it a little bit, but then he stopped because, in my experience, it's deep-rooted issues that he's dealt with that has nothing to do with Amber," Witkin continued. "That's my opinion."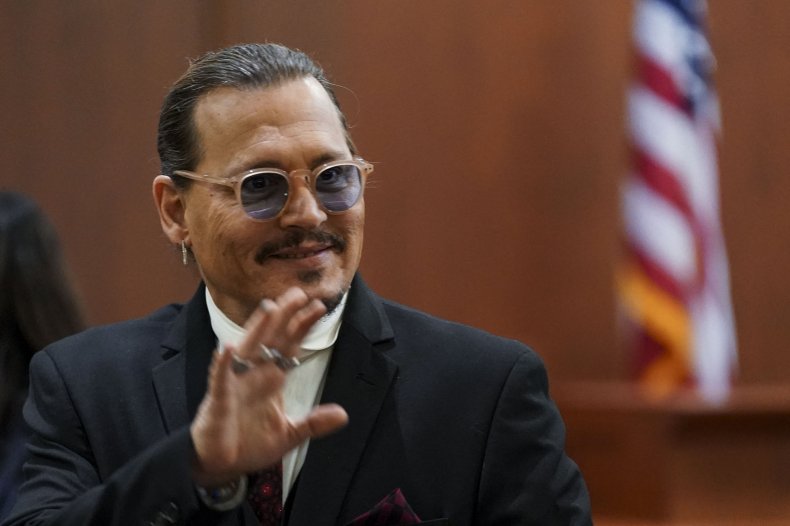 Depp's use of different substances has been widely covered in the trial currently taking place in Fairfax, Virginia. Heard has testified that Depp used numerous drugs, including cocaine and MDMA, often, and Heard's attorney, Elaine Bredehoft, spoke about Depp's "crushing" drug and alcohol abuse in her opening statement, alleging that he would become a "monster" that was "paranoid" and "delusional" when he was under the influence.
Depp's bodyguard, Travis McGivern, testified the opposite, saying that when Depp would do marijuana or cocaine, he would be "chill, for a lack of a better word. Mellow...just super mellow." McGivern added, "I feel like it levels him out. I haven't noticed any difference when he's used it."
Witkin testified that he knew Depp and had done recreational drugs with singer-songwriter Marilyn Manson as well, which Depp himself has also testified.
"You can't blame somebody's drug abuse on somebody else," Witkin said when asked if Manson and Depp did drugs together.
Witkin confirmed that he had never seen Heard or Depp physically abuse one another, and stated that Depp confided in him regarding his relationship with Heard. "He would talk about frustrations or whatever and we would try and talk through it," Witkin said, "But it wasn't as much anger as it was much, like, confusion and sadness and 'Why is this not working?'"
Heard is countersuing Depp for $100 million for nuisance, and the trial's closing arguments are expected on May 27.
Update 5/19/2022 at 11:17 a.m. EDT: This story has been updated to include more background information on the trial.