Every Johnny Depp, Amber Heard Trial Witness and What They Said
The defamation trial between Johnny Depp and Amber Heard, which began on April 11, 2022 at the Circuit Court of Fairfax County, Virginia, has caught the attention of the public with several sensational revelations being made by witnesses, and by Depp and Heard themselves. On May 5, day 15 of the trial, the court adjourned for a break and won't return again until Monday, May 16 at 9 a.m.
Reflecting back on everything we've heard so far, here is a list of every witness, aside from Depp and Heard who's given testimony during the trial.
1. Christi Dembrowski
The first witness called to the stand by Depp's legal team is Johnny Depp's sister and personal manager.
She testified that Depp had sworn to never repeat the actions of domestic violence. Dembrowski claimed Depp had to hide from Heard as he had done from his mother as a child.
2. Isaac Baruch
An artist and a longtime friend of Depp's who was a neighbor of Depp and Heard during their marriage, Baruch recalled his experiences with the pair.
He claimed that in May 2016, Heard told him Depp had thrown a phone at her but after looking at her face he saw no injuries.
3. Brandon Patterson
Baruch described footage of Heard and her sister Whitney laughing and throwing a fake punch. Depp's lawyers argued this was to "feign abuse from Depp." Eastern Columbia Building general manager Patterson appeared via video to confirm the accuracy of the approximately 80 CCTV cameras from the building.
4. Gina Deuters
Deuters is the wife of Depp's employee Stephen Deuters. Her testimony was ultimately struck from the record after a social media post she had posted was shared with the court, despite it being from January 2021.
Heard's friend Eve Barlow had brought the post to the attention of the court, but she was then banned by the judge for breaking the court's no-phone policy.
5. Kate James
Heard's former assistant James appeared in a pre-recorded deposition. She described Heard as "belligerent and abusive" and testified that Heard used psychedelic mushrooms, ecstasy and cocaine.
James also described Heard as having a "kick-the-dog kind of relationship" with her own sister Whitney.
6. Laurel Anderson
Anderson, who was Depp and Heard's therapist in 2015, claimed that there was "mutual abuse" during the pair's marriage.
She testified that Depp attempted to "de-escalate" the violence more than Heard but that they both instigated physical confrontations. Anderson believed Depp, who had never been violent with previous partners, was "triggered" by Heard who she said started fights to keep him there, rather than let him walk away to "de-escalate" a situation.
7. Dr. David Kipper
Appearing in a pre-recorded deposition, Dr. Kipper testified that he has diagnosed Depp with a number of disorders including ADHD, bipolar, insomnia, substance dependence and chronic reflux.
He confirmed he'd never witnessed violence between Depp and Heard but saw the aftermath of an incident at a rented house in Australia with blood and broken glass around the house.
8. Debbie Lloyd
A nurse who works with Dr. Kipper claimed that Heard and Depp's relationship was "toxic" and claimed Heard would instigate arguments with Depp. She also witnessed the aftermath of an incident in Australia in 2015 as she looked for Depp's severed finger. She described seeing writing on the walls and a destroyed television set.
9. Ben King
Johnny Depp's house manager endured a moment that went viral during this trial when he was asked a question by Heard's lawyer, who appeared to object to his own question.
King took the stand and said he heard "hysterical sobbing" as he entered the house in Australia in March 2015. He said he saw Depp's doctor, Dr. David Kipper, rummaging through the bin looking for Depp's severed finger. Eventually King found the finger and put it on ice.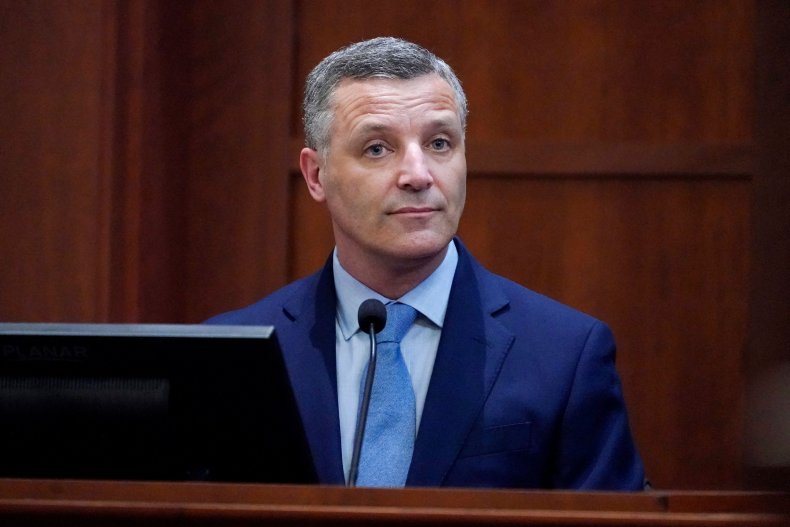 10. Keenan Wyatt
Wyatt, Depp's on-set audio technician since the 1990s, arrived as a character witness for his colleague. Heard had claimed Depp was abusive towards her on a flight from Boston to Los Angeles but Wyatt, who was on the flight, said he never witnessed Depp shout at her. Instead he gave her "the cold shoulder" according to Wyatt.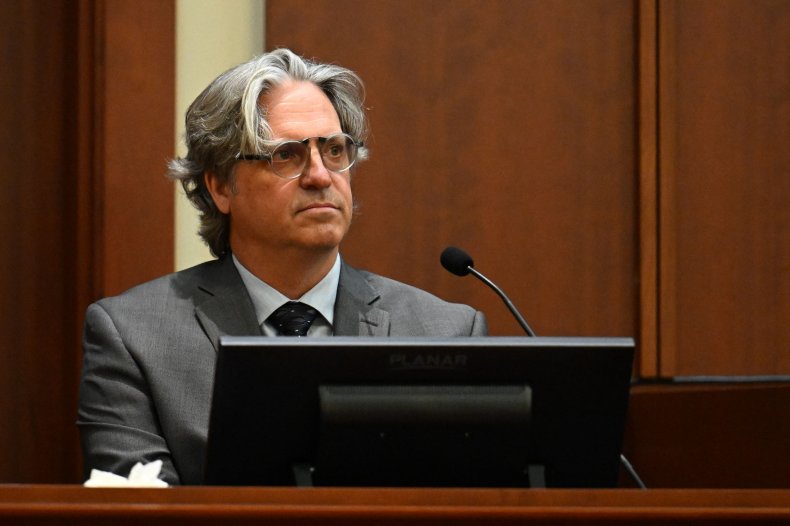 11. Sean Bett
Depp's security guard, Bett testified that he had never seen the couple be violent towards each other but their relationship did reach the stage of "constant arguing and bickering." He also shared images of Depp's injuries taken in March and December 2015.
12. Travis McGivern
McGivern was a member of Depp's security team and he appeared virtually to testify that he had seen Amber Heard throw a red bull can at Depp and hit him in the back. He also claimed to have seen Heard spit at Depp.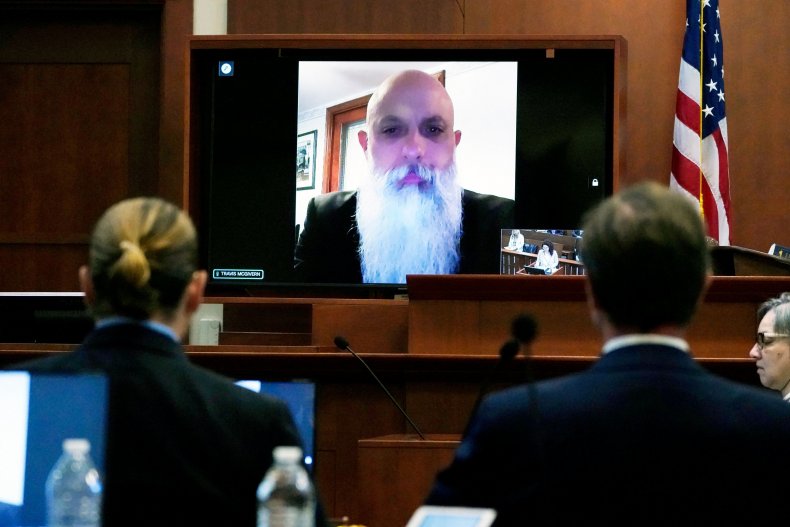 13. Tara Roberts
Roberts, who managed Depp's private island, was the first witness to take the stand after Depp.
She claimed she had never seen any signs of injury on Heard's head but did once spot Depp with "bruised nose" after Heard threw a can at him and had verbally abused him.
Under cross-examination she recalled a time when Depp had fallen face down out of his hammock. Roberts admits she arranged for Depp's two children to leave the island after that.
14. Melissa Saenz, Tyler Hadden and William Gatlin
Pre-recorded testimony from two LAPD officers, Saenz and Hadden revealed their account of responding to a May 2016 incident at the Eastern Columbia Building involving the couple. Heard had called for the police to respond to the scene.
They saw no sign of injury and couldn't identify a crime but saw Heard was "crying" and "red with emotion" but called her "uncooperative."
Gatlin arrived at the penthouse later that day but only stayed for two minutes, seeing no signs of injury on Heard.
15. Dr. Shannon Curry
A forensic psychologist hired by Depp's legal team, Dr. Curry refuted Heard's claims of PTSD stemming from her relationship with Depp. She said Heard "grossly exaggerated symptoms of PTSD."
Curry instead diagnosed Heard with "histrionic and borderline personality disorders." She explained how this disorder was a "predictive factor" in women who instigate violence against their partner.
16. Alejandro Romero
Romero, a doorman at the Eastern Columbia Building, made a notable appearance via a pre-recorded video as he vaped and drove through his testimony. At times his testimony had the jury and Depp laughing. He recalled a time he was asked to check for an intruder but he believes the scratching at the door which had startled them was just a dog.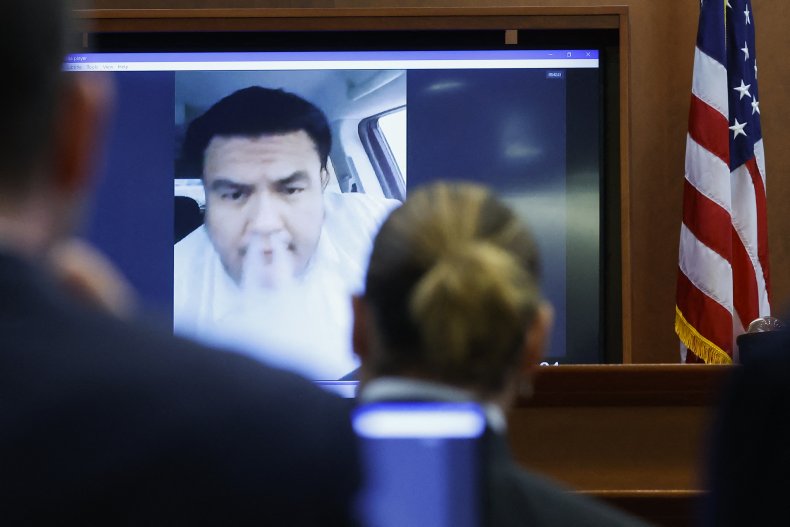 17. Terrence Dougherty
Another pre-recorded video testimony discussed the formation of the 2018 op-ed written by Heard, which is the focal point of the entire trial.
Dougherty, the chief operating officer of the American Civil Liberties Union said that his company were involved with "conceiving, drafting, and placing" in The Washington Post. Supposedly the goal was to capitalize on the campaign for the upcoming Aquaman movie which Heard was starring in.
18. Jack Whigham
Johnny Depp's talent manager took the stand to describe how Heard's op-ed had damaged his career financially.
As part of his testimony, he revealed what Depp had been paid for his previous movies. This included $8 million for City of Lies, $10 million for Murder on the Orient Express and $13.5 million forFantastic Beasts: Crimes of Grindelwald. He also revealed how Depp was in negotiations to receive $22.5 million for Pirates of the Caribbean 6.
19. Richard Marks
The founder of entertainment law firm Richard Marks and Associates assessed the damage done to Depp as a result of the Washington Post op-ed.
He said the piece created a "cancel situation" that harmed Depp's reputation and ability to get work.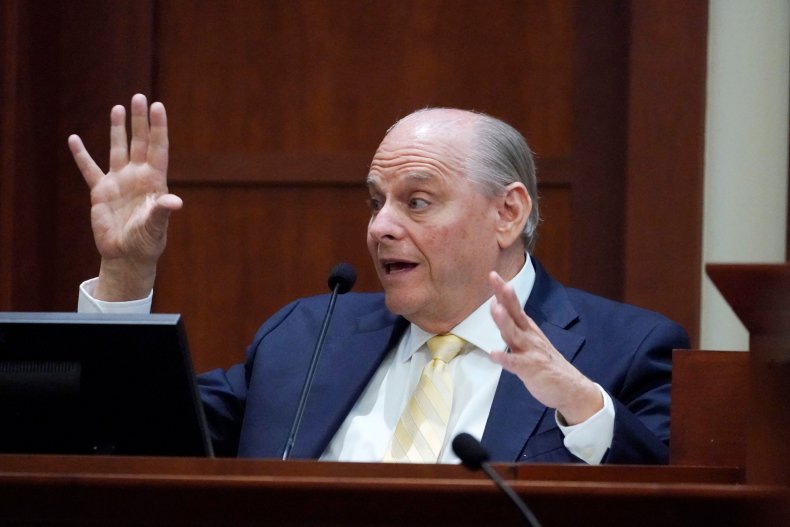 20. Douglas Bania
Bania is the founding principal of an intellectual property consulting firm. He provided evidence on how Depp was perceived in the media and by the public following domestic abuse allegations in 2016 and the 2018 op-ed. He called the op-ed "devastating" for Depp's reputation.
21. Erin Falati
Amber Heard's former personal nurse, Falati appeared via a prerecorded video deposition and discussed Heard's history with anxiety and substance abuse.
Falati testified that Heard told her of previous bouts with bipolar disorder, attention-deficit disorder, eating disorders, anxiety, codependency issues and occasional insomnia. She spoke of Heard opening up about her jealousy when away from Depp in 2014 and 2015, and also discussed her drug use at Coachella in May 2016.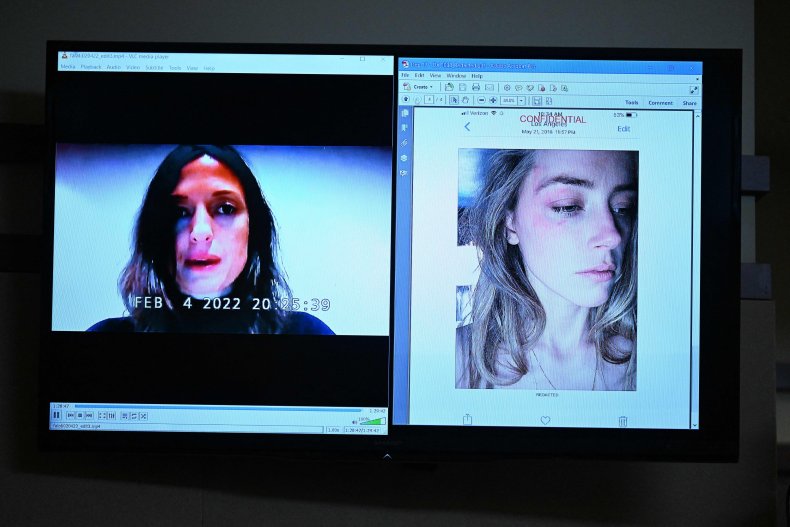 In December 2015 Falati visited Heard's home and noted that Heard had "visible bright red blood appearing at center of lower lip," as a result of an altercation with Depp.
22. Michael Spindler
Spindler, a forensic accountant, showed his calculations to determine the exact loss of earnings Depp has suffered as a result of Heard's actions.
"I concluded that Mr. Depp suffered lost earnings of approximately $40 million dollars," Spindler said. He calculated the figure based on Depp's role in Pirates of the Caribbean 6, its expected net earnings and Depp's roles in non-franchise films.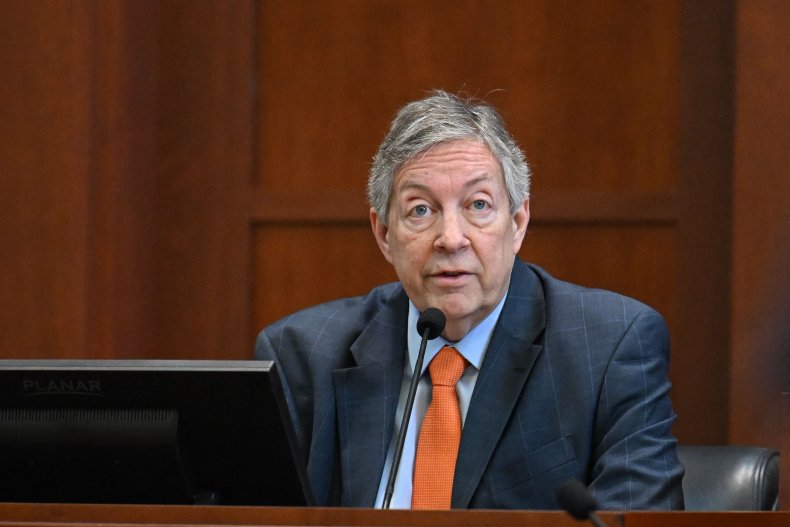 23. Laura Wasser
Celebrity divorce lawyer Wasser represented Depp during his split from Heard. She appeared in a prerecorded video testimony and told the court about the events surrounding Heard filing a restraining order against Depp in 2016. Wasser told the court that before Heard filed for the restraining order, her lawyer had sent over a letter with demands from Depp.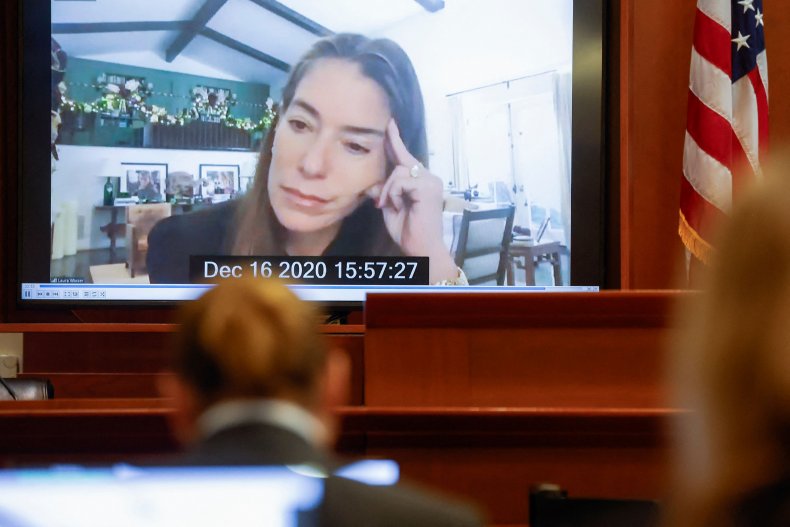 24. Christian Carino
Another talent agent, Carino represented Depp and Heard previously. He appeared virtually and claimed Heard "spent time" with future boyfriend Elon Musk in 2016 while she was trying to resurrect her relationship with Depp. He read out texts he'd exchanged with Heard to the court.
25. Edward White
Depp's business manager White also took the stand to discuss a meeting he had with his client in April 2016 regarding the actor's finances. The year was "challenging" for Depp and White urged him to sell off properties and reduce expenses at the time.
He also discussed Herd's demands in the divorce proceedings. He claimed they started at $4 million "but her demand continually increased, and then it got worse." He continued, "The next demand was that all of this consideration be paid to her free of taxation."
26. Starling Jenkins III
Jenkins is Depp's personal chauffeur and security guard, and he spoke to the court over a live video link. He recounted a conversation he'd had with Heard about the infamous defecation in the bed incident.
Jenkins said while in the car to Coachella in 2016, the pair "had a conversation pertaining to the surprise she left in [Depp's] bed." Jenkins continued that Heard called it "a horrible practical joke gone wrong."
27. Malcolm Connelly
This Scottish bodyguard had the courtroom laughing with his testimony. He described Herd and Depp's relationship to the court and noted the changes over time. He claimed Depp went from "happy" to "quiet" while Heard became more "dominant" and "demanding."
"Amber started to change. Amber started getting a bit more feisty, demanding. I could see that Amber wanted to wear the pants in this relationship. That was pretty obvious," he said.
28. Dr. Dawn Hughes
The first person to be called to the stand as Heard's team made their case, Hughes is a board-certified clinical and forensic psychologist. The court were shown notes that Hughes had made about Heard while evaluating her and she'd written that "intimate partner violence" triggered Post-Traumatic Stress Disorder in Heard.
She testified that Heard experienced PTSD symptoms while filming Aquaman 2. Her symptoms included "sweaty palms, heart palpitations and panic attacks" which "interfered with her functioning," Hughes said.
During the cross-examination, it was noted that her medical notes referenced James Franco and Elon Musk