The 6 Most Explosive Pieces of Evidence Against Amber Heard So Far
As the Johnny Depp and Amber Heard defamation trial continues, both sides continue to present scathing evidence against the other.
The former married couple returned to the Fairfax County court in Virginia on Monday, May 16 for day 16 of the trial. Depp is suing Heard for $50 million in loss of earnings after Heard wrote a 2018 op-ed stating she was the survivor of domestic abuse. The article never mentioned Depp by name, but his team has argued the insinuation resulted in extensive financial losses and damaged his profitability as an actor.
The trial began on April 11 and Depp's legal team has already mounted their case, calling on witness testimony and physical evidence to show that Depp was the wronged party. Heard's team began their making case to the jury on May 4 and will continue to do so in the coming days and weeks.
As the trial continues, here is six pieces of evidence presented in the trial so far which could be damning for Amber Heard.
1. Audio of Heard admitting to hitting Depp
"I was hitting you, I was not punching you," Heard said to Depp during an argument which was played out in court. The audio recording contains multiple comments from Heard admitting that she hit Depp, though she maintains that she didn't "punch" or "f****** deck" him. The audio clip can be heard in the video at the top of the page.
As the exchange escalated, Heard said, "I don't know what the motion of my actual hand was, but you're fine. I did not hurt you. I did not punch you. I was hitting you." There were no visuals included with this audio evidence as Heard apparently motioned how she actually hit Depp. "Grow the f*** up, Johnny. I did start a physical fight."
Other audio evidence featured Heard admitting to throwing pots and pans at Depp while another features Depp accusing Heard of kicking a bathroom door in his face.
2. Taunting Depp
Another audio recording taken from 2016 features Depp talking on the phone with Heard when she starts taunting him into admitting to the public that he's a victim.
"Tell the world, Johnny. Tell them Johnny Depp, I, Johnny Depp, a man, I'm a victim too of domestic violence," Heard said in the recording. Depp testified on the stand that his response was "yes, I am."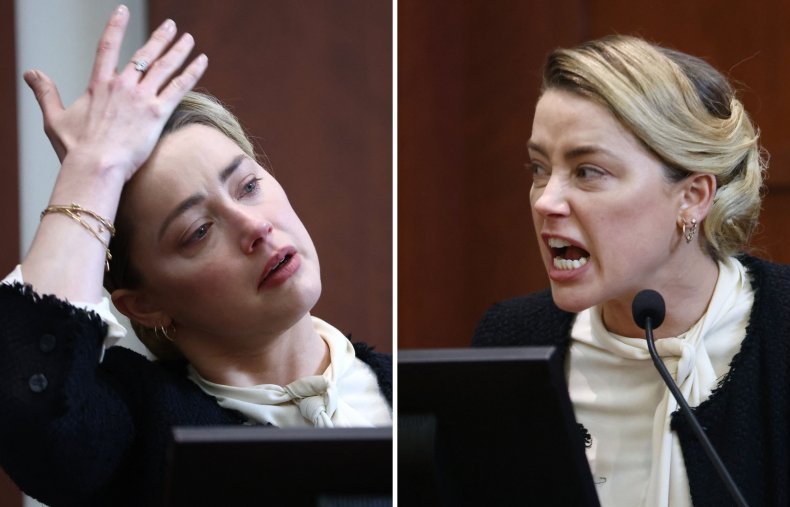 3. Pictures of scratched face
"Ms. Heard came at me with her nails," Depp told the court when describing why pictures of his face were being shown. Depp claimed that the images were taken "10 days before Christmas" in 2015.
When asked what led to him having scratches on his face, Depp replied, "This was yet again another confrontation" with Heard.
4. 'Fecal matter' in the bed
The infamous "fecal matter" in the bed story has been widely reported for years and was once again brought up during the current trial involving Depp and Heard.
After another argument, and after allegedly being punched twice in the face, Depp left Heard alone in their house before she left for Coachella the next day. Depp was going to return to the house but was warned not to as feces had been left on his side of the bed, with a picture shown in court of the scene.
Starling Jenkins III, one of Depp's security guards, testified that while he was driving Heard to Coachella, she referred to the feces as "the surprise" left in the bed and that it was a "horrible practical joke gone wrong."
5. Makeup and Arnica Cream
Milani Cosmetics posted a TikTok video on April 22, 2022 to refute claims made by Heard's legal team about a specific product she claimed to have used.
During the opening statements, Heard's attorney held up the Milani Cosmetics' Conceal + Perfect All-in-One Correcting Kit palette and claimed that their client used the product throughout the entirety of her relationship with Depp.
The brand's TiKTok account posted a 15-second video that suggested that while the "alleged abuse was around 2014-2016", the product in question wasn't actually launched until December 2017.
Another product's validity has been questioned by a prominent TikTok user. Heard's attorney brought up her use of "Amika cream" which many assumed was a mispronunciation of "arnica cream." Dr. Muneeb Shah, who has over 14 million followers on TikTok told Newsweek arnica cream would "not immediately cover a bruise."
6. Bloody finger
The graphic images of Depp's severed finger were shown in court as Depp recalled the events that led to the injury. In Australia in 2015, Depp lost the tip of his finger during an explosive argument with Heard. Several people testified to describe the scene after the fight had finished while Ben King, the house manager, found the severed finger.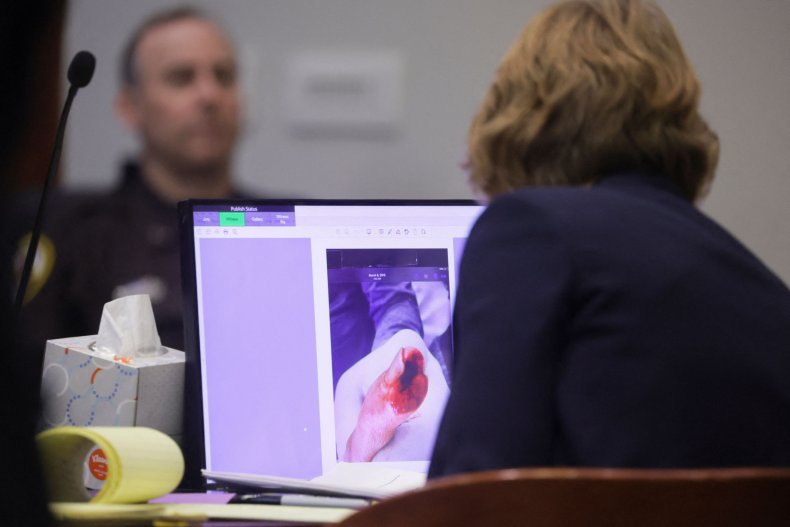 Depp described how after Heard saw Depp consuming alcohol, he said she threw two vodka bottles at him which severed part of his finger on his right hand. He claimed the incident caused him to have a nervous breakdown and he began writing on the walls in his own blood.