Amber Heard's Rep Says Truth 'Not on Johnny Depp's Side' As Trial Resumes
Amber Heard's spokesperson has said that "truth is not on [Johnny] Depp's side," ahead of the former couple returning to court for their defamation trial.
All eyes have been on the Hollywood stars amid their trial, after Depp, 58, sued Heard, 36, for $50 million after she wrote an op-ed for The Washington Post in 2018 stating that she was a survivor of domestic abuse.
Depp was never mentioned by name, but his legal team argue that the insinuation has caused a sullied reputation and a huge loss of earnings for the actor. Heard has made a counterclaim against Depp for $100 million.
In the hours leading up to their return to Virginia's Fairfax County Circuit Court on Monday, a spokesperson for Heard told Newsweek they're anticipating Depp's team will put on a courtroom display that's "equal parts shameful and desperate."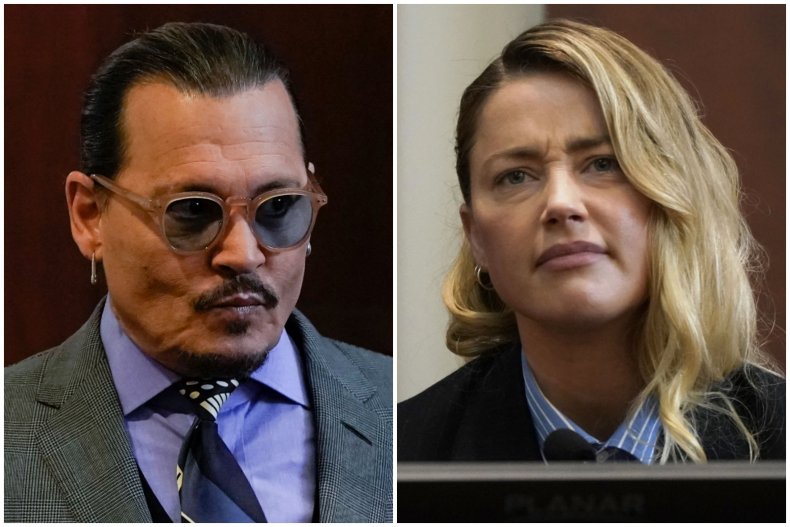 "There's an old saying by trial lawyers: when the facts are on your side, argue the facts. When the facts are not on your side, pound away on the podium," said the spokesperson. "Today, we expect Depp's attorneys will instead pound away on the victim.
"We fear it will be equal parts shameful and desperate. And, the overwhelming evidence—the truth—is not on Depp's side.
"The one thing we suspect Depp's attorneys will avoid is the central issue of this trial: does Amber or any woman have the First Amendment right of freedom of speech."
Depp and Heard's trial was paused for a week due to a previously scheduled engagement for Judge Penney Azcarate.
The break came after Heard's two days of testimony, in which she emotionally alleged that she had been beaten and sexually assaulted by Depp during their ill-fated relationship, which ended in 2016.
For his part, Depp had earlier testified that he, too, had been physically abused by his Rum Diary co-star Heard, who he accused of throwing a large bottle of vodka at him, resulting in injuries that included the severing of part of his fingertip.
Depp and Heard have each denied the other's allegations of domestic abuse.
This is the second time the former couple has battled it out in court since divorcing. The first came after Depp lost a 2020 libel case against British tabloid The Sun, which had labeled the actor a "wife-beater" in reference to Heard's allegations of domestic abuse.
Heard accused Depp of domestic abuse during their divorce proceedings in 2016. The stars, who wed in 2015, had their union officially dissolved in January 2017, months after Heard filed for divorce from Depp.
While Depp had repeatedly denied ever having been violent to Heard during the three-week trial in London, the overseeing judge found that the U.K. publication's claims that the actor was abusive to Heard were "substantially true."
Depp, who was dropped from the Pirates of the Caribbean franchise in 2018, was "asked to resign" from Fantastic Beasts 3 following the 2020 verdict. He was replaced in his role as Gellert Grindelwald by Mads Mikkelsen.