TikTok Doctor on Amber Heard Lawyer Claims: Arnica Does Not Cover Bruises
Whether Amber Heard's lawyers meant "Amika" or "arnica" cream to cover bruising, the debate is irrelevant according to a TikTok doctor
A moment during the ongoing trial involving Heard and Johnny Depp where a witness was asked if he saw Heard apply "Amika cream" caused a stir. That's because many, including dermatologist Dr. Muneeb Shah, are convinced she meant to say "arnica cream."
The current trial will resume on May 16 at the Circuit Court of Fairfax County, Virginia. Depp is suing ex-wife Heard for $50 million for defamation after she wrote a 2018 op-ed stating she is a survivor of domestic abuse. Heard is countersuing for $100 million.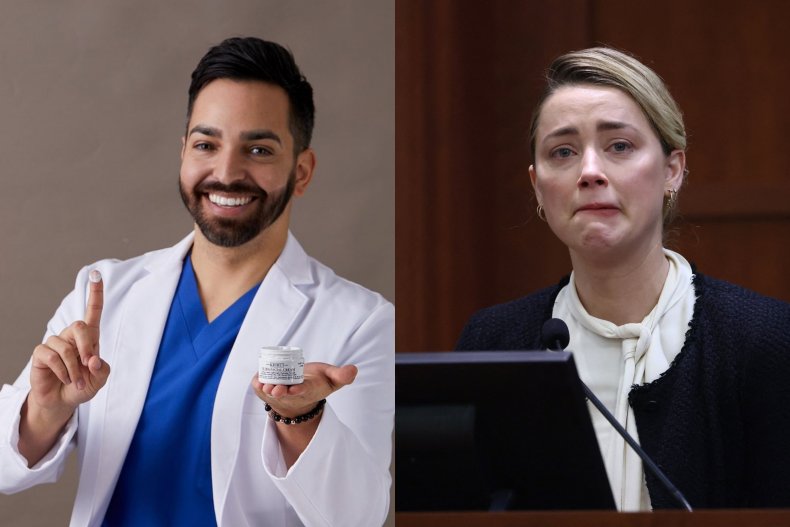 On April 12, 2022, a friend of Depp's, Isaac Baruch, took the stand and was repeatedly asked by Heard's lawyer, Elaine Bredehoft, if he had spotted her wearing or applying any "Amika cream."
He repeatedly said he had never heard of that and that he had never seen her apply it.
Many were quick to point out that the lawyer was mispronouncing the product as she presumably meant "arnica cream" which is used to treat bruises.
Amika cream is a totally different product used in the hair.
The moment has become the subject of jokes and memes online with many who are following the trial chiming in online.
TikTok user @Pettyparrot got millions of views and likes for their animated reenactment of the moment while Dr. Shah, a popular presence on the platform, was also asked to weigh in.
"A user tagged me in the video asking what AMIKA cream is and I had a suspicion that she was really trying to say arnica cream," Dr. Shah told Newsweek.
He filmed his side-by-side reaction to the clip and wrote captions clarifying what he thinks the lawyer meant.
"Arnica is an herb that's commonly used as a homeopathic treatment for pain, swelling, and bruising. I can't comment on whether the witness would have known what A-R-N-I-C-A is, but it's definitely a well-known treatment." Dr. Shah added, "Either way, I don't think it would have masked any bruising."
Dr. Shah is a dermatologist with 14.6 million followers on TikTok.
He regularly posts videos to the platform, sharing his expertise and analyse of viral videos relating to skin conditions. His video explaining the Amika confusion received 1.7 million views.
It was suggested Heard applied Amika (or Arnica) cream to mask bruises on her body, but Dr. Shah says this is very unlikely to have worked.
"Arnica will not immediately cover a bruise," he said. "There's mixed data on whether it's effective or not to speed up resolution of bruising. Some small studies have shown the benefit in healing bruises faster but large meta-analyses have shown little benefit.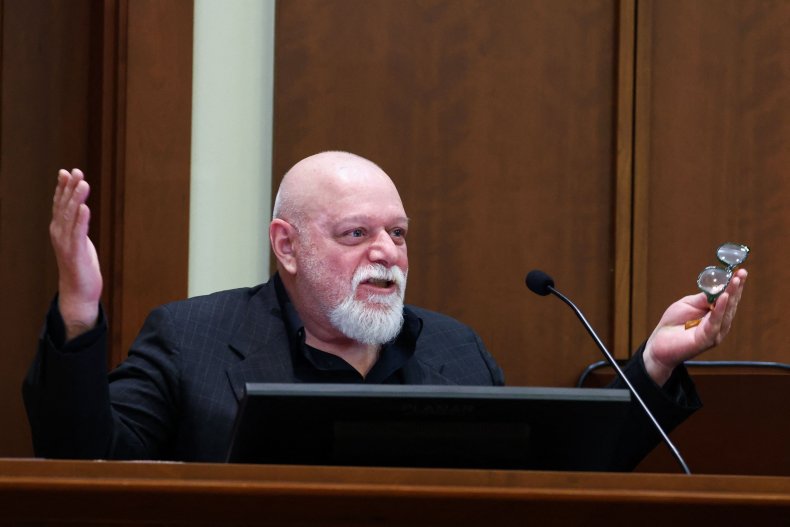 "Either way, it's not an immediate result and would take several days to see improvement. Therefore, whether she [Amber Heard] had arnica cream on at the time is pretty irrelevant unless it was covered with make-up."
Dr. Shah added: "The only thing that can immediately cover bruises is full coverage make-up. Green tinted make-up is best because it balances out redness."
While on the stand, Baruch admitted in May 2016 Heard told him that Depp had thrown a phone at her which led him to "inspect her face," where he saw no visible signs of injury.
Under cross-examination, he said he hadn't seen Heard apply makeup to conceal injuries and that he wasn't an expert in the matter.